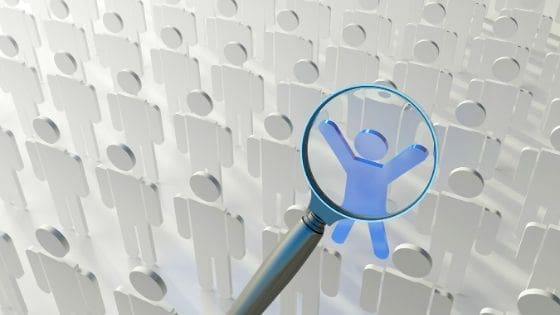 Looking for the best way to remove your name from background checks online? Contact our Background Check Removal Team today!
If you're looking for a new job, applying to college or buying a home, removing your name from background checks is essential. Your personal information is readily available on the web, even if you don't want it to be. Data brokers collect and share this data on people search websites and with other data brokers, often without the knowledge or permission of the individuals whose private information it is.
In addition to knowing how to prepare yourself for a background check, you should also learn how to remove yourself from some of the most popular background sites fast. Our team of reputation specialists helps you remove your private information from over 50 data aggregate background sites across the web.
Your Personal Information May Be Exposed
To be honest, most background check websites are just awful. They search public records from across the country and post what they find online. The personal data on people search sites is often incomplete, outdated and inaccurate.
What's worse? These background check websites bait users by displaying teaser results for free searches. And once they've taken the bait, users can find even more sensitive details for a small fee. Most people search websites are in the business of making money; personal privacy violation is of no consequence to them.
After learning about these sites, you may wonder how to remove yourself from all background check sites. You may even wonder how to remove items from background check portals. Having your details exposed for the world to see is daunting. USA people search traffic has skyrocketed, and search results can have damaging, long-term effects.
What does this mean for you? It means anyone with internet access can find your home address, phone number, email, social profiles and more in just seconds. Armed with that information, someone could attempt to steal your identity — and they may even be successful in their efforts. With a stolen identity, criminals can apply for credit cards or loans, file false tax returns, or commit other crimes tied to your personal information.
What Information Can Be Collected and Exposed?
People search websites exist for one reason: to make money. While many of these sites purport to provide people with access to information for honest purposes, they do more harm than good. In addition to your home address and phone numbers, people search sites post a range of identifying details, including:
First and last name
Fax number
Family member information
Social media accounts
Criminal records
Activity on social networks
Driver's license number
Financial details
Marriage licenses
Birth and death records
Anyone using a people search site can get your information and view details with a few clicks of a mouse. Search engines index these sites, giving worldwide access to the information that identifies you and your family. Direct marketing companies use this information to target you with ads. Unless you opt-out, expect your information to be shared with hundreds of other marketing groups.
The opt-out process isn't transparent, and many people feel helpless against the onslaught of people search sites and people finders online.
Background Check Websites Explained: Personal Info Shared on the Web
Background sites collect information from a variety of sources, including:
Data broker sites
Private databased
Public records from local, state, and federal government organizations
Social media platforms
A single website may contain information on millions of individuals. Search results on people search sites can turn up information you didn't even know existed, let alone wanted others to access.
To make matters worse, most of these sites never get your permission to post your information. In fact, the only external organization that is authorized to post details about individuals is that of a government entity.
People search sites and data broker websites mean that your personal information is for sale across the web and on sites you've never heard of. Search results on these sites are available 24 hours a day to anyone.
Your Online Reputation Is at Risk
In our everyday lives, we have each built a personal reputation that defines who we are and what we stand for. In today's digital environment, our online reputation is of critical importance. Your online reputation tells people about you — positive or negative — and this can have a profound impact on many parts of your life.
If you are a business owner, a positive online reputation can help you attract new customers and grow your company. A negative online reputation has the opposite effect, potentially interfering with your ability to achieve success. Individual reputations online can influence our ability to:
Get a job
Apply for a home or vehicle loan
Explore new personal opportunities
Make personal connections with others, such as on social or dating sites
When people search sites and other data brokers post information, they often make no attempt to verify the details they share with users. Some of the information may be outdated or factually incorrect.
If old criminal records are posted, for example, this can damage a person's reputation, even if the records are no longer valid or have been expunged from government databases. On websites that don't verify the details posted to the site, this inaccurate information can effectively ruin the reputation you have worked so hard for.
So, how can you protect your online reputation and privacy when you don't know where your info is in the first place? Read on for more details about fast, advanced background check opt-outs.
Removing Information From People Search Websites
If you've ever Googled questions like "how to remove information from Spokeo for free?" or "how do I remove my information from MyLife?" you're in luck. An advanced background check opt-out is a solution that you can do yourself, helping to protect your personal privacy.
Fortunately, there are ways to remove your personal data from nearly every background check site and search site on the web. However, the opt-out request information may be hidden and may take a little while to search for.
Understand that if you go it alone, this can be a long process, sometimes lasting months or years. Contacting each webmaster is time-consuming, and there's no guarantee you'll get a response. In some cases, you may have no control over your own record, as people search sites and other data brokers may not honor requests to opt out of data collection and sharing.
But if you value your privacy, there are important steps you can take to protect it. Why is this so important? The odds are good that your info is already on background check websites. Plus, this info is directly tied to your online reputation, which is a critical aspect in the digital environment.
If you want to remove listings from MyLife or any other people search site to take down your private info, look no further. Our team has successfully removed personal records from these sites for over a decade. Our process is simple, fast and won't break your budget.
Top Background Check Websites That Share Personal Data
Below, we've listed the top background check sites in the industry. This means that if you remove yourself from these background databases, there's a good chance your info will disappear from the smaller people search websites as well.
Acxiom.com
DOBSearch.com
Intelius.com
PeekYou.com
PeopleConnect.us
PeopleFinders.com
PeopleSmart.com
PublicRecordsNow.com
Spokeo.com
ZabaSearch.com
The opt-out process is different for every people search site, as you will see below. When you make an opt-out request, it may take some time before search results reflect the removal of personal information from databases.
Opt-Out: How To Remove Yourself From Background Check Websites
Now it's time to discuss how to remove your name from background check websites. Here are the opt-out processes for some of the most popular background check sites on the web.
Note that these background check removal suggestions may be the first steps in the process. Watch your email for further instructions to ensure your information is completely removed from the people search websites.
Acxiom.com
To opt out of Acxiom, you can fill out an opt-out form here.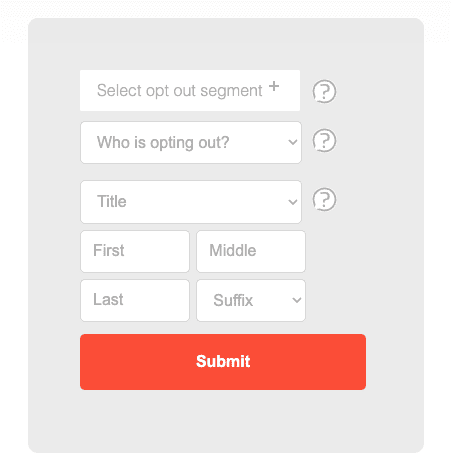 BeenVerified.com
We have an article about how to remove your information from BeenVerified here.
DOBSearch.com
To remove your information from DOBSearch.com, you first have to find your listing in the database. You'll then see a link to manage your information, which will let you start the background check removal process.
Intelius.com
To opt out of Intelius, go to Intelius.com and scroll down to the bottom of the page until you reach the footer. On the right-hand side, click the Do Not Sell Or Share My Personal Information link. On the next page, you can update the user data and public data that Intelius has about you to begin the background check removal.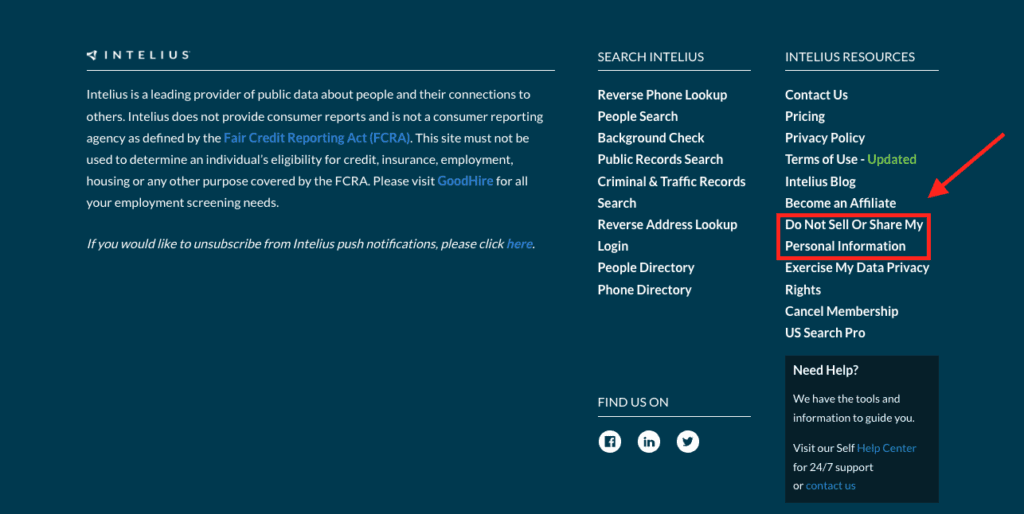 MyLife.com
To request that MyLife deletes your Member Profile, contact a Customer Care representative by emailing mem[email protected] and asking for a background check removal.
You can also fill out the form at this link to opt out of the sale of your personal information and request removal. According to the MyLife FAQ page, "When you request that we not sell your personal information, we also will remove your profile from our site."
PeekYou.com
Opt out of PeekYou and request removal by filling out the form here.
PeopleConnect.us
While PeopleConnect prefers that you suppress your information so that your data can remain on its site, there is a way to have your data completely removed from the site.
Start by going to this link, then scroll down to the Right to Delete section. Enter your email address and click the red Delete My User Data button.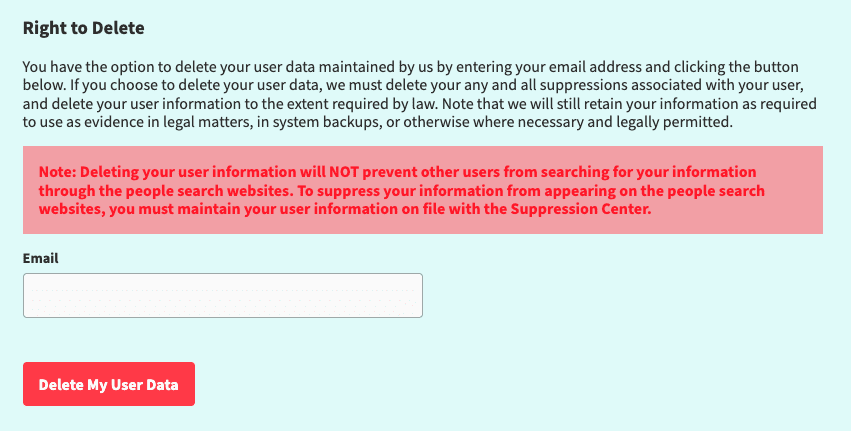 PeopleFinders.com
To remove your name from background checks on PeopleFinders, go to this page and click the green Next button to begin the process.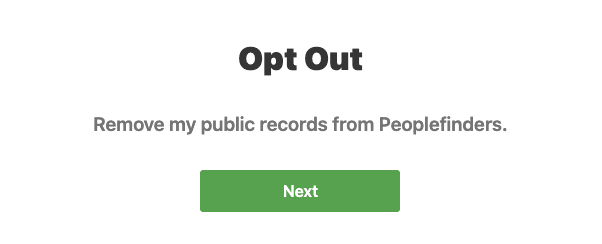 PeopleSmart.com
To opt out of PeopleSmart, go to the homepage and scroll to the footer. Click the Do Not Sell My Personal Information link, which will redirect you to BeenVerified. That's the company that handles opt-outs for PeopleSmart. From there, click the Do Not Sell My Info button to begin the background check removal process.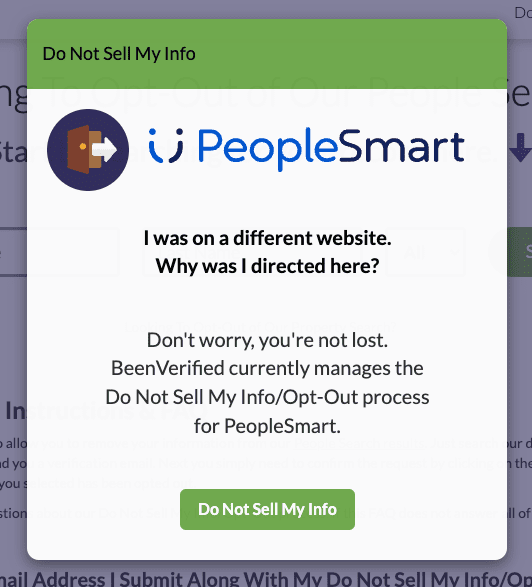 Persopo.com
We have an article that covers how to opt out of the people search website Persopo.com. Find it here.
PrivateEye.com
We have an article that covers how to opt out of PrivateEye.com. Find it here.
PublicRecordsNow.com
PublicRecordsNow is a third-party online background check website. To remove your information from PublicRecordsNow, go to this link and fill out the form.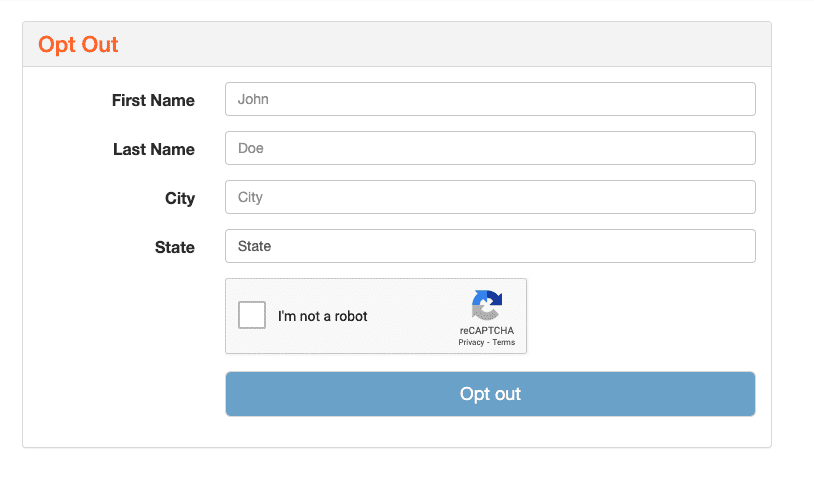 Radaris.com
We have an article that covers how to opt out of Radaris.com. Find it here.
Spokeo.com
To opt out of Spokeo, go to this link and scroll down until you see this form at the bottom of the page: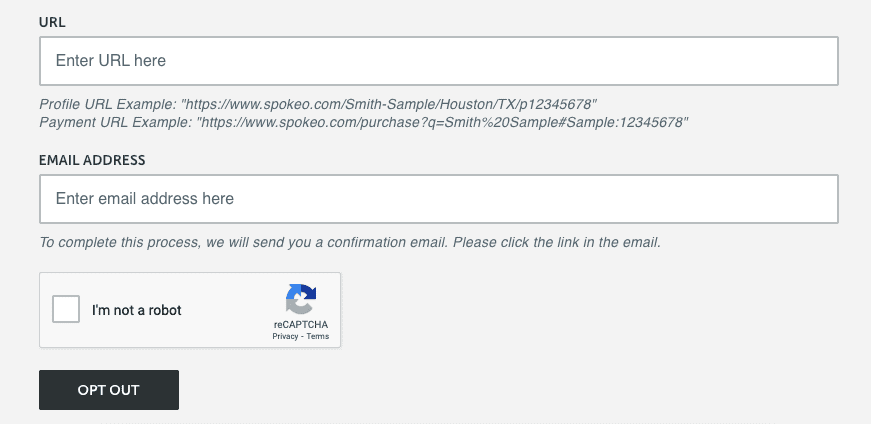 USSearch.com
To opt out of US Search, start on the homepage. Scroll down to the footer and click on the Do Not Sell Or Share My Personal Information link:

You'll be brought to a page with options for removing user and public data. For more information, visit our article out opting out of US Search.
Whitepages.com
Visit this page for instructions on opting out of Whitepages.com. Like some of the other opt-out procedures, you may be asked to prove your address and identity before a request is processed. Get more information about opting out of Whitepages here.

Zabasearch.com
According to the ZabaSearch FAQ page, "ZabaSearch is powered by Intelius," and the same opt-out form can be used. You can find the necessary links here.
Details to Consider
The people search websites listed above are not the only places where your information is posted and shared.
To identify additional people search websites and data brokers, conduct a Google search to discover services that you want to opt out of. When you find other search websites, make a request to have your details removed.
You may have to verify your identity by sharing your address, driver's license information or other personal details.
Social Media Websites Share Your Details
If you thought people search sites were the only places where strangers could find personal information about you, it's time to consider social platforms.
These sites are often used to conduct people search requests. For example, old classmates or prospective employers may use Facebook or Instagram to learn more about you.
In essence, these social tools are the same thing as a people search platform, providing data that can be used to interfere with your life. Search results on these sites may reveal far more about you than you desire, potentially harming your online reputation and your ability to get a job, rent a car, make a connection with someone or secure a home loan.
Opt out of information sharing and search results by following the directions listed on each social platform. Another option is to delete your account, which permanently erases personal data from search results. An even better way to opt out is to speak to one of our data-removal experts at NetReputation.
Should You Remove Yourself From Background Check Websites?
There are over 50 people search websites and data brokers sharing and selling your personal info to the masses. New people search sites appear on the web nearly every day, sharing the data that can identify you and affect your reputation. Do you want a stranger to learn your address, telephone number or the names of your children? Are you ready to take charge of the search results identifying you on the internet? We can help.
With a customized Background Check Removal solution from NetReputation, we can help you remove that info and data fast, providing the peace of mind you deserve. Everyone is entitled to privacy on the web, and we can assist you by helping you to opt out of data-collection websites — effectively erasing the search results that can interfere with your everyday life.
When we do the data opt-out process for you, we stand behind our results.
How Can NetReputation Help?
Our specialists comb the web for all traces of your name online. Then we go to work, deleting your personal info from every background check site while putting you in control of your online footprint. With our help, you can remove personal information from search results, opt out of data collection and secure the important data that criminals can use to harm you. This data includes your address, details about your personal life and information about your family.
Was this article helpful? Want to learn more? Contact us today at 844-461-3632 to get your free reputation analysis and remove your name, phone, address and loved ones' info from sites across the web.