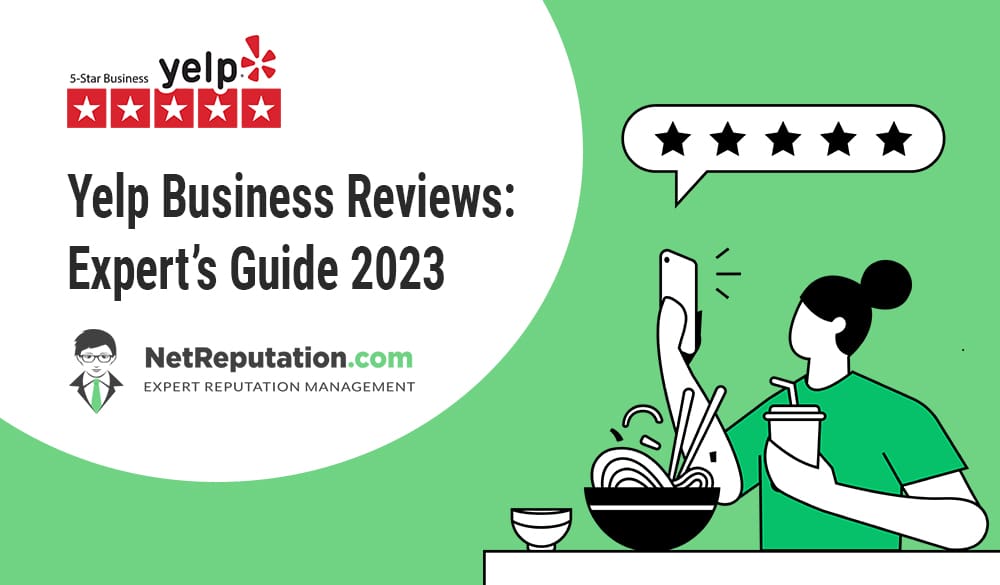 Yelp is a popular online platform that allows customers to leave reviews and ratings for businesses. 
As with Google reviews, Yelp reviews can greatly impact a business's online reputation and potential for success. Therefore, managing Yelp business reviews is crucial for businesses looking to maintain a positive image and attract new customers. 
By effectively managing Yelp reviews, businesses can establish a strong online reputation and gain a competitive edge.
Our guide shows you how to get the most from your Yelp business reviews and what you need to do to manage them effectively. 
What is A Yelp Business Review?
A Yelp business review is a customer's evaluation of their experience with a business on the Yelp platform. Customers can leave reviews and rate businesses on a scale of one to five stars, with five stars being the highest rating. 
Yelp business reviews typically include written comments about the customer's experience, including details about the quality of the business's products or services, customer service, and overall experience. Yelp business reviews are important because they can impact a business's online reputation and influence potential customers' decisions to engage with the business. Obviously, good reviews help businesses grow, while bad reviews can stand in the way of that growth. 
Is Yelp For Business Free?
Yelp for Business is a platform that allows businesses to claim and manage their Yelp business page, respond to reviews, and advertise on the Yelp platform. There are both free and paid features available on Yelp for Business.
The basic features of Yelp for Business are free to use, and include the ability to claim and verify a business page, respond to customer reviews, and view business analytics. However, businesses can also choose to pay for advertising on Yelp, which includes features such as sponsored search results, enhanced business profiles, and targeted advertising to Yelp users.
While Yelp for Business does offer both free and paid features, it has been our experience that businesses can benefit from utilizing both to maximize their online presence and reach potential customers on the platform.
Why Yelp Reviews Are Important For Your Small Business
Here are several reasons why Yelp reviews are important for businesses:
Influence purchasing decisions: Yelp reviews can greatly impact a customer's decision to engage with a business. Positive reviews can increase a business's credibility and trustworthiness, while negative reviews can deter potential customers.

Boost online visibility: Yelp is a widely used platform for customer reviews, and having a strong presence on Yelp can improve a business's online visibility and search engine rankings.

Provide valuable feedback: Yelp reviews can provide businesses with valuable feedback on their products, services, and customer experience. This feedback can be used to make improvements and adjustments to better serve customers.

Establish social proof: Positive Yelp reviews can serve as social proof of a business's quality and reputation, which can help build trust and loyalty among customers.

Opportunity to respond: Yelp reviews provide businesses with the opportunity to publicly respond to customer feedback and address any concerns or issues raised in the review. This can demonstrate the business's commitment to customer service and help to mitigate any negative impact of a negative review.
Yelp reviews are an important aspect of a business's online presence and reputation and should be carefully managed and responded to maximize their benefits.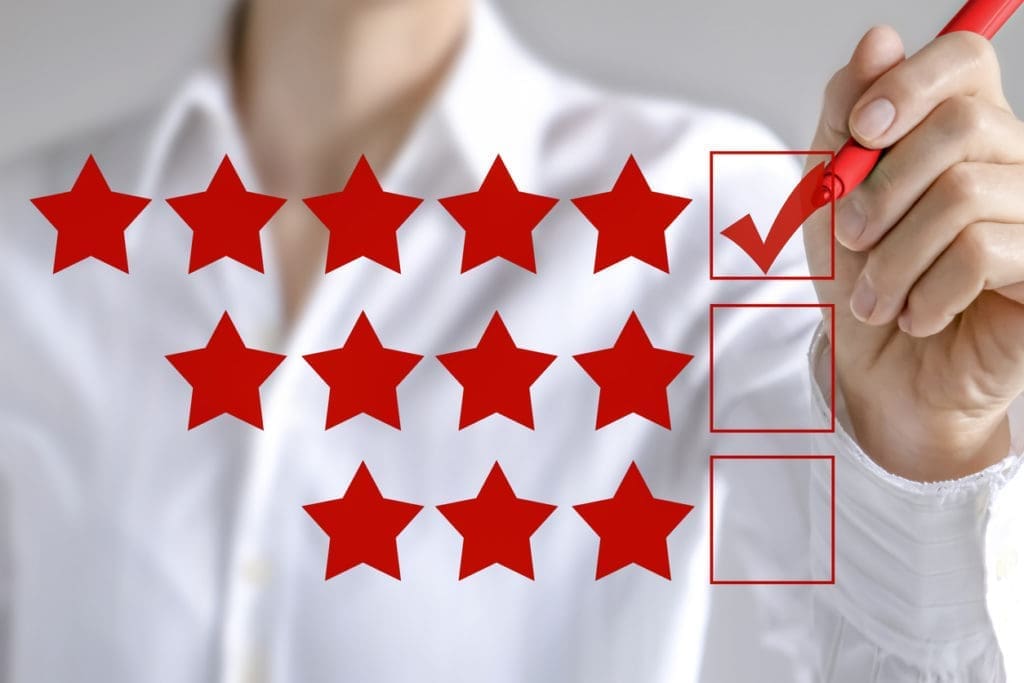 Be Mindful of Yelp's Business Review Factors
When using Yelp Business Review, it is important to keep in mind several critical factors. Violating certain policies can get you removed from the Yelp platform at worst – or suspended temporarily at best. 
The two most crucial factors in our experience are:
1. Do Not Ask for Yelp Reviews Explicitly
Yelp Business Review has policies discouraging business owners from pressuring customers to leave positive reviews. Violation of that policy may result in review being removed. 
It is ok to encourage customers to leave reviews, but you should never pressure them to do so. The reviews they do post will be more authentic and less likely to be flagged by Yelp's review system. 
2. Do Not Offer Anything in Exchange for a Review
Yelp's policy prohibits businesses from offering incentives or rewards in exchange for reviews, or pressuring customers to leave positive reviews. In addition, Yelp's automated system is designed to filter out reviews that it suspects to be solicited or inauthentic, which can result in reviews being removed or a business's Yelp profile being flagged as suspicious.
Simple Tactics to Get Positive Yelp Business Reviews
Now that we've learned how important Yelp reviews are for your business and its online reputation, here is a lineup of tips for getting more positive reviews on the Yelp platform:
1. Ensure Your Product or Service is Top-Notch
Great service can greatly influence positive Yelp reviews by providing customers with a positive and memorable experience that they are eager to share with others. When customers receive exceptional service, they are more likely to feel satisfied and appreciated, which can translate into a positive review on Yelp. This positive feedback can in turn attract new customers and strengthen a business's online reputation.
In addition to the direct impact on reviews, great service can also create a culture of customer satisfaction and loyalty that can drive repeat business and positive word-of-mouth referrals. When customers feel valued and well-served, they are more likely to return to the business and recommend it to others.
2. Make Your Customers Aware of Your Presence on Yelp
You can add a QR code to your Yelp Business profile on customer receipts, send a link to your profile via email or text, or post your information in your business using appropriate signage. All of these tactics encourage customers to leave reviews without pressure. 
3. Response To Existing Yelp Reviews To Defend Your Brands Reputation
It's important to respond to both positive and negative Yelp reviews for several reasons:
Show appreciation: Responding to positive reviews is an opportunity to show appreciation for the customer's business and feedback. It can also help to build a stronger relationship with the customer, which can lead to repeat business and positive word-of-mouth referrals.

Address concerns: Responding to negative reviews provides an opportunity to address any concerns or issues raised by the customer. This can demonstrate a commitment to customer service and help to mitigate the impact of a negative review.

Improve reputation: Responding to reviews, both positive and negative, can help to improve a business's online reputation by showing that the business is engaged with its customers and values their feedback.

Engage with customers: Responding to reviews can help to foster a sense of community and engagement with customers, which can lead to increased loyalty and advocacy for the business.
Responding to reviews – particularly the negative ones – can help you defend and preserve your online reputation. 
4. Ensure Your Yelp Business Page is Updated 
As with any business listing platform, accurate information on your Yelp profile is essential. Periodically check your profile's business information and update it as needed. By doing so, you're eliminating any points of confusion that can keep customers away from your establishment. 
5. Highlight Your Top Yelp Reviews 
It's always a great practice to showcase your best Yelp reviews, and these can be shared on a variety of platforms like emails or newsletters, on your business website, or on your social media accounts. 
In Your Physical Location
Make it easy for your customers to leave reviews by providing links or QR codes that take them directly to your Yelp profile. A QR code strategically placed at point-of-sale terminals or in your store's window let customers quickly scan and post in a matter of minutes. 
On Your Website
Don't forget links to your review profiles on your business website. Customers who have used your business before can go directly to your profile by clicking the link where they can then post reviews. 
6. Use Yelp's Call to Action Business Advertising Tool
The Yelp Call to Action tool is a feature that allows businesses to add a button to their Yelp profile that prompts customers to take a specific action, such as making a reservation, scheduling an appointment, or placing an order. Here's how to use the Yelp Call to Action tool:
Log in to your Yelp for Business account and navigate to the "Business Information" tab.

Click on the "Add Call to Action" button.

Choose the type of button you want to add from the list of options, such as "Call Now," "Book Appointment," or "Order Online."

Follow the prompts to enter the necessary information for your chosen button, such as your phone number or website URL.

Preview your button to ensure that it looks and functions correctly.

Save your changes to add the button to your Yelp profile.
Once the Call to Action button is added to your Yelp profile, customers will be able to see and use it when they visit your page. This can help to drive more conversions and increase customer engagement with your business.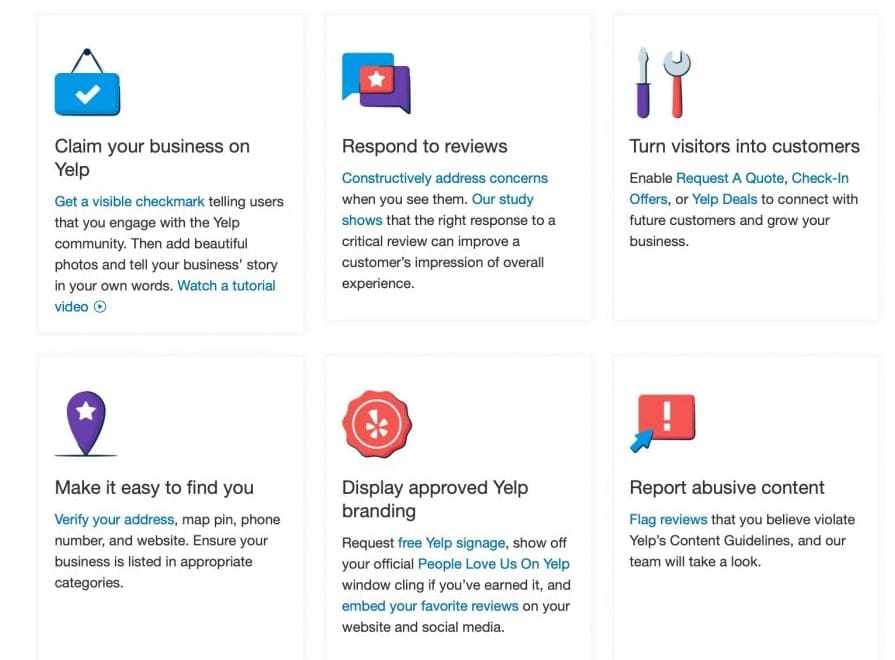 How To Ask Yelp To Remove a Fake Review From Your Profile
1. Gather Detailed Facts Regarding the Fake Yelp Review
Provide specific details or information that shows a fake Yelp review has been posted to your profile. This information can include repeated phrases, generic images, or suspicious behavior on the part of the reviewer. 
2. Make Sure the Yelp Review Breaks The Yelp Review Guidelines
In order to ensure that fake reviews get flagged for deletion or removed altogether, it's a great idea to point out how the review violates specific Yelp community guidelines. 
3. Report It to Yelp
If you suspect that a review on Yelp is fake, you can report it to Yelp for investigation. Here's how to report a fake review to Yelp:
Log in to your Yelp account and navigate to the page of the business in question.

Find the review that you believe to be fake and click on the flag icon next to it.

Select the reason why you believe the review is fake, such as "Not a firsthand experience" or "Conflict of interest."

Follow the prompts to provide any additional information or evidence that supports your claim that the review is fake.

Submit your report to Yelp for investigation.
Yelp's team will review the report and take appropriate action if they determine that the review violates their policies. If the review is found to be in violation of Yelp's policies, it may be removed from the business's page.
Is Yelp A Better Customer Review Platform Then Google?
In the battle of Yelp vs. Google, there is no clear answer as to which platform is more valuable. Here are several considerations to keep in mind:
Strengths of Yelp:
Community-based: Yelp has a strong community of users who are passionate about sharing their experiences and opinions. This can lead to more in-depth and detailed reviews than those found on Google.

Focus on local businesses: Yelp's platform is geared towards local businesses, making it an excellent platform for small businesses to connect with local customers.

Filtering system: Yelp has a filtering system in place to prevent fake reviews and ensure the authenticity of reviews. This can help to maintain the integrity of reviews and ensure that businesses are fairly represented.
Weaknesses of Yelp:
Pay-to-play model: Yelp's advertising model can be seen as a disadvantage to some businesses, as it can be difficult to achieve visibility without paid advertising.

Negative reputation: Yelp has been criticized in the past for their review filtering system and accusations of extortion. This can lead to skepticism among some users and businesses.
Strengths of Google Reviews:
High visibility: Google Reviews are highly visible on Google search results, which can help businesses to reach a larger audience.

Integration with Google Maps: Google Reviews are integrated with Google Maps, making it easy for users to find and leave reviews for local businesses.

Trusted platform: As a highly trusted and well-known brand, Google Reviews can carry more weight with consumers than other review platforms.
Weaknesses of Google Reviews:
Anonymous reviews: Google Reviews allows users to leave anonymous reviews, which can lead to fake or malicious reviews.

Lack of community: Google Reviews lacks the community aspect that Yelp offers, which can lead to less in-depth reviews.
Both Yelp and Google Reviews have their strengths and weaknesses, and it is our experience that businesses should consider both platforms as part of their online reputation management strategy.
Do Yelp Reviews Appear on Google?
Yelp reviews can appear in Google search results. When a user searches for a business on Google, the search results may include a section with information about the business, including reviews from Yelp and other review platforms. 
Additionally, Google Maps often displays Yelp reviews alongside Google Reviews for businesses that have claimed their listing on both platforms. This can make Yelp reviews highly visible to potential customers who are researching a business on Google, and highlights the importance of managing and responding to Yelp reviews as part of a comprehensive online reputation management strategy.
Final Thoughts
Effective Yelp review management can be a crucial component of a business's overall online reputation management strategy. 
By prioritizing Yelp review management and leveraging the platform to build a strong online presence, businesses can gain a competitive edge in their industry and drive long-term growth.
Yelp Business Reviews FAQs
Here are several commonly-asked questions fielded by the NetReputation review management team:
How Do I Get a Yelp Review Link for My Business?
To get a Yelp review link for your business, follow these steps:
Go to the Yelp homepage and search for your business.

Once you find your business page, copy the URL from the address bar at the top of your browser.

Go to a free online URL shortener, such as bit.ly or tinyurl.com.

Paste the Yelp business page URL into the URL shortener and click "Shorten."

Copy the shortened URL, which will now serve as your Yelp review link.
You can use this Yelp review link in your marketing materials, emails, and on your website to make it easy for customers to leave reviews for your business on Yelp.
Is Yelp a Good Review Site?
Whether Yelp is a good review site is a matter of debate, as opinions on the platform can vary widely depending on the individual business and user experiences. 
Yelp is widely used by consumers to find and evaluate local businesses, and can be a valuable tool for businesses to connect with potential customers and build their online reputation. 
However, Yelp's review filtering system has been criticized in the past for unfairly suppressing or removing reviews, leading to accusations of bias and extortion. Some businesses have also raised concerns about Yelp's advertising practices, which can make it difficult for businesses to achieve visibility on the platform without paid advertising. 
Regardless, Yelp is a popular site that can help local business owners stand out online while improving and protecting their digital reputations. 
How Do I See Reviews on Yelp Without the App?
You can read Yelp reviews without the Yelp app by visiting the Yelp website. Here are the steps:
Open your web browser and go to

www.yelp.com

.

Use the search bar to find the business you're interested in, or browse by category or location.

Click on the business's name to go to their Yelp page.

Scroll down to read the reviews, which are organized by most recent first.

You can filter the reviews by rating, language, and other options by using the filter options on the left-hand side of the page.
By using the Yelp website, you can read reviews and find information about local businesses without needing to download the Yelp app. However, if you want to write reviews or interact with the Yelp community, you'll need to create a Yelp account.
Contact NetReputation Today
For expert review management services that can grow your business, contact NetReputation today by dialing 844-461-3632 or by completing the form below for a free consultation.