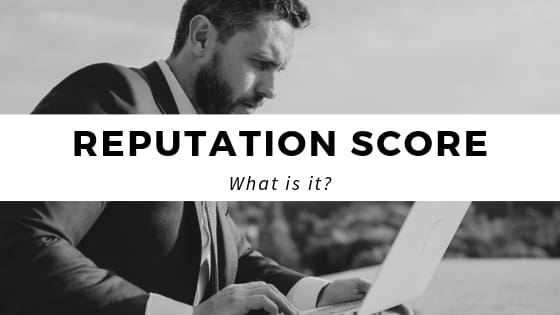 What is your reputation score? Do you have a reputation score, and does it even matter? Click here for a free reputation score check.
Business reputation management is now known as the new HR for companies. Why is this? The answer is simple: because your online reputation is essential for professionals and companies to know how people see them. This is very helpful when creating new products or service offerings. You can learn exactly what your customers want and what value they "believe" you can provide.
This value — your reputation score — is always your top priority.
Knowing your online reputation score can be a powerful tool for your brand.
Applying for a new job? Thinking about going back to school? Whatever your goals, it is critical that you build a positive reputation score online. As the leading online reputation management service provider, NetReputation can help you take charge of your reputation score, improving your online presence and building your online brand image.
For a free reputation score scan, check out our reputation app to get started. In the meantime, read on to learn more about how you can build a better reputation score. 
What is a Reputation Score, and Why is it so Important?
When you build a business online or want to build a positive image in your personal life, your online reputation score is an essential factor in how others perceive you. It is an integral part of your digital footprint, painting a comprehensive picture of how you want others to view you. A good reputation score opens the doors to opportunity, while a poor reputation score can interfere with the goals you want to achieve. Think of your online reputation as part of your brand image, telling others who you are, what you stand for, and what you or your company believes in.
Now, consider the business aspects of a positive reputation. A good reputation score has been shown to powerfully influence purchasing decisions; companies with five-star online reviews tend to get more business, while those companies with a poor reputation may see dwindling returns on their investments. In simple terms, a bad reputation score can stand between you and continued success. A simple Google search will turn up dozens of reviews in a matter of moments, and these reviews are evaluated by the consumers you depend on to grow your business.
Positive reviews posted online help to build trust between you and your customer base. Customers trust online reviews as much as they do personal recommendations from friends or family. On the other hand, negative reviews may cause consumers to reconsider doing business with your company. Can you afford to allow your reputation score to affect your online presence? The answer to that question is no — and that is why online reputation management is such a valuable asset to add to your company culture. Your reputation score may depend on your ability to manage it.
Your Digital Footprint: The Role of Your Online Reputation
Think of your online reputation as a passport giving you access to personal and business growth. That reputation score influences people who use a search index like Google to learn about the people and businesses around them.
Competitors searching for details about your company, such as creating a background report to share with stockholders, may turn up a wide range of results in online listings. Schools also use online searches to learn more about prospective students, using people search databases to reveal personal data or other details that can influence enrollment decisions made by college admissions personnel.
When you apply for a job, hiring managers may use Google to find information on candidates. This information may improve your job prospects or may result in the withdrawal of job offers.
Even financial institutions may use search impressions to evaluate a person or business when considering loans; a good reputation score may give these decision-makers the information they need, while a bad reputation score can potentially cause each of these entities to pass you over.
How is Your Reputation Score Calculated?
How is your online reputation score calculated? A wide range of online factors plays a role in calculating the score. Data accessible online is evaluated by a complex Google search algorithm to determine the score. Data may include:
Your credit score
Personal data available via search results
Court records
Address histories
Property records
Online image posts
Contact records
Personal information related to the individual or business being evaluated
Your job history
Social media profiles
Academic records
As these details are identified and evaluated, your online reputation score begins to develop. This all encompassing reputation score is an integral component of your digital footprint, giving people the details they need to make decisions that can affect your future. Whether you are a business owner or an individual, your personal reputation score can make or break your ability to achieve success.
How Can a MyLife Reputation Score Affect Business Prospects?
When people engage in information searches on the internet, results from a website called MyLife may be included. MyLife is a data aggregator that pulls information from public databases, then compiles a reputation score. The MyLife reputation score is based on a five-point scale: a good reputation score is in the range of 3.5-5, or poor if the score falls below 3.
Why is your MyLife reputation score important? Just as with any reputation score, this score is easily located by anyone with an internet connection. Businesses, individuals, and consumers all use web searches to learn more about the area around them; this reputation score can influence decisions like whether or not to support a company, hire a person, or start a relationship.
Your Free Reputation Score: How to Add Up the Details
Whether you're a professional or a business, scoring your online reputation involves knowing your social reputation and how people see you online.
And as you may know, starting a business can be tough. No visibility in search results and a lack of loyal customers can make it hard to get off the ground. In today's digital environment, how your online presence is discovered — and perceived online by potential customers — is one of the most critical aspects of achieving success. A company's online reputation is a fundamental component of its digital presence, influencing actions on the part of online consumers. The reputation score, in other words, is essential.
The modern consumer often turns to the web to learn about businesses before making purchasing decisions. Using search engines like Google, customers evaluate the information these searches turn up, including:
Local business listings
Local business reviews
Social media activity
Personal information
Public records
Court records
Background data related to your company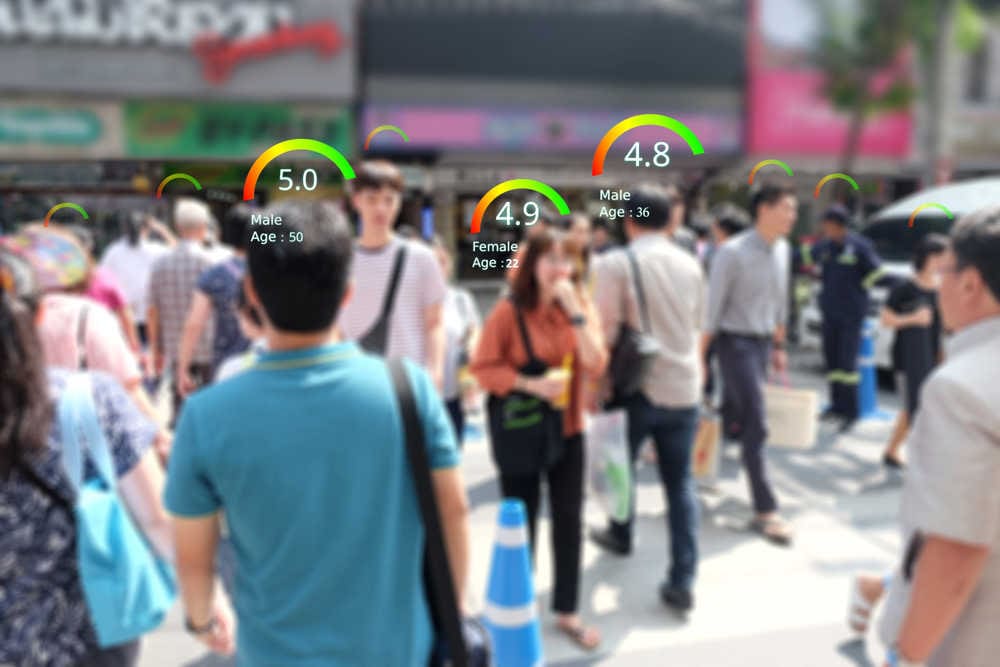 The Personal Reputation Score: Critical Information for Individuals
Individuals are also at mercy of their personal brand online. A positive personal reputation score can improve your job prospects, help you connect with others, or influence your ability to get loans and even buy a house. A negative reputation, on the other hand, can stand in the way of achieving the things you want in life. That poor reputation score can have long-term effects, potentially harming your personal brand online. Managing your personal brand online is just as important for you as it is for business owners in your area. Here, online reputation management can help improve a low reputation score, strengthen your online presence, and boost your online profile. Your online reputation must be protected, even if you already have a good personal reputation score.
Positive Items that Can Improve Your Online Reputation Score
Online reviews and case studies

Communication and outreach

Customer sentiment and engagement

Images and online content

Blogs that provide real value to readers
Negative Events that May Result from a Bad Reputation Score
Getting fired from a job

Changing jobs or missing out on a promotion

Losing a grant or scholarship

Damaging relationships with coworkers and friends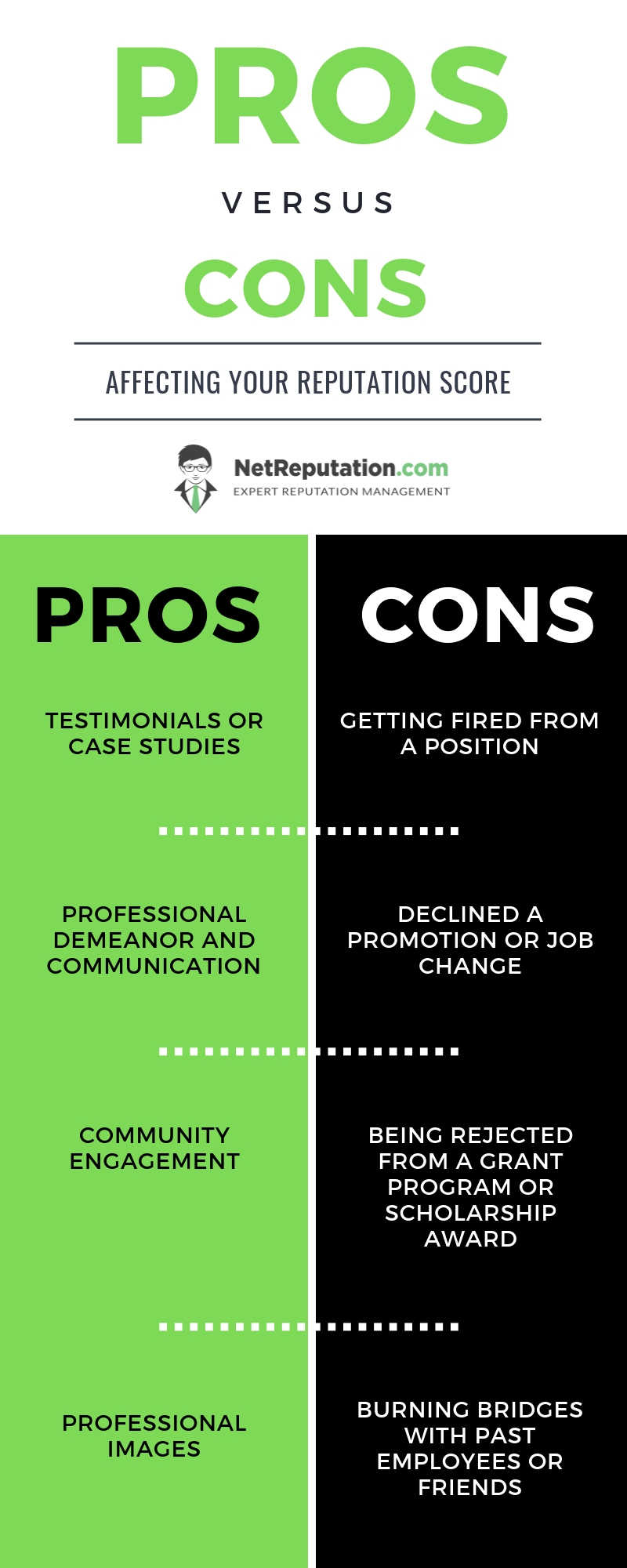 For the most part, these all add up to your online reputation score. This is because people tend to see you differently after finding harmful content about you on the web. Think about how the negative articles you have discovered in Google search results have influenced your willingness to do business with a company or person in your area. Now, put yourself in a company's shoes: would you want your brand reputation score to suffer because of negative information like online reviews or unflattering news items?
How Can an Online Reputation Management Company Help?
In the above sections, we have revealed why your reputation score is so important. Business owners and individuals alike depend on their online presence to connect with others. What can you do if negative reviews or a low reputation score are affecting your ability to attract new customers, get a job, or create strong relationships with others?
The answer is professional reputation management. An online reputation management firm has the experience and the skills necessary to help you take charge of your online presence, even if missteps have led to you developing a bad reputation.
Reputation managers first evaluate your overall reputation score by analyzing search listings carefully, including details posted to social media or other online outlets. Then, these professionals develop strategies to restore your positive image. Remember that a good reputation can positively influence consumers, helping to build trust and to encourage patronage.
Individuals with a damaged reputation score can also benefit from management services. Think of reputation management as a form of reputation scoring service. Improving your reputation in the digital environment can help improve your prospects with hiring managers, admissions staff, or loan officers; in other words, your reputation can help you get that home loan or assist you with acceptance into college.
Quick Tips to Manage Your Online Reputation Score
Online reputation management is a critical aspect in today's digital world. With just a few clicks of a mouse, people can discover information about you, influencing whether or not they will take the next step in their purchasing journey. To begin, it's important to never post anything you wouldn't want your mother to see.
In other words, always be polite and professional online. Don't post bad photos on the web, especially those showing the use of drugs or alcohol. Future employers, landlords, coworkers and even relatives may see these images and think less of you. Often, these people turn to social media platforms like Facebook, Twitter, and YouTube to learn about individuals before extending job offers or agreeing to rent a house to a given person. The activity posted to these platforms influences your reputation score.
Other things to avoid are any posts with bad language, violence, politics and other hot-button content. Remember that your personal life is yours to control on social media — think of the things you do and the issues you believe in as part of your brand image, then consider how you share those details with others online. Remember that your reputation score must be protected by engaging in careful curation of your personal details online.
How We Can Help Improve Your Online Reputation Score
Want to up your reputation score online? Start by targeting any unwanted content that includes your name. Once found, take steps to remove those items fast.
But if you didn't post a photo or news article of yourself and want it gone, check out how to remove content fast. Our experienced team recognizes online content that can harm your brand and your reputation score. Call us today at 844-461-3632 to speak with an experienced Online Removal Expert. Our team provides low-cost removal and SEO services to fix your search results and build an online reputation that gets results.
What's more: we offer advanced reputation monitoring services to track your online image around the clock. Your reputation score is your passport to success. With this tool, you receive instant alerts about new brand mentions online, even after your reputation campaign is over.
Your reputation is not a joke. And we work hard to put you in control.
Want to give your score a boost? Contact our Online Reputation Team today!