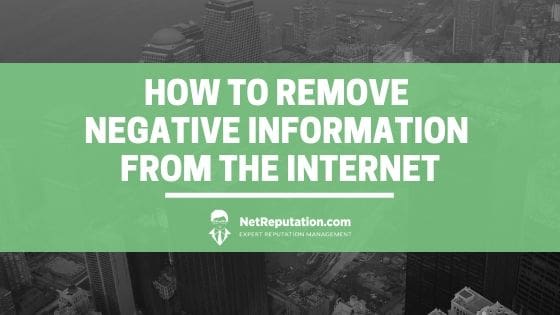 Updated 2/23/2023: Is harmful online info like unwanted Google search results hurting your reputation? Call 844-461-3632 to talk to an Information Removal Specialist today. 
Business owners and individuals are often shocked to find negative information about themselves or their companies in unwanted Google search results. These Google search results are visible to anyone with an internet connection and the ability to conduct a Google web search. Your online reputation is tied directly to the information available about you online. Positive content can improve your business prospects, while negative online content can have the opposite effect. Because unwanted content in search results from Google can influence customer behavior, many wonder if it is possible to suppress negative search results. After all, unwanted search results may stand in the way of your success.
Is it possible to remove unwanted content from the Internet? The answer is both yes and no. In this guide, the content removal experts at NetReputation will share critical details about online content removal. Our online reputation management services deliver trusted results, helping you to restore your hard-earned reputation or to improve your online presence. Read on to learn more about improving Google search results in your favor.
To Remove or Not to Remove: Key Information
There is no single answer if content can be removed or deindexed in Google search results or from other search engine results. The answer depends on the types of content as well as numerous other factors. Each search engine is different, and search engine results are driven by a complex algorithm that ranks a wide range of attributes contained within the content posted online. Below is a general guideline for the types of content that can be removed and those that typically cannot.
Types of Content You Can Remove from Google Search Results
National identification numbers (i.e. U.S. Social Security Number or other personally identifiable information)
Resident Identity Card, etc.
Bank account numbers
Credit card numbers
Images of signatures
Nude or sexually explicit images that were uploaded or shared without your consent
Sexually explicit content in addition to images, including revenge porn, stories, or a blog post
Confidential, personal medical records of private people
Defamatory content
Types of Content You Cannot Remove from Google Search Results
Date of birth
Addresses
Telephone numbers
Sex Offender Registry Listings
Headline News (Temporarily)
Public records posted by government/law enforcement authorities
It is important to understand that there are exceptions to every rule. Some of the content found in Google search results that would normally be removable may not actually get removed, while some of the content that is typically not removed can be successfully removed with the help of legal requests or similar legal actions, such as a court order or takedown notice. Removal requests vary by search engine and each has specific procedures for complete removal of unwanted information or defamatory content online.
Remember also that every removal request takes time and effort to complete. An online reputation management company can help you suppress or remove negative content, giving you increased control over how you are perceived online.
How to Remove Unwanted Search Results From Google
The internet has afforded us significant growth in the last few decades. It's difficult to dispute that. Nevertheless, one difficulty is the increased levels and amount of personal information online. Search engines do a quick job of pinpointing information, and these search engines are available from anywhere in the world.
Yes, it's excellent when you are capable of instant communication with the entire world, with the ability to gain access to real-time news updates and stories directly onto your smartphone. Even with the added convenience of mobile technologies, you do not want it to come at the expense of your personal safety or security.
When cybercriminals can locate your name, exact address, and your email address online in Google search results, it may lead to pressing issues in the future if you are not careful. These issues can include identity theft, financial crimes, or worse. Personal information is all these criminals need to create fraudulent accounts or to post negative content online with your name on it.
If these fraudsters gain access to any of your bank accounts, credit card data and/or any formal documentation it can have serious consequences on your pockets. The activity of cyber criminals can even damage your online reputation, putting your business and family members at risk.
Dangers involved are identity theft, stalkers, and spamming, as well as financial hardship.
Personal information can come from numerous sources. Every time you deal with a government agency, certain information is collected. In most cases, some or all of that information may be entered into the public record. This can include marriage licenses, real estate transactions, arrests, and more. Once your info is on a publicly-accessible database, it's only a matter of time before data brokers republish that information elsewhere. From there, cyber criminals can piece together the details they need to steal your identity.
As technological advancements continue (as they will) more and more personal information will only be a few clicks away. The rise of social media sites have made it even easier for criminals to gain access to information about you; data brokers scrape this information from social media and from web search engines to compile listings available to anyone.
Sadly, removing negative information from the internet is not as fast and direct as removing information you control such as your personal information on Facebook or Twitter. It demands time, patience, and energy. It may even require professional help from an online reputation management service provider. Your personal information is sensitive and must be protected at all costs — especially when this personal information is readily available in search engine results.
Staying Safe: Protecting Your Reputation Online
The internet has changed how we interact with the world. Information is now at our fingertips — including negative results from online search engine use or negative articles posted to blogs, social media outlets, and more. How can you protect your online reputation? In other words, how can you manage your digital footprint? Here are some tips:
In most cases, you can optimize your safety efforts when online by utilizing encryption software when sending files to others.
It is imperative that you invest in the best internet security software as well as antivirus software on the market.
Be careful with what you share online. Personal information posted to social media can get into the wrong hands, as can sharing details of your personal life with strangers on blogs, forums, and other group websites.
For data broker sites and other information sharing platforms, you can opt out using the tools provided by each site. This way, you can keep private information from falling into the wrong hands.
Learn to spot online scams, including "phishing" emails that attempt to collect personally-identifying information from you such as bank account numbers, driver's license number, Social Security information, and addresses/phone numbers.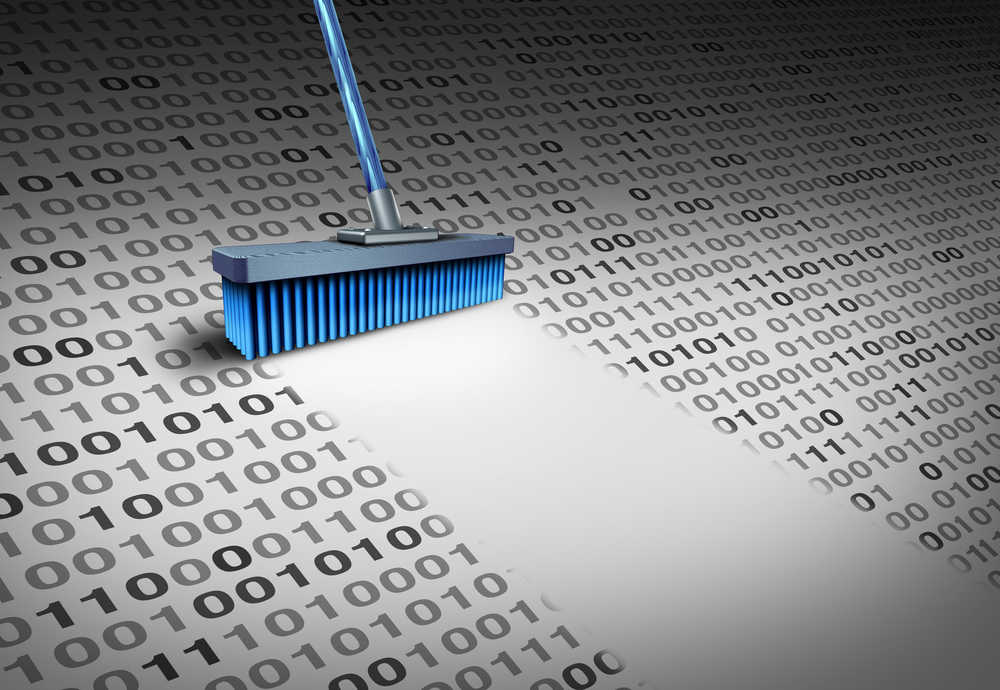 Deleting Social Media
Going on a hiatus from social media can be an arduous and unbearable mission, but sometimes a break is exactly what you need. Simply deleting the application from your smart device does not do the trick. It's simple to inadvertently open your preferred platform on a computer out of habit or to instantly download the application once again. Even if you delete the application, your profile is still visible for all the world to see and can be accessed by anyone who uses search engines.
In order to complete online content removal on Facebook or other social platforms, you must delete your accounts. Deleting the account can effectively stop the user when interacting with tempting social media platforms. Deleting your social media accounts also removes the information from Google searches; the search engine can no longer index online content that is no longer available. Take charge of your digital footprint, remove unwanted content, and prevent Google's index from sharing negative personal information all in one move.
Completely deleting a social media account may be more strenuous than it may appear, however, at the end of the day, you will survive. Who knows – you might enjoy the disconnect after trying it.
Facebook, Instagram, Twitter, and TikTok are the most common social media platforms in 2021. Each one has distinct guidelines users must follow before they are able to delete their accounts.
In some cases, deleting an account can make it impossible to recover.
Facebook
Removing a Facebook account may take weeks before it is finalized. Users must request to delete their account first, as the process then begins may take in upwards of 14 days until the account is fully removed and the information disappears from the internet completely.
After those 14 days, it transitions into a "deactivated state". Afterward, the owner of the account has options: they can either choose to delete the account or reactive it.
By selecting "Settings" and then "Your Facebook Information" you can choose the option of deleting information/account or to deactivate it briefly. Although the process of deleting the account is more final than attempting to remove damaging content or unwanted content from each platform, the process effectively hides your details in Google's search results.
Instagram
Please note, once you delete your Instagram there is no going back. The photos, followers, direct messages and other knowledge connected to the account will be deleted forever.
As with Facebook, an Instagram account can not be deleted within the app itself. So again, in order to remove this account, you must do so from a desktop computer. Users have to go to the "Delete Your Account" webpage and log in with their username and password in order to continue.
Then you must choose a reason for deleting that particular Instagram account from the menu presented and enter your password a second time.
Until you choose a reason for deleting, the account cannot entirely delete it. Once users pick "Permanently delete my account," the account will be lost indefinitely. This efficiently removes negative content once and for all and eliminates visibility in Google search.
Twitter
The method of deleting an account on Twitter is known as "deactivating", which can take up to 30-days.
Users must pick "Settings and privacy" from the options that emerge after clicking the profile symbol. Following the "Account" segment, there's an opportunity to select "Deactivate your account."
Users must pick the account they want to remove and insert their password to finish the deactivation process.
Following that users follow this process they will have 30-days to reactivate their profile before it is forever deleted. Once the content removal process is completed, every negative article, negative links, and unflattering tweets or images will no longer be discoverable in Google search. This process is also useful for removing outdated content which you no longer wish to share.
Snapchat
Users on Snapchat need access to a desktop as well in order to delete their accounts just as with the previous platforms. There's no alternative to currently removing an account from within the app itself.
Even if users decide to delete their account, it will remain inactive for 30-days before it's fully deleted from the app. Only when you sign back in will it reactive, if within that 30-day timeframe.
Here is a quick video on how to delete your Snap indefinitely. Now you are on a great path to removing your information online, negative or not. When you remove negative articles by deleting Snapchat, you are protecting your online reputation while disappearing from Google's search results.
How to Remove Unwanted Search Results About a Business
When it comes to running a business, negativity is bound to cross your path. Whether this issue arises from any unfavorable press or a negative review on there are many ways in which you can overcome adversity and triumph over brand crises. Reputation management is only a few clicks away, helping you to protect your online reputation and to restore one that has been damaged by a negative article, poor ratings on review sites, or negative results on search engines queries.
Here at NetReputation, we consider two types of negative information extremely detrimental to the overall success of businesses in the United States.
First, we have news articles or bad press, as society is often quick to hop on the rumor wagon or lash out at negative results they see before researching to facts or truth behind it. First page search engine results that reveal unflattering or unwanted information can have damaging effects on a business.
And the second is customer reviews. One negative online review can cost you in upwards of 25% of your total monthly revenue. A majority of this loss stems from a lack of new business you may have acquired. Bad reviews have the effect of signaling to potential customers that your business may not provide the best experience.
Your goal as a business owner should be to obtain a 4-5 star rating on every platform in your industry.
Also as a business owner or vested employee, it is important that you monitor and properly manage the online reputation of your brand. This can include addressing reviews as well as:
Deleting or editing outdated information.
Searching Google images to spot any potential problems.
Exploring content from Google search to pinpoint undesirable information being spread about your business.
When you remove Google search results, you gain control over what information appears about you or your business in search results. This method can be applied to other search engines as well; Google properties are the most prevalent, but search tools across the web tend to honor a removal request as needed.
Google search is a powerful influencer. Search results from Google are an important part of your online visibility. Positive details about your business help to encourage customers, while negative content has the opposite effect. This negative content can hinder your ability to grow your business; in simple terms, negative content works to keep customers away.
If you are not privy to the most update-to-date crisis management strategies it is imperative that you and your entire team gain further knowledge in these aspects. Our industry-leading reputation management company has a proven track record of success in removing harmful content from Google search. Unwanted search results from Google stand in the way of your success. Taking charge of reputation management in your business is critical: it can and will save your business.
News Articles
Articles are the most straightforward to handle online. You can start by contacting the website owner and request to remove negative information from the internet (or get your lawyer to do so). Removing the information also eliminates negative content from search engine results, helping to restore a reputation damaged by this negative content.
Thankfully, most website owners display their contact information on their websites. As you could imagine, if you are having an issue with them, lots of other individuals or likely to be in the same boat. Therefore, your request may go unnoticed.
This is when you may want to get a lawyer involved. A legal notice can be drafted to the site owner, requesting that content is removed from the internet. If you are tech-savvy you can run a WHOIS search (if the domain is public) and find a phone number other than what is listed on the website.
Luckily, removing negative information from the internet (or even pushing content down in Google results) is not that difficult, but there is one important caveat: we cannot remove information from the internet unless it infringes upon Google Policies or we can find other legal reasons like violations of the Digital Millennium Copyright Act.
To put it in concise terms, if the content is within Google guidelines or doesn't violate any privacy laws, negative content probably can't be removed — or may not be removed unless a website owner honors your request. For any negative content that still appears in search results, there is another option: Suppression. You can only suppress it in the rankings, typically by getting negative content off the first page of search results.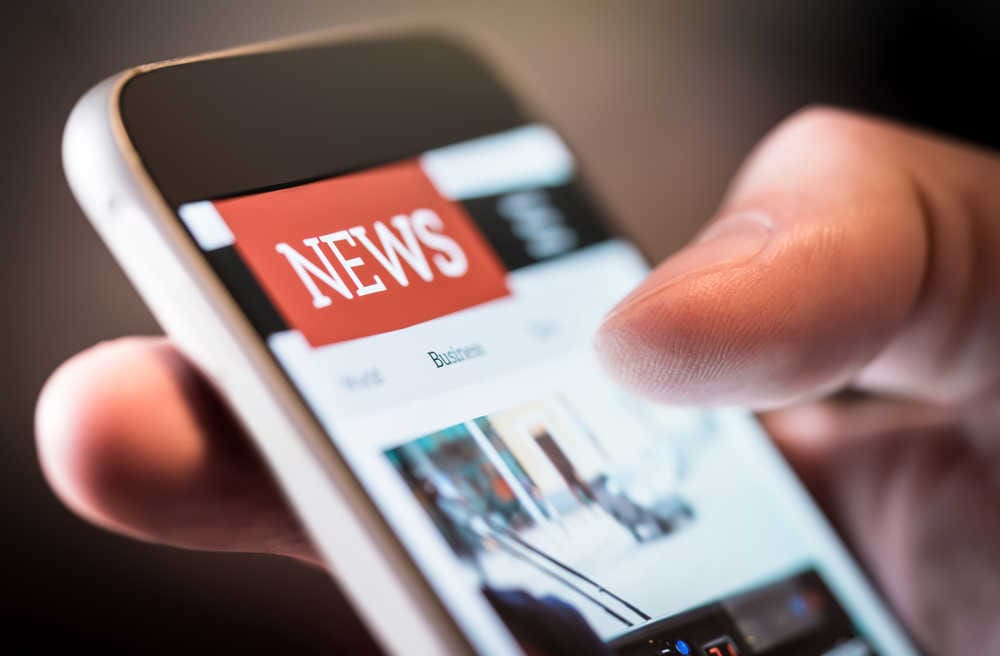 Customer Reviews
It is more probable than not that a dissatisfied customer and/or competitor will leave negative feedback online. A negative personal experience is almost always the catalyst for bad reviews. This negative content, unfortunately, features prominently in search results from Google and on other search platforms.
Whether it is just or unjust, overcoming a negative review will not only take time but lots of effort on your part without the help of an online reputation management company.
Responding to negative reviews in the right way and in a timely manner will help to diffuse the situation. In fact, this strategy may yield positive reviews in the future as you reinforce trust between you and your customers.
Your answer will hopefully help to offset the negative review and show others who may read it that you are a caring business owner. Someone that is willing to take responsibility for bad customer service rendered by an employee or simply if they are dissatisfied with your services. Acting friendly and professional will help a lot.
Bad reviews are all but inevitable in the business world. By focusing on service delivery and customer care, you can help ward off the occasional bad review and prevent negative content from causing financial harm to your business prospects.
How to Remove Negative Information From the Web
Then, the next most beneficial thing you can do is build a review page on your company website to display positive reviews for all your web traffic to see.
Furthermore, receiving reviews from your prospective customers should be a component of your business growth online. To increase the number of positive reviews you receive, try incentivizing your customers with discounts or gift cards on their next purchase.
When you obtain these types of negative reviews, you must be determined and never back down. And always, ALWAYS, respond to disgruntled customers.
Improving Google Search Results: Notifying & Updating Search Engines
If and when a particular website decides to remove the negative information you requested there are still things you can do to expedite how you remove the negative search result from the internet, especially Google.
Once the page has been deleted, prompting an error code or no content displayed there is a useful tool we like to use called "Remove Outdated Content". This is a tool found in the search console within Google's toolset.
After reaching this page there will be a search bar where you can insert the desired URL that you are seeking to have removed. After you do this, press "Request Removal".
Now you can kick back and relax. Google's Support Team typically takes a few days before it updates search results to reflect these recent updates. Content removal may take a few steps and represents a significant investment in time and hassle. Still, this content removal can help restore a damaged reputation and encourage customers to visit your business.
Popular Searches for How to Remove Information From The Internet:
If you are still in need of assistance, Google is full of knowledgeable content at your immediate disposal FOR FREE. Here is a list of some of the most popular questions centered on search results from Google:
How to push down negative reviews or online content from Google?
How do I erase my name from the internet?
My competitor is saying negative things about my business how do I remove them?
How are unwanted results affecting my business?
How to remove negative articles and online content from Google?
How to get negative search results taken down from Google search results?
How to manage search traffic on my website?
How do I delete content from smaller websites?
Call Today to Learn More About Content Removal Strategies
To learn more about NetReputation's removal process and how we can help you remove negative content from the internet, complete the form below or call 844-461-3632 for a free consultation. At NetReputation, we specialize in removing content from Google, helping you achieve high first page rankings of positive content and managing your Google review profile.
Updated 8/2022