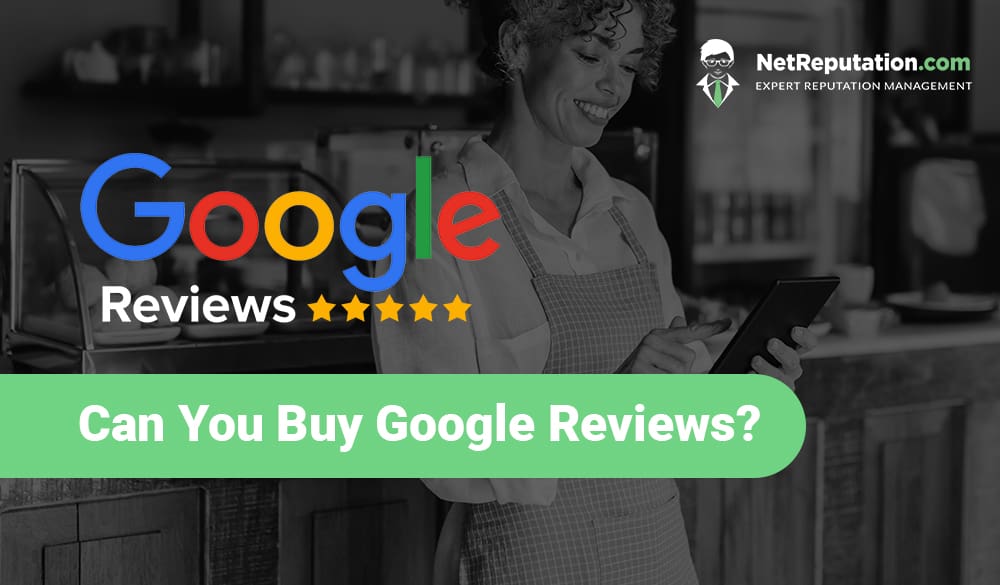 Our guide to whether or not you should buy Google reviews provides essential information for business owners.
Google reviews are an essential part of the modern business landscape.
Positive reviews are so important in shaping consumer actions that many business owners wonder if paying for people to write those reviews is worth the risk.
In our guide, you'll learn everything you need to know when tempted to buy Google reviews, including potential drawbacks to this practice. 
Why Do You Need Google Reviews?
Google reviews serve as a critical factor in determining a company's online reputation. Potential customers often look at a business's reviews to gauge its credibility, reliability, and the quality of its products or services. 
Positive reviews can help build trust and attract new customers, while negative reviews can have the opposite effect. Google reviews also improve a business's visibility on search engine results pages (SERPs), making it more likely to appear at the top of the list. 
For business owners, having a robust Google review profile can be a significant advantage for any business in today's highly competitive online marketplace.
Should You Buy Google Reviews?
While it may seem like a quick and easy way to improve their business or brand perception,, buying reviews is considered unethical and violates Google's terms of service. 
Moreover, it can lead to negative consequences such as the suspension or removal of the business's Google My Business listing. That business listing is a critical touchpoint for potential customers; without an active listing, your business may be missing out on new customer visits. 
In addition, it undermines the authenticity of reviews, which can mislead potential customers and harm the business's reputation in the long run. 
In our experience, buying Google reviews is a non-starter. Instead of resorting to buying reviews, business owners should focus on providing excellent products or services and encouraging their satisfied customers to leave genuine reviews on Google.
Why Would a Business Owner Want to Buy Google Reviews?
There are several reasons why a business owner may be tempted to buy Google reviews, including:
Wishing to artificially enhance an online reputation.

Wanting to secure top rankings in search results.

Attempting to influence levels of trust and/or credibility

Hoping to keep up with competitors
While buying reviews on Google and third-party review platforms like BBB can be thought of as an easy solution for improving online visibility, the fact remains that the risks outweigh the potential benefits.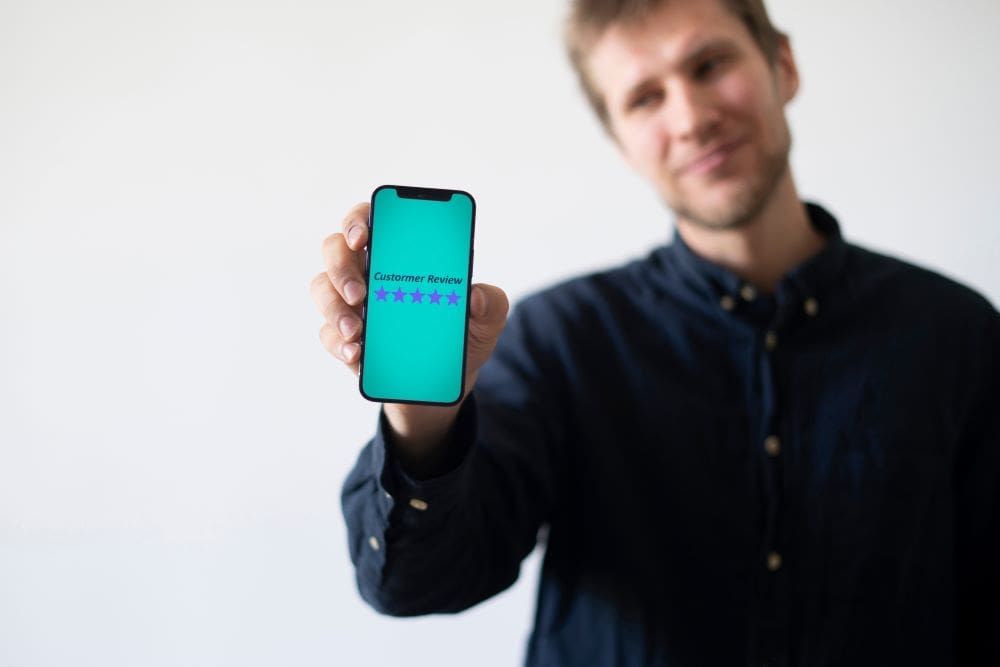 Pros of Buying Google Reviews
As introduced in the previous section, the idea of buying 5-star Google reviews may seem like an easy solution to improving visibility in the digital environment. 
Let's take a closer look at the perceived benefits of paying for Google reviews.
Increase in Your Organic Search Rankings
Google's algorithm takes several factors into account when determining organic search rankings, including the number and quality of reviews a business has on Google. When a business has more reviews, it signals to Google that it is more popular and relevant to the search query, which can improve its organic search rankings. 
In addition, Google uses reviews as a way to evaluate the quality of a business's products or services, so businesses with a high number of positive reviews are more likely to rank higher in search results. 
Social Proof for Your Business
Social proof is the idea that people are influenced by the actions and opinions of others, particularly those in their social circle or community. 
Online reviews serve as social proof, providing evidence that a business's products or services are trustworthy and of high quality. When a business has many positive reviews, it signals to potential customers that others have had a good experience, building trust and credibility. Reviews can also establish community and engagement between a business and its customers, reinforcing its reputation and brand image.
Can Lead to More Offline Foot Traffic for Your Business
When people are looking for a place to visit or a product to buy, they often turn to online reviews to help them make their decision. In fact, as many as 93% of consumers say that online reviews influenced purchasing decisions, according to a study by Qualtrics. 
If a business has a large number of positive reviews, it can create a positive perception of the business in the minds of potential customers, making them more likely to call, visit, or make a purchase. Additionally, positive reviews can improve a business's visibility on Google's search engine results page, making it more likely to be seen by potential customers who are searching for similar businesses or products. Ultimately, having more positive reviews can help increase foot traffic to a business and contribute to its success.
Cons of Buying Google Reviews
Now that we've learned the potential pros of buying Google reviews, what are the cons? There are several to be aware of in our experience, which are presented below.
Possible penalties
Purchasing fake Google reviews may lead to the suspension or removal of a business's Google My Business profile. Without a working profile, your business is missing out on search visibility and foot traffic. If your reviews are not showing up, check your Google My Business profile to see if you may have been suspended. 
May lead to distrust
The practice of buying positive Google reviews undermines the authenticity of reviews by potentially misleading customers. Authentic, organic reviews from real customers should be the goal of business owners, no matter how tempting it may be to buy Google reviews. 
Unethical
Buying Google reviews is an unethical practice. This practice is a violation of Google's terms of service. Your business risks suspension or deletion on the Google platform. The practice of buying fake reviews can also damage your online reputation and erode trust between you and your customers. 
What Are the Risks of Buying Google Reviews?
In the previous section, we highlighted the primary risks of buying Google reviews. It has been our experience that the primary risks are only some of the many potential drawbacks associated with buying fake reviews. Here are more:
First, purchased reviews are often fake and not written by genuine customers, which can mislead potential customers and damage the business's credibility in the long run. 
Additionally, competitors or dissatisfied customers may report the business for buying reviews, leading to further consequences. 
Ultimately, the risks associated with buying Google reviews far outweigh any perceived benefits and can lead to significant negative consequences for businesses.
Can You Actually Buy Google Reviews?
Yes, there are numerous online providers where a business owner can buy Google reviews. 
Because this practice violates the Google terms of service, the search engine company has put into place algorithms and systems that detect these fake reviews. 
Is it Legal to Buy Google Reviews?
While the practice of purchasing fake Google reviews is unethical and goes against Google's policies, it is perfectly legal to do so. 
It is our experience that business owners should be extremely skeptical of any company that offers to post fake reviews on their behalf. Legal or not, it's a bad practice and can do significant long-term damage to your online reputation – and your bottom line. 
Can Google Detect Fake Reviews?
Google uses a variety of systems and algorithms to detect fake reviews and other forms of spam on its platform. 
One of the most common systems used by Google is automated spam detection, which uses algorithms to analyze review patterns and identify suspicious behavior. This includes looking for patterns of fake or repetitive reviews, as well as reviewing the content and language of the reviews themselves. 
Google also relies on user-generated signals, such as reviews flagged by users as fake or inappropriate, to identify and remove fake reviews. Additionally, Google has a team of human moderators who manually review reported reviews and take action if they determine that a review is fake or violates Google's policies.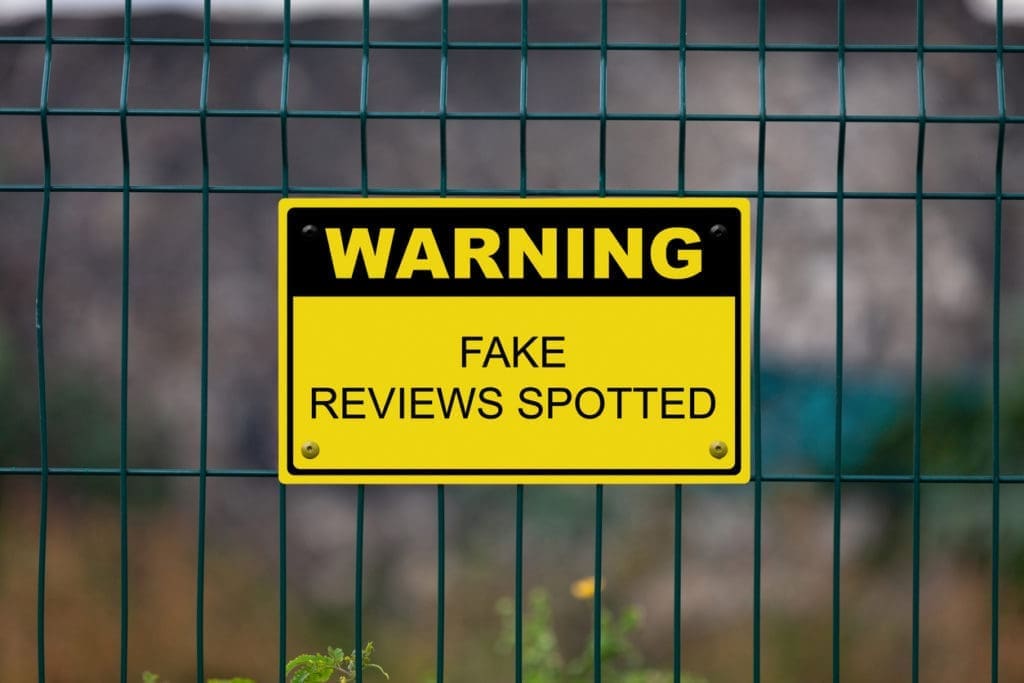 Why You Shouldn't Buy Google Reviews
Business owners should not buy Google reviews for several reasons, no matter how tempting:
Purchasing reviews is an unethical business practice that violates Google's terms of service and can lead to the suspension or removal of a business's Google My Business listing. 
Purchased reviews are generally not written by genuine customers, which misleads potential customers and damages the business's credibility in the long run. 
Competitors or dissatisfied customers may report the business for buying reviews, leading to further consequences. 
Purchasing reviews undermines the authenticity and credibility of online reviews, which are a valuable source of social proof for potential customers. 
Instead of buying reviews, businesses should focus on providing high-quality products or services and encouraging genuine customers to leave authentic reviews on Google. By doing so, businesses can establish a positive online reputation and attract more customers in the long run.
How To Boost Your Online Visibility Without Buying Google Reviews
There are several effective ways to improve online visibility without resorting to purchasing fake reviews. Here are tips for standing out in the digital environment without engaging in unethical practices:
Businesses should focus on creating high-quality content on their website and social media channels, including blog posts, videos, and infographics, that are optimized for search engines. This can help improve a business's search engine rankings and increase organic traffic to their website. 
Businesses should engage with their customers on social media and respond to reviews and comments in a timely and professional manner. This shows potential customers that the business values their feedback and is committed to providing excellent customer service. Responding to reviews can encourage customers to

leave more reviews

, further improving your visibility. 
Another effective strategy is to partner with influencers or other businesses in the same industry to expand reach and visibility. 
Finally, businesses should consider investing in online advertising, such as pay-per-click (PPC) advertising or social media advertising, to drive targeted traffic to their website or social media channels. 
By focusing on these strategies, businesses can improve their online visibility and reputation in an ethical and effective way.
Final Thoughts
To artificially boost online search visibility and ratings on popular review sites like Google, many business owners have paid to purchase fake Google reviews.
Unfortunately, the acting of buying reviews may backfire, putting your online reputation and customer trust at risk.
To build great visibility and maintain the positive online reputation you've worked so hard to build, there are better options than buying Google reviews. Business owners must concentrate on delivering outstanding products, services, and customer experiences. These factors alone can supercharge your business operation, positioning you for continued success well into the future. 
Can You Buy Google Reviews FAQs
Commonly asked questions about buying Google reviews include:
Is It Possible to Buy 5-Star Google Reviews?
Yes, many unscrupulous providers offer to write fake 5-star Google reviews for their clients. 
Is It Wrong to Buy Google Reviews?
When you buy Google reviews, you are engaging in an unethical practice. Although it is legal to do so, this practice can get you suspended or deleted from Google's business platforms. It also puts your trust and credibility at risk, potentially causing potential customers to seek out your competitors instead. 
Can a Business Owner Remove Fake Google Reviews?
Yes, with a Google My Business profile, business owners have access to tools with which to analyze new reviews. Within these tools are systems to flag fake or misleading reviews for deletion by Google's team. 
Contact NetReputation Today
Business owners often struggle to get the most from their Google review profiles.
We can help. At NetRepution, our team of expert review management professionals use state-of-the-art tools and technologies to help business owners build trust, improve online visibility, and forge strong relationships with their customers.
To learn more, call NetReputation at 844-461-3632 or complete the form below to get started with a free consultation.