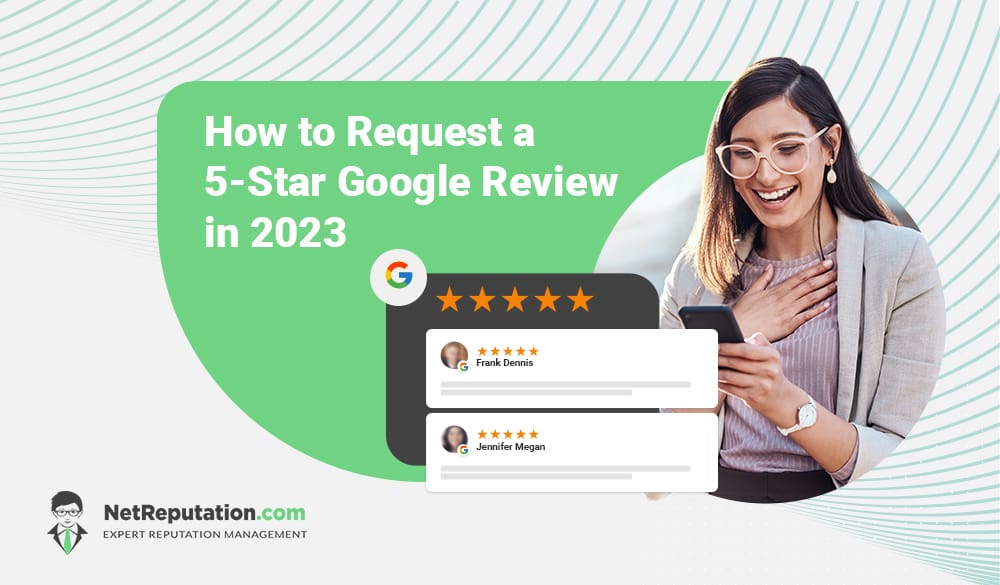 Asking customers for a 5-star Google review can be a great way to boost your business's online reputation and attract new customers. 
There are pitfalls to avoid, however, and some of these pitfalls can damage your online reputation as a result. 
In this guide, we'll explore some tips and best practices for requesting 5-star Google reviews from your customers.
How Important Are 5-Star Google Reviews?
5-star Google reviews are extremely important for businesses, as they can significantly impact a business's online reputation, visibility, and overall success. Positive reviews can help businesses attract new customers, build trust and credibility, and improve their search engine rankings. 
Still not sure how essential 5-star Google reviews are? Consider these statistics, compiled by Qualtrics from several studies on the power of online reviews:
According to BrightLocal's Local Consumer Review Survey 2021, 91% of consumers aged 18-34 trust online reviews as much as personal recommendations.

A study by Moz found that online reviews account for 13% of how Google and other search engines rank local search results.

A survey by ReviewTrackers found that 94% of consumers say an online review has convinced them to avoid a business.
These statistics demonstrate the significant impact that positive (or negative) reviews can have on a business's reputation, visibility, and ultimately, their bottom line.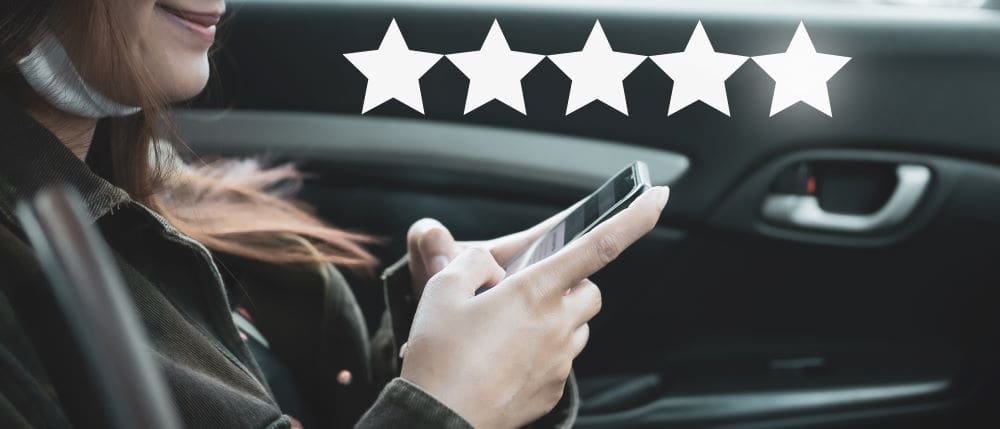 Why Google Reviews Matter For Your Business
Google reviews are an essential aspect of a business's online reputation. They provide potential customers with insights into the quality of products or services offered by the business, and can influence their decision-making process. Positive reviews can attract new customers, increase trust and credibility, and improve search engine rankings. 
Here are additional reasons why Google reviews matter both for your business and your bottom line:
Highlights Social Proof To Your Target Customers
Google reviews can highlight social proof in several ways. When a potential customer is researching a business, positive reviews from previous customers can provide evidence that the business is trustworthy, reliable, and offers quality products or services. This social proof can increase the likelihood that the potential customer will choose to do business with the company. 
Additionally, when a business has a high number of positive reviews, it signals to customers that many others have had a positive experience with the business, making it a more attractive option. 
Your Business Will Show Up For More Local Searches
Google reviews can improve search visibility in several ways. When customers leave reviews, they often include keywords related to the business, such as product or service names, location, and industry-specific terms. These keywords can help improve the business's relevance and ranking in search results for those terms. 
Additionally, Google's algorithm takes into account the quality and quantity of reviews when determining search ranking. Businesses with a high number of positive reviews and ratings are more likely to appear higher in search results, as this signals to Google that the business is reputable and provides a positive user experience. 
Finally, when a business has a Google My Business profile with reviews, it can appear in Google's Local Pack, a section of search results that highlights nearby businesses related to the search query. This can further improve visibility and attract local customers. 
Easy Tactic To Improve Sales
Google reviews can improve sales in several ways. First, positive reviews can build trust and credibility with potential customers, leading to more conversions. 
Second, reviews can provide valuable feedback that businesses can use to improve their products or services, ultimately leading to more satisfied customers and more sales. 
Finally, Google reviews can also influence a business's local search ranking, making it more visible to potential customers searching for related products or services, which can result in increased website traffic and ultimately, more sales.
Should You Ask Your Customers for a 5-Star Google Review?
Asking customers for 5-star Google reviews is generally discouraged as it can be seen as disingenuous or even manipulative. It's better to simply ask customers for an honest review of their experience with your business, and let them decide how many stars to give. 
However, you can still encourage customers to leave positive reviews by making the process easy and convenient, such as providing a link to your Google My Business page or including a call-to-action in your email or in-person communications. If you've earned the trust and appreciation of your customers, 5-star reviews are a great side effect of the interaction. 
How to Ask Customers for a 5-Star Google Review
As mentioned earlier, it's not a good practice to ask specifically for 5-star Google reviews.It's a better practice to allow your customers to assign the number of stars they prefer without being pushy or trying to manipulate them. 
If you still want to encourage customers to leave positive reviews, you can do so by providing exceptional customer service and ensuring that customers have a positive experience with your business. If you've delivered great service, great products, and a great customer experience, the 5-star Google reviews are sure to follow!
Tips for Requesting 5-Star Google Reviews
Although asking outright for 5-star Google reviews may be considered a bad practice for business owners, there are still ways you can encourage customers to leave positive reviews. Here are some tips:
1. Ask Your Frequent Customers to Leave You a Genuine Positive Review
Frequent or repeat customers know your business – and they return time and again. Asking them to leave you a positive review is a great way to bolster your online reputation. 
2. Make Leaving a Google Review for Your Business as Easy as Possible
Here are some best practices for making it easy for customers to leave positive reviews:
Provide clear instructions: Give clear instructions on how to leave a review on Google. You can do this by providing a link to your Google My Business listing or by providing step-by-step instructions.

Make it mobile-friendly: Ensure that the process of leaving a review is mobile-friendly. This is important because many people use their mobile phones to search for businesses.

Ask at the right time: Ask customers for a review at the right time, such as after a successful transaction or positive experience.

Personalize the request: Personalize your request by using the customer's name and mentioning specific details about their experience with your business.

Keep it simple: Keep the request simple and to the point. Avoid using long and complicated language that might confuse the customer.

Add point-of-sale review tools where available. Customers can check out and leave a review at the same time. 

Offer incentives: Consider offering incentives such as a discount or a free gift for leaving a review. However, be careful not to offer incentives that might appear to be bribes or influence the customer's review.

Follow up: Follow up with customers who have agreed to leave a review to remind them and thank them for their time.
By implementing these best practices, you can make it easy and convenient for customers to leave positive reviews for your business on Google.
3. Be Straightforward With Your Review Request
For this tip, it's a good practice to be upfront with your customers by saying, "positive reviews help our business grow." When customers understand why, they are more likely to take the steps to leave your business a positive review. 
4. Strive to Provide Exceptional Customer Service For All Your Customers
Excellent customer service and product or service delivery are the keys to unlocking great reviews from your customers. If you do your part, your customers are likely to reward you by leaving you 5-star Google reviews and glowing reviews on other platforms like TrustPilot. 
5. Respond to All Customer Reviews on Your Google Business Profile
Responding to customer reviews is an integral part of review management, which itself is a component of online reputation management. When you respond, you're telling your customers that you value their feedback and that you take their praise – or critiques – seriously. 
6. Obey The Google Review Policies
Study up on Google's review policies to make sure you're not violating them when you ask your customers to leave positive reviews. A violation of policies can have your Google My Business listing suspended – or even deleted altogether. 
7. Offer Simple Incentives for Customers in Exchange For Google Positive Reviews
A discount or a free gift is a small token of appreciation for leaving a review. As mentioned earlier, however, be careful not to offer incentives that might appear to influence the customer's review.
8. Use "Leave Us a Review" Cards
You can include a "leave us a review" card at point-of-sale terminals, with a customer's receipt, or in strategic locations around your business. The more options you provide for customers, the more likely they are to leave you a review. 
You may also consider using a digital form of the "leave us a review" card as a QR code to scan on the customer's receipt or as a link embedded in customer emails. 
9.  Ask for Reviews When You Are In Front Of Your Customers
Whenever you are in direct contact with a customer, it's a perfect opportunity to ask for a review. This can be done when helping customers select products, checking out, or other touch points during the interaction. 
10. Don't Forget to Address Negative Google Reviews
As painful as they may be to respond to, addressing negative reviews can often turn a negative into a positive by telling your customers that you care about their feedback. You're also signalling that you want to make things right on their next visit. 
Can Anyone Write You a Google Review?
Yes, anyone can write a Google review. Typically, these reviews come from customers who have frequented your business.
Unfortunately, review platforms like Google Reviews have been used by anonymous people – including competitors – to post negative, fake, misleading, or defamatory reviews. Most review platforms have tools with which to identify these fake reviews and to delete them. 
What is an Example of a Positive 5-star Google Review?
Here are a couple examples of customers' 5-star Google reviews left for NetReputation:

"Relying on this team to manage our fledgling business' online reputation was key for a successful launch. Thanks to their expertise, we have seen exponential growth — and the good news is that it doesn't look like things are slowing down anytime soon!"
"NetReputation provided an incredible boost to our business – we can now proudly say that our latest product ranks on the first page of search engine results! We should have reached out sooner; it's impressive how quickly they increased our visibility."
How To Generate A Google Review Link For Your Business
To encourage customers to leave positive reviews, making the process simple involves only a couple of steps.
1. Verify Google Business Profile.
You've claimed your business listing on Google My Business, right? If not, do so immediately to unlock a host of tools with which to boost your online visibility. 
2. Open Your Google Business Account, and on the Home Screen, Navigate to the "Get More Reviews" Box.
Using the Google account you used to set up and manage your listing, navigate to the "Get More Reviews" box in the user dashboard. 
3. Click "Share Review Form" and Copy the Provided Review Link.
Google generates a link that you can use in emails, point-of-sale interactions, and on your website to give to customers. Customers simply click on the link and are directed to the review area of your profile. 
4. Provide This Link to Your Target Customers to Leave You Positive Reviews.
If you interact with your customers on social media, in emails or newsletter, or on your website, adding the Google review link is a great way to supercharge your review gathering efforts.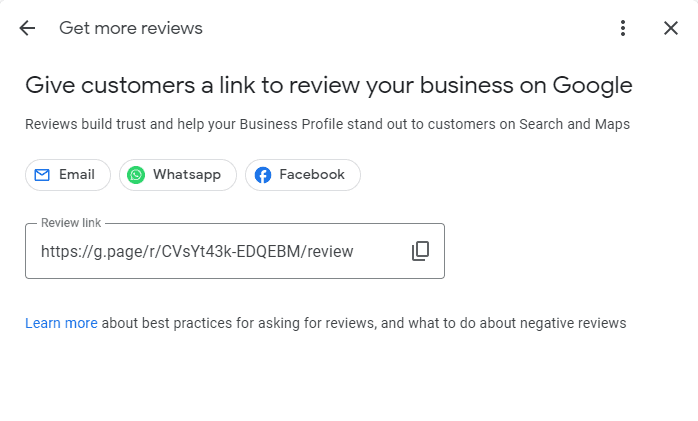 Focus on Creating a Long-Term Strategy for Generating More 5-Star Google Reviews
Here are some tips for creating a long-term strategy for getting more 5-star Google reviews:
Ask for reviews: Ask your satisfied customers to leave a review on your Google My Business page. You can include a reminder on your receipts, emails, or social media posts. Make sure to ask at the right time, for example, after completing a service or sale.

Provide excellent customer service: Ensure that your customer service is top-notch. Make sure that your customers feel valued and satisfied with their experience with your business. This will increase the likelihood that they will leave a positive review.

Respond to reviews: Respond to every review that you receive, positive or negative. Thank customers for their positive reviews and address any concerns or issues raised in negative reviews. This shows that you value their feedback and are committed to providing great customer service.

Use customer feedback to improve: Use the feedback you receive from customers to make improvements to your business. This could be in the form of updating your product or service offerings or improving your customer service.

Encourage your employees to ask for reviews: Encourage your employees to ask for reviews as well. They can ask customers at the end of their service or sale if they were satisfied and if they would be willing to leave a review.

Provide incentives: Offer incentives for customers who leave a review. This could be in the form of a discount on their next purchase or a free product or service. Just make sure that the incentive is ethical and complies with Google's guidelines.
By following these tips, you are setting the stage for more 5-star reviews well into the future, improving your revenue, trustworthiness, and visibility in the digital environment. 
How to Keep Bad Google Reviews Private
No, there is no way to keep bad Google reviews private. Google My Business is a public platform, and all reviews are visible to anyone who visits your business profile.
It's important to note that having some negative reviews is normal for any business. Consumers generally expect to see a mix of positive and negative reviews, and some negative reviews can even lend credibility to the positive reviews. The key takeaway is that a mix of reviews, both positive and negative, add a measure of authenticity to your digital presence. 
If your Google reviews aren't showing up, check the settings in your Google My Business dashboard. 
Final Thoughts
5-star reviews on Google are a key influencer for bringing customers to your door. By encouraging great reviews – and by delivering superior products and services – you are doing your part to secure a bright and successful future for your business. Our guide above provides numerous tips for you to get the most from your Google review profiles. 
5 Star Google Reviews FAQs
Here are several of the most commonly-asked questions the NetReputation review management team has received:
What Is the Benefit of a 5-Star Review Rating?
The key benefit of a 5-star review or review rating is that it tells other customers that your business provides great products, great service, and great customer experiences. This directly translates into more revenue for your business. 
How Do I Write a 5-Star Review on Google?
To leave a 5-star review for a business, go the the company's Google My Business profile, then click "Reviews." From there, easy instructions allow you to assign a star rating and add your comments. Don't forget to click "save" when you're done writing your review. 
Is It Legal to Pay For 5-Star Reviews?
While it is technically legal to pay for 5-star reviews, it is an unethical practice. More importantly, it is a violation of Google's terms of service and review policies, potentially causing your business listing to be suspended or removed from the Google search environment. 
Contact NetReputation Today
Managing your reviews on Google can be a time-consuming and frustrating process.
NetReputation can help. Our team of expert Google review management professionals can help you leverage the power of positive Google reviews, allowing you to gain visibility in online searches and reinforce customer relationships at the same time.
Call NetReputation at 844-461-3632 today or complete the form below to begin your free consultation.