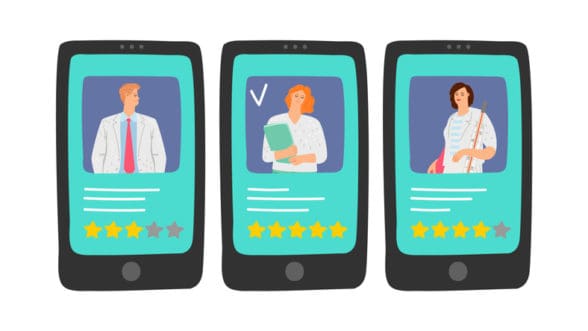 Your online reputation can make or break you; medical reputation management is critical. Even if you don't have a website or social media account, your business success is still largely dependent upon what is written about you online.
Where Information Exists Online
Digital information about your business generally exists in several places.
Local directory listings, such as "find a doctor."
Social media — your own sites, as well as those of others
Physician rating and review sites
Websites and blogs of others
Your own Website or the Website of the hospital you are affiliated with
The Importance of Reviews
Prospective patients do check reviews when determining which physician to choose. In a recent survey, 70 percent said that online ratings and review sites had influenced their choice of a physician. Even if patients are referred to one doctor from another one, 41 percent will still search for information and ratings for that doctor online. Patients also share information themselves online; 51 percent of all patients share their experiences on Websites or through social media.
Poor reviews can hurt or damage your business, while positive reviews can help them. A 2018 survey found that 94 percent of consumers had avoided a business because of a negative review.  These reviews affect your business whether or not you have an online or social media presence.
In addition to providing information that patients use to make health care decisions, reviews also affect how high a company ranks in many search engines. This means that a health care practice that receives poor reviews also will appear far down the page when prospective patients search for a provider.
Those surveyed name the hospital's Website, Google, WebMD, HealthCare, and social media as places they'd go to first to search for or to review a health care provider.
Bad reviews and other negative content remain on the Internet indefinitely. This negative content affects your business, so ignoring the negative content is a bad idea.
Filing a lawsuit to try to force the bad content off of sites is also a bad idea. For one thing, establishing that an online remark qualifies as defamation may take months or years, and the litigation will cost thousands of dollars.
Also, fighting with reviewers may do more harm than good. The lawsuit can draw unfavorable coverage online and in the traditional press.
Some good news to go with the bad: if reviews can be flagged as false, misleading, or defamatory, most review platforms will remove them. You can't simply flag those reviews that are negative — they must fall outside the established guidelines provided by Google or other review sites. Getting these false or fake reviews taken down can help you to begin the reputation repair process. As you will see in the sections below, there are additional tactics to explore as you rebuild from the damage associated with negative patient sentiments.
However, you can fight negative online content effectively by essentially burying it with positive content.
Monitor and Reach Out
Monitor social media, the Web, directory, and review sites at least once a week. Major review sites are:
Vitals
Healthgrades
Google
RateMD
YP
RevolutionHealth.com
Checkbook.org
Kudzu.com
ZocDoc.com
If someone posts a negative review, reach out to them to see how you can correct whatever you did wrong. If someone posts a positive review, send or post a "Thank You." Always be polite and professional.
Create Profiles in Directories
Medical businesses can create profiles on directory sites that will demonstrate their expertise and improve their rankings on search engines. Some directories are:
CareDash: CareDash uses artificial intelligence to detect and stop the publication of fraudulent reviews. Creating and personalizing a profile is easy.
Doximity: As of 2018, more than half of all U.S. doctors were listed on this n online social network for doctors with verified clinicians' profiles.
Sharecare: This wellness platform and doctor directory lists physicians' full profiles, including educational background, years of experience, specialties, professional affiliation, and accepted insurance plans.
WebMD: The company allows doctors to create free profiles and advertise on the platform to get new patients.
Maintain Your Own Sites for Effective 
Medical Reputation Management
While you can't control what other people say about you, you can control your own message. Create your own Website and social media presence on Facebook, Linked In, and YouTube. Post helpful articles or videos regularly to keep them fresh and engaging. Be sure to engage with patients on these social networks in friendly and professional ways.
Creating a YouTube channel with its own URL can be particularly helpful if you use it wisely. For example, a physician could post short informational videos on topics on which you have expertise.
SlideShare is a social network allowing users to publish professional presentations online. It receives about 80 million visitors a month and can be particularly useful as a place where doctors can create a profile and share information about medical topics.
Because of how algorithms in search engines operate, all the social networks can help physicians bury negative reviews by pushing them to the second page and beyond in the listings.
Use Your Google Listing
Be sure to claim your local Google business listing. The listings offer many options for customization and allow you to create powerful content.
Blog
Write blogs on your Website for your patients that show your expertise and compassionate attitude. Choose topics that will be engaging to your current and prospective patients. Also, write blogs that will appear on other Websites.
Be Active on Q&A Sites
Create profiles on Q&A sites, such as Quora and Namesake, then answer questions that appear there that are in your particular specialty. Consistently answering questions within a narrow focus where you are best qualified tends to work better than answering a broad range of questions.
Build and Nurture Patient Relationships
A good patient relationship will help you avoid bad reviews. Listen to each patient and address their concerns. Many negative reviews are the result of an experience the customer had with someone other than the physician. For example, patients reviewed the doctor badly because of a bad interaction with the desk staff or the nurse, having to wait too long, billing problems, or a poor parking experience.
Surveyed patients indicated that "a friendly and caring attitude" is their most important rating factor, followed slightly by "an ability to answer all my questions" and thoroughness of the examination.
Dissatisfied customers are much more likely to post reviews than happy ones are. Be proactive about asking your patients for feedback on the care they've received. If patients are satisfied, encourage them to write online reviews. The best time to ask for a positive review is right after a customer has had a great experience. Positive reviews can counteract negative ones.
Avoid Astroturfing
Astroturfing is the practice of masking the sponsors of a message so that readers think the message originates from and is supported by grassroots participants. Astroturfing is unethical. In other words, don't manufacture fake positive reviews.
Campaign Length
Replacing negative content with positive content takes time. Most medical reputation management campaigns last several months. However, maintaining a positive reputation requires constant vigilance. You consistently blog, monitor others' posts, engage customers on social media, and encourage positive reviews.
Contact us for 
Medical Reputation Management

 Help

NetReputation is an expert in medical reputation management. We have helped thousands of companies and individuals repair their online reputations and proactively maintain a positive online reputation. We can do the following:
Remove or Suppress Negative Content on Google, Bing, or Yahoo.
Monitor and optimize your social media accounts.
Alert you by email when new information is published online about you.
Optimize search engine listings. We improve what people see on Google when they search for your name.
Write and publish press releases, blogs, photos, and other content on your behalf that will improve your reputation.
Provide 24/7 customer support throughout the duration of your 

medical reputation management

 campaign.
We do all the monitoring, writing, and posting for you so that you can focus on your medical practice. Start improving your online reputation today. Contact our Reputation Team at 844-461-3632 for a free consultation.
Updated 8/2022