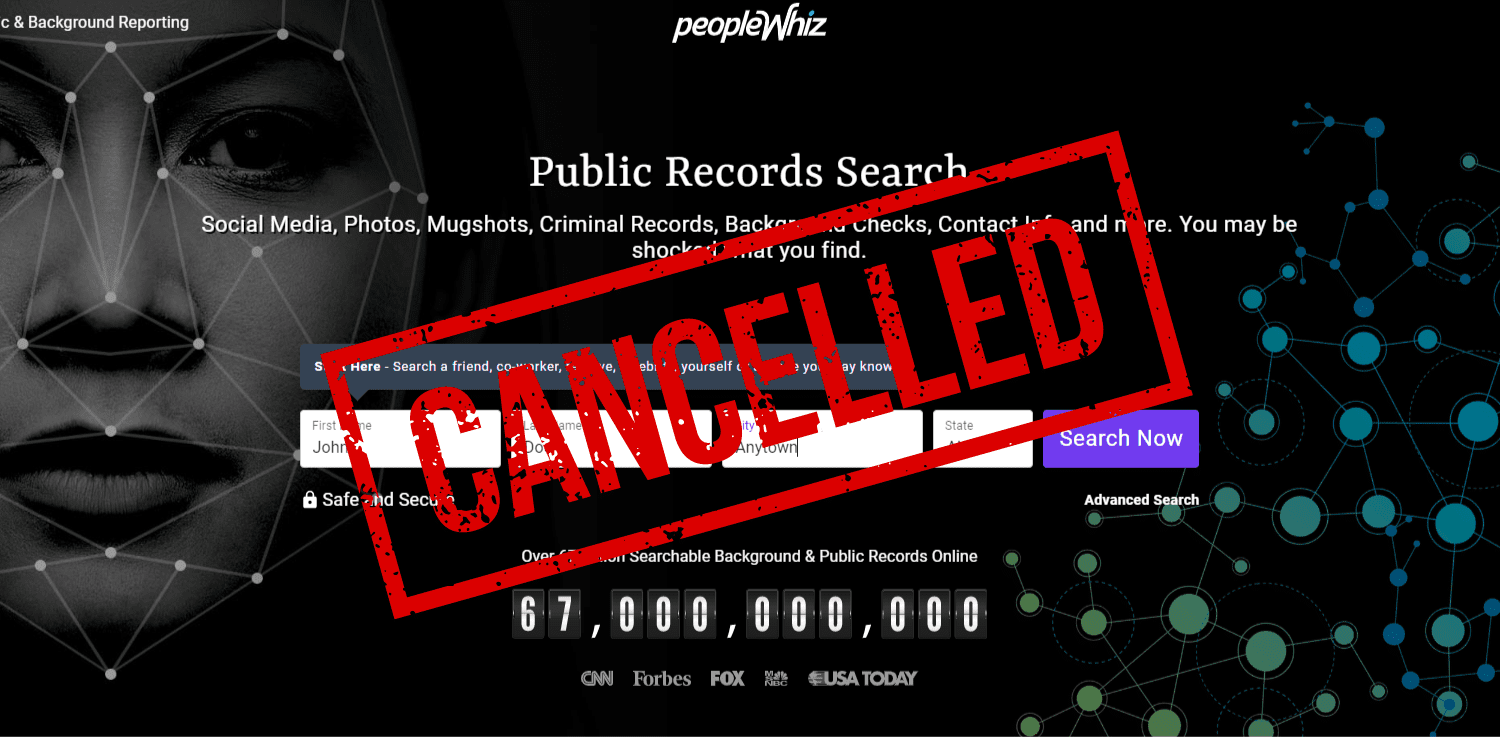 Ready to learn about the PeopleWhiz opt-out process and don't know where to turn? Our guide below answers all your questions.
Billed as a comprehensive public and background reporting website, PeopleWhiz is only one of numerous "people search" sites on the web.
Sites like this may share personal records you don't want just anyone to be able to access.
If you value your personal privacy and want to remove your personal details from internet search results, our guide to the PeopleWhiz opt out process is designed to eliminate unnecessary risks.
Let's get started!
What is PeopleWhiz?
PeopleWhiz is a so-called "people search site" where anyone with an internet connection can quickly find information on others.
The PeopleWhiz website boasts 67 billion searchable records in its database and can be used for everyday search applications like:
Finding property records
Learning about people you meet on dating sites
Reuniting with lost loved ones or family members
Uncovering hidden digital profiles
PeopleWhiz is just one of the hundreds of similar sites on the web. Collectively, these sites are known as data brokers or sites that collect personal details from web sources, then repackage them for individuals. Some data broker sites may offer the information for free while others charge an access or subscription fee to view reports.
What Information is Available on PeopleWhiz?
If you've ever used a data broker to locate information on yourself, a loved one, or someone you met, you were probably surprised at the sheer volume of records available.
If you haven't used PeopleWhiz or another data broker, a report typically includes personal details like:
First and last name
Phone numbers
Home address
Previous addresses or address history
Links to criminal and court records
Salary information
Marital status
Names of family members
Email addresses
Licensing information
Property records
If you're concerned about identity theft, it is in your best interest to opt out of data collection. Most data brokers offer some form of opt-out process; you make opt out requests based on the instructions each data broker posts on its website. This is the first step to take in protecting your personal privacy; if you feel overwhelmed by the process, a professional digital privacy service provider can help.
Your online reputation is another matter; if you have an embarrassing past that you don't want people to know about — a past that may include criminal records, mugshots, negative news articles, or details on social media profiles — making a removal request is a great idea as well.
In our next section, we'll show you the online opt-out form for PeopleWhiz and provide step-by-step instructions on the PeopleWhiz opt out process.
Guide to the PeopleWhiz Data Removal Process
To opt out of PeopleWhiz, follow the steps below:
Go to the PeopleWhiz website and navigate to the bottom of the screen where you will find a link that says "Remove My Info." Click that link.
On the next screen, click the link that says, "Start By Searching Your Public Records Here." If you prefer, you can visit the opt out page directly by pasting https://www.peoplewhiz.com/optout in your browser's search box.
On the opt out page, type in your name and city, then select your state from the dropdown box. Finally, click "Search Now" to begin the search process.
When you find your records in the search results, click the "That's Me" button.
At this point, PeopleWhiz will ask you to enter your email address. Do so, then click "Next."
PeopleWhiz uses an email verification process to ensure you're the one making the removal request. Click the confirmation link in the email you receive and follow the instructions on the PeopleWhiz website.
To complete the identity verification, you will need to submit a copy of a government-issued ID. The ID must contain a real picture of you and can include a passport, driver's license, or state-issued ID. You can upload a copy or email a copy to PeopleWhiz.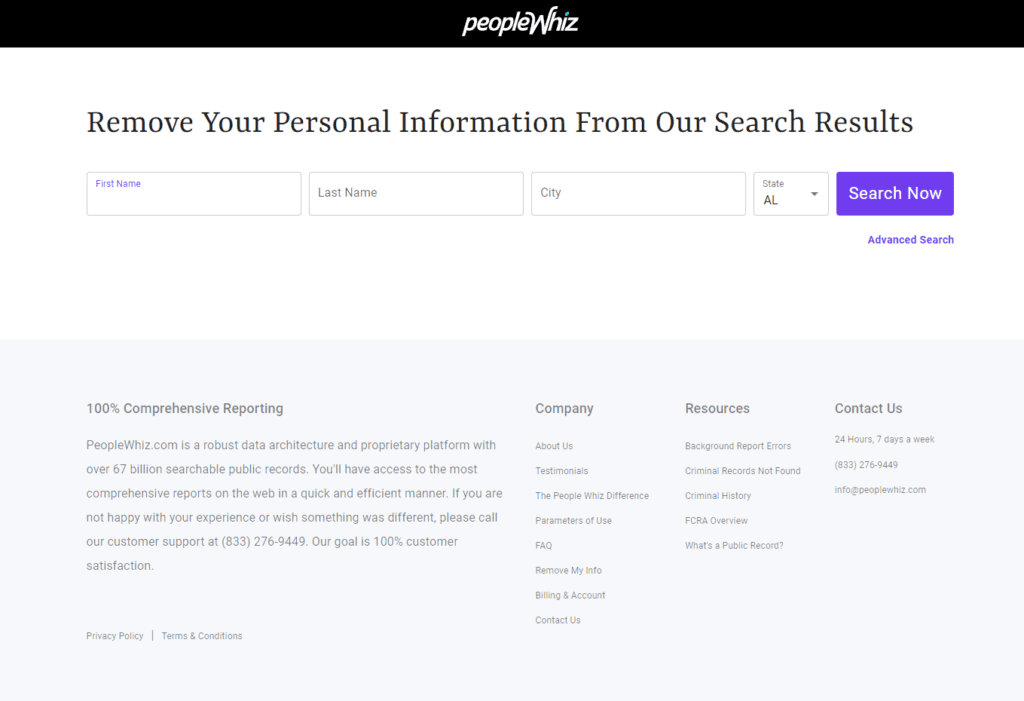 Manually Opting Out from PeopleWhiz
If you prefer to opt out manually without using the online form, you can complete the removal process by making a request and sending a copy of your ID via snail mail to:
PeopleWhiz.com
8383 Wilshire Blvd.
Suite 540
Beverly Hills, California 90211
Attn: Opt Out Request
How Did PeopleWhiz Get My Personal Information?
Data brokers like PeopleWhiz use several resources to collect information. Automated tools are used to scrape these sources; then, the database republishes information for public view.
The three sources are:
Public Records Databases
If you ever had to apply for a license or fill out forms with a government agency, the information collected becomes part of the public record. Most government agencies share this information with members of the public. Similar records may include mugshots, arrest reports, criminal records, and other embarrassing details which may show up on background checks unless you purge the web of these records. Remember: data stays online unless you take the time to start the removal process.
Other Data Brokers
In the information economy, personal information is valuable. Therefore, data brokers may sell or share this information with other data brokers. In fact, if one data broker has your information, chances are it has been sold or shared with dozens of others.
Third-Party Information Sources
Data brokers conduct regular searches of internet resources to collect information. They may find rich details on web properties like social media accounts, personal or professional websites, industry blogs, user forums, and nearly any other place where people post their personal details.
Protecting Your Personal Information from Sites Like PeopleWhiz
If you've completed the opt out process, you can rest easy knowing that you've taken steps to protect your digital privacy.
There are more steps you can take, however. Here is a roundup of tips for protecting your information from sites like PeopleWhiz:
Limit what you share on social media.
Don't give out your email address or phone number to retailers.
Use an incognito browser setting, particularly if you use shared computers.
Create strong passwords by using upper- and lowercase words, special characters, and numbers. You should also change your passwords periodically.
Shred any snail mail that contains account numbers, Social Security numbers, or other identifying details.
Monitor the activity of children online; children sometimes share information that they shouldn't.
Protect your privacy by using anti-spam and antivirus software on your computing devices.
Opt out of any data broker sites you find.
Background checks are a fact of life in the modern era. By protecting your privacy, you can prevent strangers from accessing your details, even on sites like PeopleWhiz.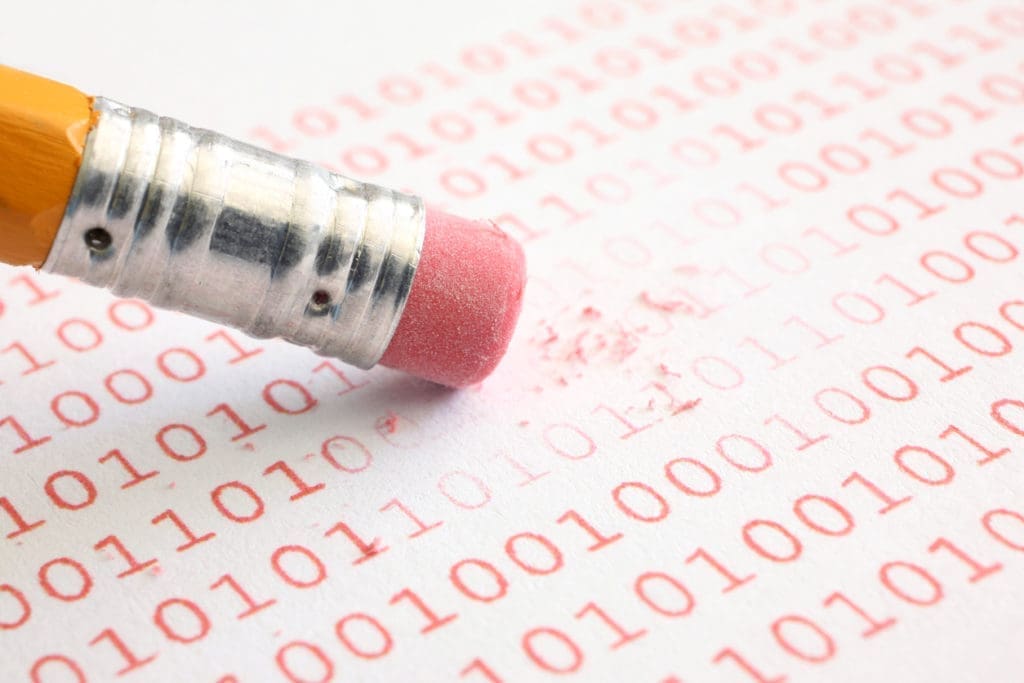 Contact NetReputation Today
NetReputation is an award-winning leader in online reputation management. We know that you deserve privacy in the online environment; people search sites like PeopleWhiz allow anyone to pull up your personal information.
With our help, thousands of clients have protected their private data online and eliminated online harassment with cutting-edge content removal solutions. Get your information removed fast and for good with the assistance of our content removal team. We perform where others can't; thousands of clients have trusted our methods since 2015.
Ready to take charge of your privacy online? Call NetReputation at 844-461-3632 or complete the online form below for a free consultation.