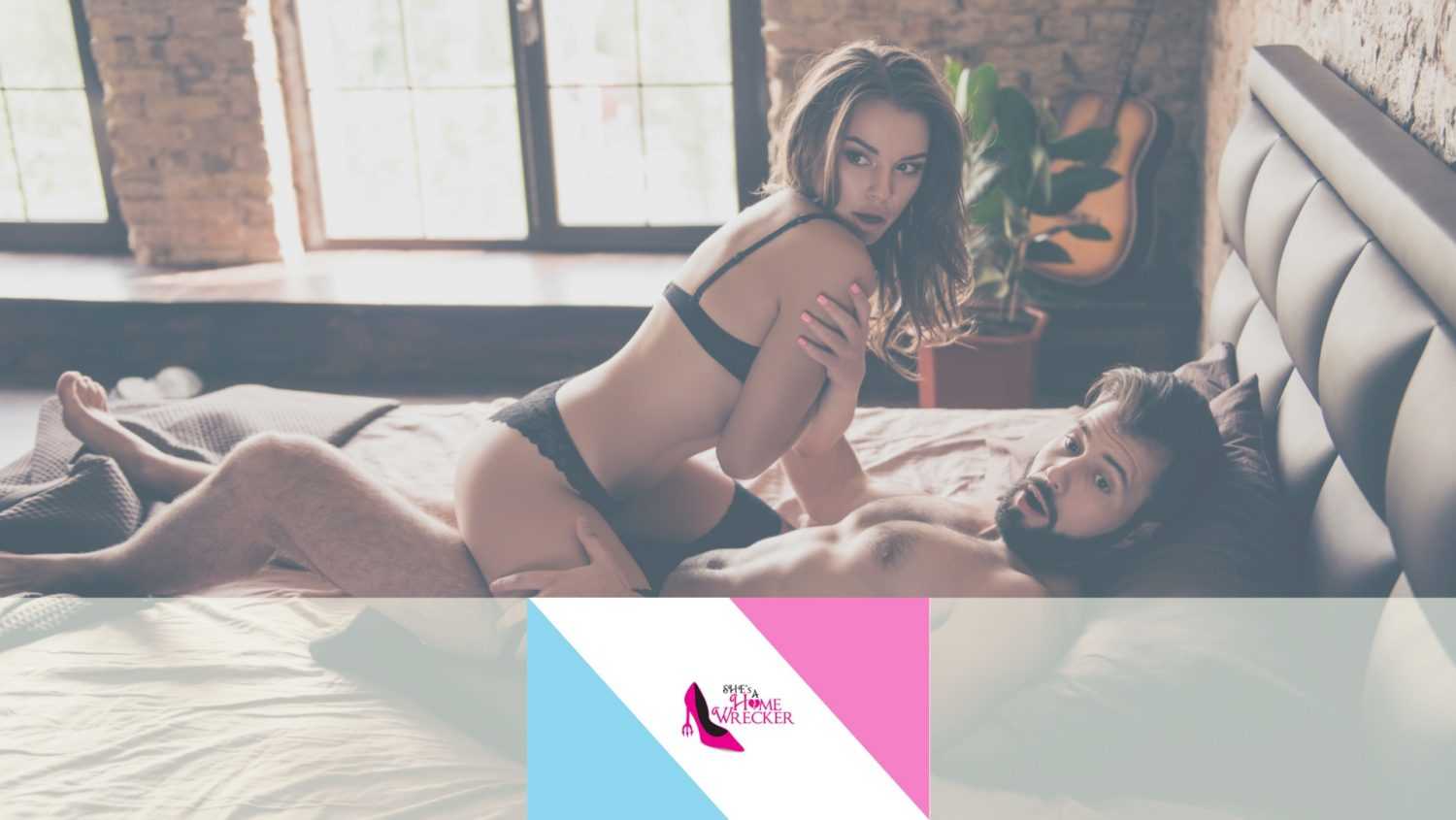 Remove ShesAHomeWrecker.com Articles
The internet is a dangerous place, especially for older generations who may not know exactly what they are doing.
Most individuals that connect with each other online are unaware of the repercussions or risks that come with it if they are not careful. Not only does the internet connect people and businesses from across the world with free-flowing dissemination of knowledge, but it is also a platform for users to share their concepts, hopes, and viewpoints.
Sadly, such transparency and international access pose a significant threat for a few.
The internet is home to many defamatory or derogatory posts. ShesAHomeWrecker.com has been around for many years, simply to showcase those individuals who have ruined families or relationship by cheating.
ShesAHomeWrecker (SAHW) has one mission, to ruin the reputation of thousands of individuals through user posts. This website allows husbands and wives to showcase their disgust publicly in reference to their spouse cheating on them.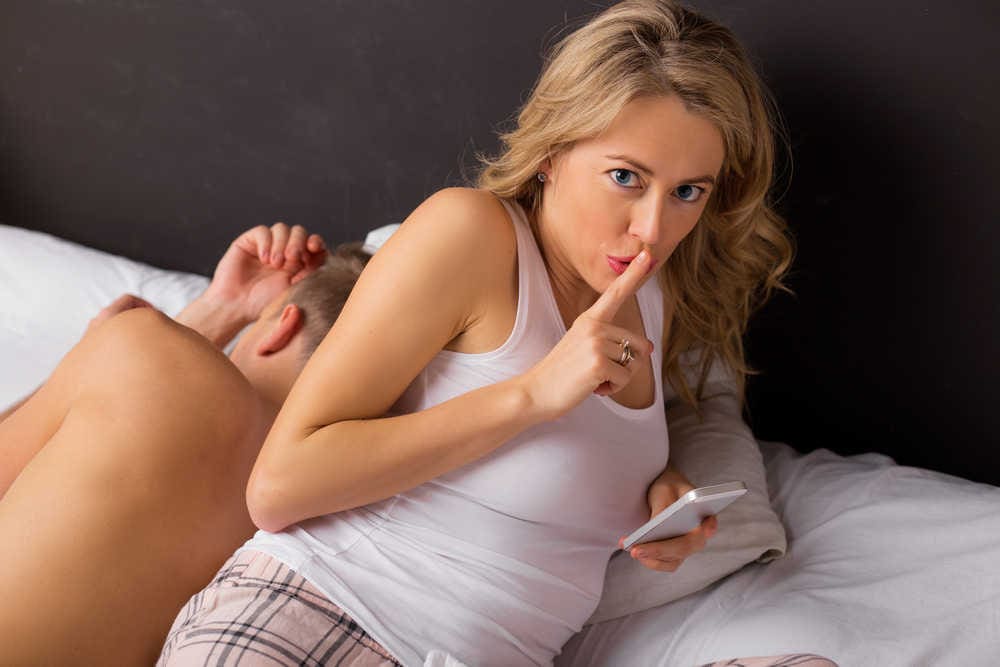 Personal Forums (ShesAHomeWrecker.com) Exposes Wrongdoings and Immoral Behavior | True or False
Over the years this has resulted in several former spouses or detested lovers using ShesAHomeWrecker.com as a tool to reveal cheaters, request revenge/cyberbullying, and even slut-shaming others that have disrupted their family.
ShesAHomewrecker.com and HesAHomewrecker.com are both standard online blog sites for shaming, exposing, or posting gruesome content, unsavory trysts, and alternative extra-marital affairs. Upon coming onto Shes A HomeWrecker, guests are confronted with a "thought-provoking" answer and "solution." Enough the rattle anyone's emotions.
The worst part about it all is that these articles are typically shared onto social media and other news outlets to further showcase each individual in a negative light. Most individuals are unaware they are even on these websites until it is too late of course.
What is ShesAHomeWrecker.com?
Shesahomewrecker.com is a rising problem along with many other similar sites like theDirty.com. The internet is a double-edged sword. It can either help you or it can hurt you tremendously. Apart from connecting companies and consumers, the internet also serves as a platform for users to share their ideas, hopes, and viewpoints on every issue fathomable.
Regrettably, this opens the doors to negative consequences when your information gets into the wrong hands, or simply out of your control. Cheater sites and revenge porn, are for the most part automatically deleted from search engines like Google but the trace to the article will always remain present. 
ShesAHomeWrecker.com articles are detrimental to anyone's reputation appearing on the site. Good luck finding a new spouse, or a job.
More often than not, if you have a unique name, your article will rank on the first page of Google! Posts are NOT validated or fact-checked. Meaning, you can ruin an individual's reputation in less in little to no time at all with no proof necessary.
Nowadays, people visit the internet to say, do or experience things they would be less lately do in person (face-to-face). Many articles on ShesAHomeWrecker.com are posted out of spite or anger. These articles can potentially ruin peoples' lives. In addition, these sites are placed into generalized categories such as, exposing cheaters, seeking revenge, cyber-bullying, and even "slut-shaming".
A Homewrecker is defined as a person who is blamed for the breakup of a marriage or family.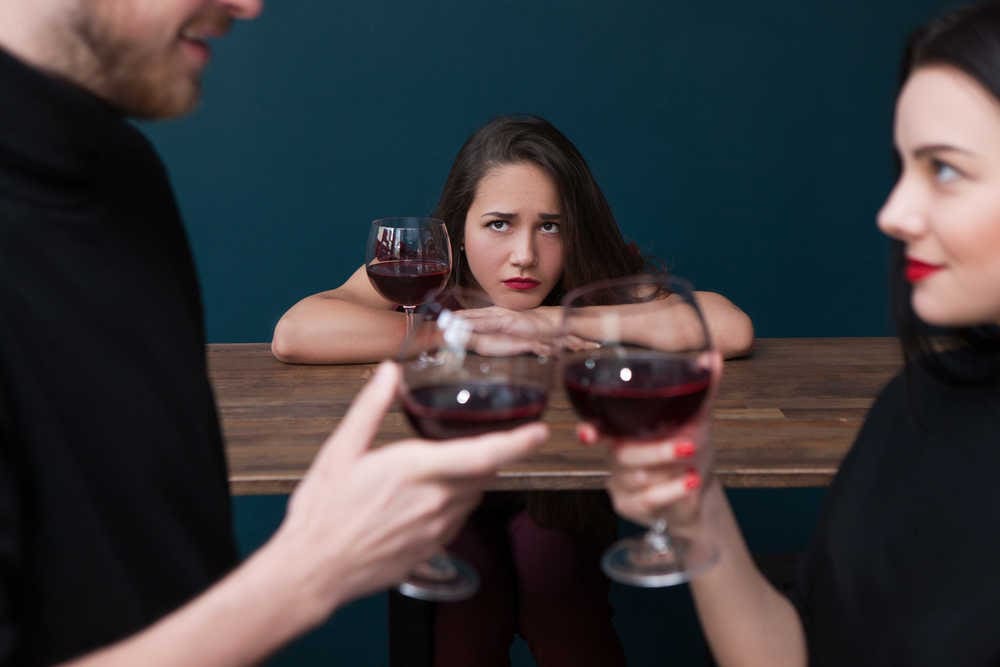 How Do You Post on ShesAHomeWrecker.com?
One of the most concerning aspects of this website is that the articles are not vetted. Meaning they require ZERO proof that this incident occurred at all.
Day after day, here at NetReputation we work to defend those who were wrongfully posted online on ShesAHomeWrecker.com as well as dozens of other revenge porn or cheater style websites. Many of the articles posted are illegitimate or a complete lie. This showcases how dangerous the internet can truly be. Whether you turn down that crazy lady down the street who is trying to take you on a date or truly cheat on your spouse, anyone can become a victim of this.
Once an article is posted on ShesAHomeWrecker it is online for the entire world to see. These publications will not go away on their own so you must remain proactive when working to suppress or completely remove any reference on Google, Bing or Yahoo.
Unless you are a celebrity or have lots of pre-existing content online you will most likely see your defamatory post on the first page of Google. The last thing you need is your children Googling your name only to find out Mommy or Daddy is a cheater.
On top of this, many articles showcase elicit photos or videos of the individual to further shame them online. Seeing as this website posts article anonymously, you cannot sue the website owners. Instead, you are stuck thinking about how you can remove this article with little to no information on where to start and who to contact.
That is when Net Reputation steps it, our knowledgeable legal team has battled thousands of reports on ShesAHomeWrecker.com and related websites. If you are on one site there is a great chance you are on multiple. All solutions are 100% guaranteed, there is no risk in attempting to remove an article.
Contact us here, one of our knowledgeable reputation specialists will conduct a FREE ANALYSIS to uncover any and all negative websites mentioning your name.

Posting on ShesAHomeWrecker.com
Once you land on their website, there is a pink button in the top right corner of the homepage that reads "SUBMIT". It is that easy, no profile creation, no proof of their story, whatever an individual wants to say can be said.
Here is all of the information you would need in order to post an article:
Full name & email

Who is the story about and where are they from

Post title

You even have the opportunity to include photos (including nudity)
With inadequate protective measures, anyone can publish anything about anyone without penalty. Say you and your neighbor get into a fight, he can go home and write an article about you being a child molester, cheater or a drug addict, without any repercussions.
Now you are left to come up with an explanation when your family or even worse, your boss and coworkers ask you about it.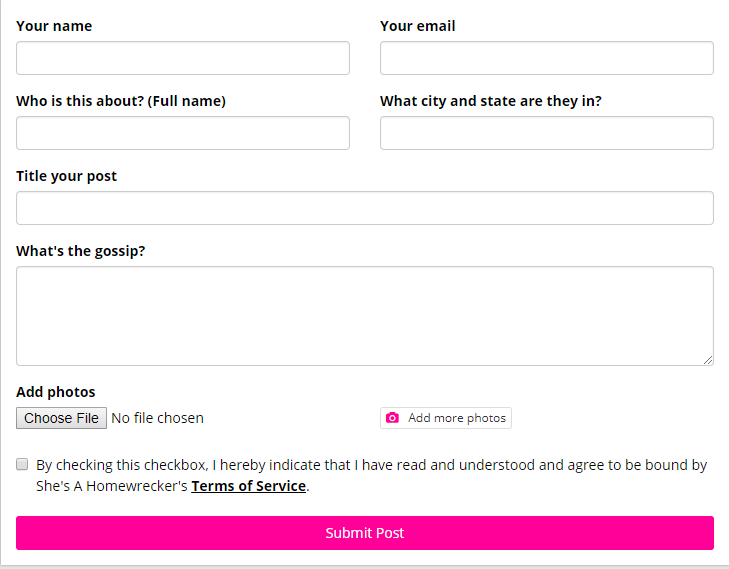 Can ShesAHomeWrecker.com Legally Post This Negative Information?
Unfortunately yes, sites like ShesAHomewrecker.com and HesAHomeWrecker.com operate similarly to sites like Reddit. They are forum based, meaning the user that created the post is responsible for "fact checking" the information themselves. Go figure. On top of this, every post is submitting anonymously so only the website owner has the ability to track the IP address, etc. 
ShesAHomeWrecker.com is protected under the Communication and Decency Act (CDA) which clearly states the following:
"No provider or user of an interactive computer service shall be treated as the publisher or speaker of any information provided by another information content provider."
In summary, the owners of ShesAHomeWrecker.com are not responsible simply because they did not directly post it. The users that posted the article is legally responsible. Furthermore, the "publishers" are unidentified. Making tracking posts impossible so you never truly know who wrote the article.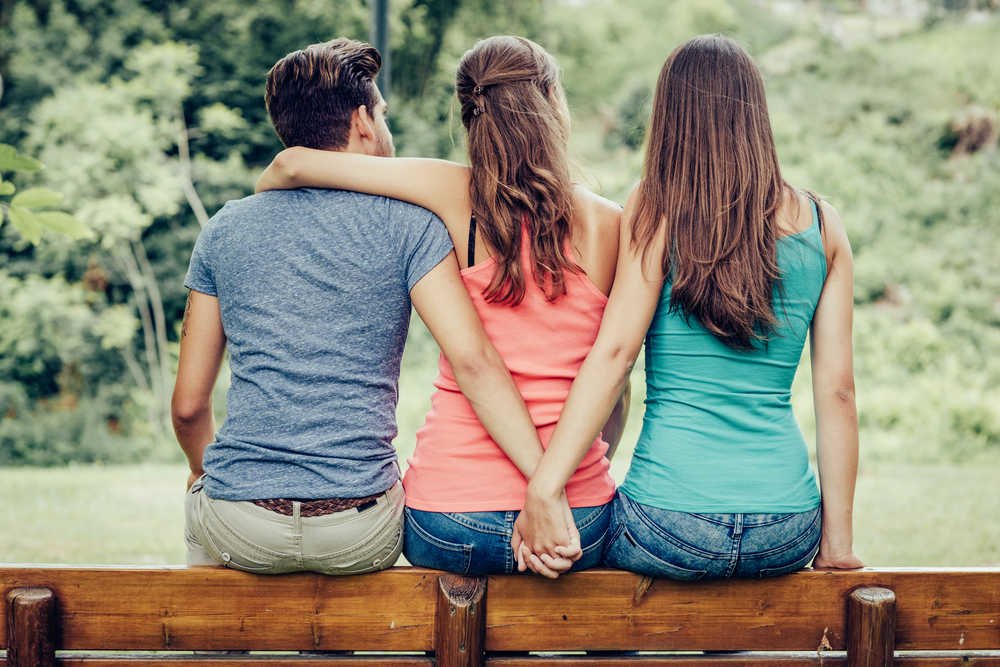 Major Concerns with ShesAHomeWrecker.com
Regardless if you have been cheated on or cheated on your spouse and fell victim to this there is little you can do without seeking legal counsel. However we will do our best to help you suppress these articles on your own.
However, without a proper online reputation management solution, it could be months, if not years before your article moves down in the search results.
Cheater Websites Ruin Individuals' Reputations
If you have ever visited ShesAHomeWrecker.com's website you may have missed their "disclaimer". Under the "Terms of Service", they state the following:
"We do not fact-check posts or comments submitted by users and cannot ensure the accuracy of any content presented on SAHW by third parties. Content appearing on this site may contain rumors, speculation, assumptions, opinions and other unverified information from our users."
Now, what does this mean exactly? This means you can post whatever you want about whomever you want without them ever finding out you posted it. Now how can a website say such a thing? You would assume that after each post the articles would go through some sort of verification process before it ruins a person life, costs them their job, or even worse, their family.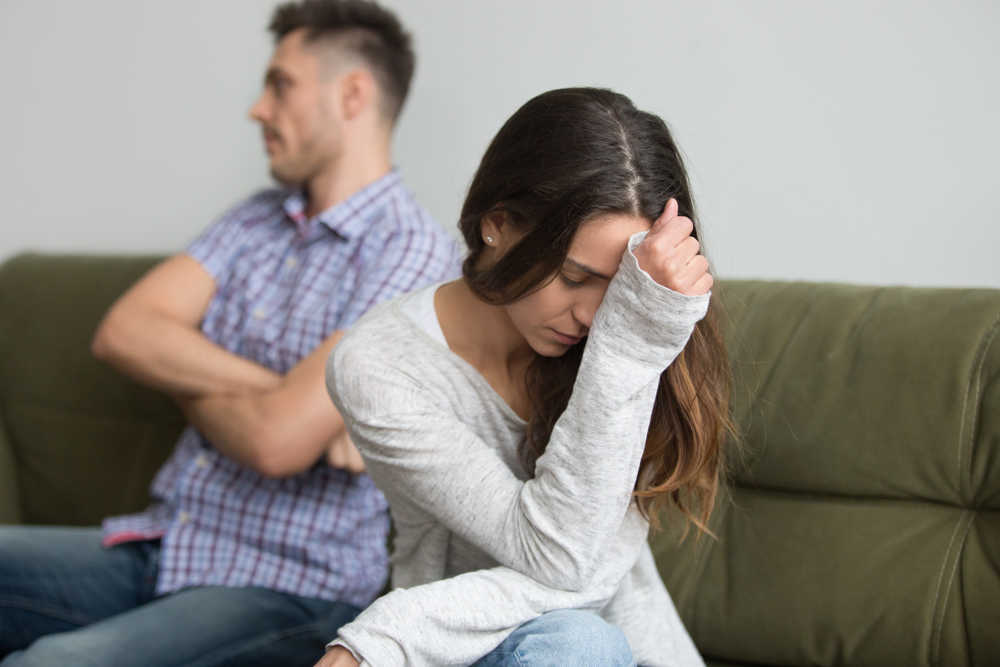 What Can You Do To Combat SAHW Articles? Quickly Remove ShesAHomeWrecker.com Posts
If you or someone you know is currently struggling with a negative article on ShesAHomeWrecker.com you do have a few options. Our experts will remove ShesAHomeWrecker.com posts in no time at all by utilizing our legal partners across the United States to attack this from all angles.
First and foremost if you have the financial backing to hire an attorney we would recommend calling a local law office for assistance. However, for the most part, the average individual does not have thousands and thousands of dollars to throw away on a no-name website.
Here at NetReputation, we work through various media and news outlets to essentially bury each article from the first several pages of Google.
We stated previously that the amount of work depends on how much information you already have online about you. Regardless of if you are an executive at a Fortune 500 company or on French Fry Duty at your local McDonalds, there are options you can start to implement today to actively suppress any articles on SAHW.
Here Are a Few Social Site Suggestions From Our Team:
Quora – If you are knowledgeable in a particular field, create a Quora profile and start answering dozens of questions each and every day. More specifically, reply to higher value questions that receive hundreds or thousands of monthly views. Here at NetReputation we answer a handful of questions each week and have roughly 16,000 monthly visitors. Now, these responses can be a few sentences or an entire blog post. Read the current answers, make yours longer and include tips that nobody else mentioned.
Tumblr – If you are a fan of blogging this is the perfect option for you. Tumblr as a whole holds high authority within Google, Bing, and Yahoo.
Pinterest – This should be your main focus if the negative post contains an elicit photo (containing nudity). Although Google does a great job with internet censorship what images rank we have seen many images slip through the cracks and find their way to page one of the images. If you are not familiar with Pinterest it is a social platform where individuals solely post pictures and infographics for others to see, share and comment on. Start by creating a few boards under your name and post pictures of yourself. You can integrate your Facebook, WordPress Blog, and many other social sites to directly share content straight to Pinterest.
Medium –  Another way to promote yourself online in a positive light in writing blogs. After selecting a few topics that interest you, you have the ability to create news articles for the world to see. If you write about an interesting topic that has not been covered in the past you have an excellent chance that your article will rank within the first several pages on Google.
What's Next…
After creating your many social sites make sure that you connect them all.
What do we mean by this?
For example, to increase the authority of your Quora account you can reference articles you wrote on Medium in your responses by simply adding a hyperlink. Not only does this create a backlink for your Medium page but it increases its power on Google. Once you build a following you can send them to your other social accounts to view different types of content you publish.
At NetReputation our media team works with each of our clients to ensure they are correctly building out each of their social sites. This option does take a few months so do not expect after making your social accounts to have your SAHW post buried overnight. On average, with regulatory postings, it should take about 3-6 months before you see anything from ShesAHomeWrecker.com move down in the rankings on Google, Bing, and Yahoo. Be patient, don't stop posting. You will see results eventually with this tactic.
How We Can Help
NetReputation.com has over 400 combined years of experience in the online reputation management industry. Our team of SEO strategist will compile a project plan catered specifically for you. The time-frame of removal ranges from a few days to 2 weeks.
ShesAHomeWrecker.com was created to make fun of people and expose them on a global scale. But now it has evolved into a public shaming forum that does much more than what people realize. It is a common misconception that once something is online, it is there forever. If you are ready to make a change please call us or read more on here on how you can improve your personal reputation online.
Call us today (844-461-3632) to speak with one of our team members. Our solution is 100% risk-free or your money back.
Email us at support@netreputation.com.