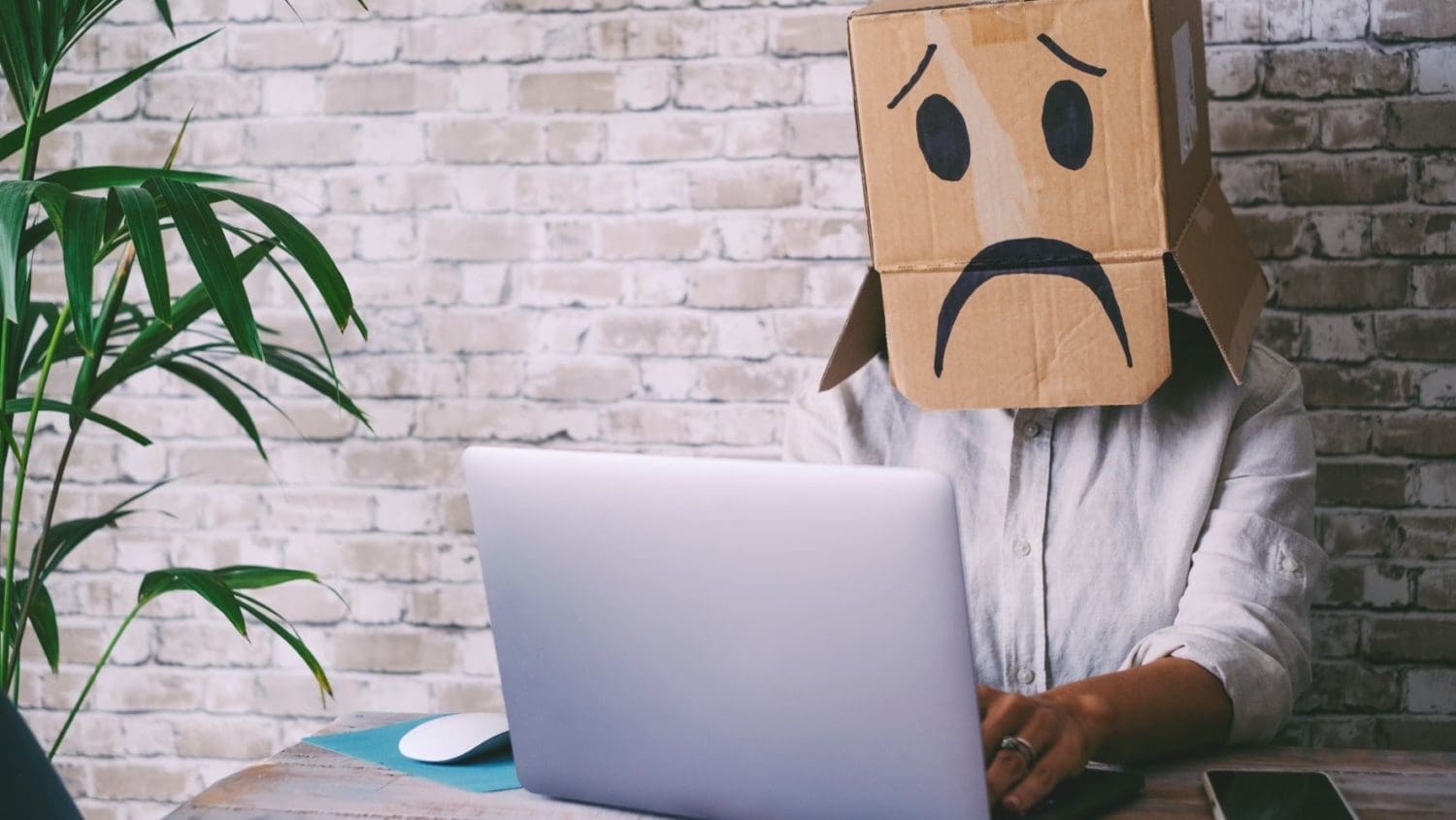 Cyber Background Checks may display personal information that can compromise your privacy. Learn how to complete the opt-out process and remove your info once and for all with our guide.
Whether you realize it or not, your personal information and personal details are available to nearly anyone in the digital environment. Armed with an internet connection and your name or phone number, people can search online for details about you; in a matter of minutes, these people may discover a treasure trove of relevant information.
If you value your personal privacy and data security, you need to take charge. Thankfully, opting out of websites like Cyber Background Checks is possible.
In our complete guide to the Cyber Background Checks opt-out process, we'll guide you step by step in an effort to help you preserve the privacy of yourself and your family members.
Let's get started!
Criminal Records Can Damage Your Online Reputation
Personal information in search engine results can do more than harm your privacy. This information can also keep you from achieving your goals.
In today's connected world, how you are perceived online is referred to as your "online reputation." Your reputation is based on available information; if someone were to conduct a background check or use Google to research your name, what information could they find?
If you've been arrested for any reason, your reputation is at risk. Criminal records, mugshots, arrest reports, and booking photos are all considered public records in most states. Once you've been arrested, these embarrassing details are often published on the web for public access.
Protecting your privacy — and your online reputation — is more important than ever before. With a damaged reputation resulting from criminal records or mugshots online, you may miss out on that dream job, get denied for a home or vehicle loan, or fail to get accepted into the school of your choice. You might even miss out on relationships; people on dating sites often use a search engine like Google to learn about others before agreeing to a date with you.
Can you afford to miss out on new opportunities? If not, keep reading for information on what you can do to take charge of your personal information found in search results.
What is a Cyber Background Check?
The term "cyber background check" is a generic term for a background check conducted online. This process may be informal — such as someone typing in your full name into Google and reading search results — or it may be a formal process when you've applied for a job or a bank loan.
A website called Cyber Background Checks was established in 2019 to make the process easier. Commonly known as a "people search" site, Cyber Background Checks is billed as "a website that makes it easy to find public records and other public information about people and places online."
Here's a bit more detail about Cyber Background Checks directly from their homepage:
When you're on the hunt for information about people, you can do the legwork yourself. Or, you can let us do the work for you. Cyber Background Checks gives you access to billions of public records about millions of adults throughout the U.S. And not only do we access it, we sort through it all to get you just the information you need, and organize it into a comprehensive, easy-to-interpret summary.
At Cyber Background Checks, we offer you a multitude of ways to get the information you need. Find people and where they live by searching their name. Discover who lives at a particular address. Lookup unknown phone numbers. See who owns an email address. All of this information is available at your fingertips, with just a quick search in the fields above.
Have you ever gotten a strange phone call from an unknown phone number and wondered who was calling? Cyber Background Checks offers a reverse phone lookup tool; simply type in phone numbers and it will tell you who the number is owned by (if information is available). This tool alone makes Cyber Background Checks incredibly popular.
How Cyber Background Checks Works
From the Cyber Background Checks homepage, there is a simple form to fill out at the top of the screen.
The form allows you to type in a full name or partial name, an address, a phone number, or an email address.
Type in the information you have and hit the "search" icon.
Try it with your own full name or address. You may be surprised at the accuracy and completeness of the information returned to you in an online search.
Types of Personal Information in Cyber Background Checks Reports
Cyber Background Checks provides an array of personal information and details with just a few clicks of the mouse.
A typical Cyber Background Checks report includes the following information:
Current address
Phone numbers
Email addresses
Other observed names (aliases and partial names used online)
Addresses you've used prior to your current address
Possible relatives and family members
Possible associates
A summary of results
Links to public records databases by directing users to a related site called Truthfinder
Most of the information on a Cyber Background Checks report is free; there is no fee for using the basic search tool. Links to public records and more formal background check sites may require a fee for accessing the reports.
Risks Associated with Personal Information on the Web
When someone uses a cyber background check or visits Cyber Background Checks to find information about a person, a surprising amount of details are revealed.
Unfortunately, this personal information can be used against you. Cyber criminals use sites like Cyber Background Checks to piece together "personas," which are then used to create fraudulent accounts. A criminal need only use a full name or partial address, then get information from social media accounts or other sources to fit into the scheme.
Before you know it, accounts in your name can be opened at banks and credit servicing agencies. You may even have fraudulent tax returns filed in your name. The toll from financial cyber crimes exceeds $10 billion each year in the United States alone; this fraud can damage your credit rating or keep you from getting a job.
False information is another concern. Outdated or inaccurate info in searches — often obtained using a background check service like Cyber Background Checks — may misrepresent who you are and what you're known for.
Where Does Cyber Background Checks Get My Personal Information?
Anyone with a computer and an internet connection can view free details about you, thanks to data broker sites like Cyber Background Checks and many others. How did these data brokers get the information in the first place?
There are three primary sources for information collected by a people search database or background check site like Cyberbackgroundchecks.com:
Public Records Databases
In most states, public records are available online to anyone with an internet connection. These states have passed laws requiring the posting of a wide range of records, including:
Arrest reports
Court records
Booking photos
Marriage license applications
Property purchases
Tax information
Business licenses
If you've ever filed for a license, been arrested, or had a court case, it's a good bet that at least some of your personal info — first and last name, addresses, etc. — is contained in publicly available records. In fact, nearly every time you've interacted with a government agency, it is likely that information winds up in public records — and eventually finds its way onto the web.
Data Brokers
Cyber Background Checks and dozens of other sites like it are known as data brokers, sometimes referred to as data aggregators or "people search sites.' These brokers use automated scraping tools to collect information from public records databases and other records resources like social media accounts, then republish it on their sites.
Data brokers like Cyber Background Checks may share information between sites or may partner with data reporting agencies to gather and republish personal information. A cyber background check may reveal far more than you ever expected.
Data brokers may offer this information for free on their website or may charge a fee for the info. Remember that public records reveal many personal details — and if those details wind up on a data broker site like Cyber Background Checks, your personal safety and privacy are at risk.
Other Online Sources and Online Sites
Data scraping tools target information from a wide range of online sources, including social media accounts, mentions on blogs or news articles, public records and available details on government sites, and many more possibilities.
As you begin to remove this information by completing opt-out requests, your details will eventually disappear from search engine results. Unfortunately, this can be a time-consuming and frustrating process.
With professional help from a content removal specialist like NetReputation, we do the hard work for you. Our removal process is proven, and our removal team is skilled in the tactics and tools needed to protect your digital privacy.
What Does the Fair Credit Reporting Act Say About Data Privacy?
A federal agency called the Consumer Financial Protection Bureau (CFPB) recently issued an advisory to sites like Cyber Background Checks.
While targeted at credit reporting agencies, the CFPB also affects data broker sites, including Cyber Background Checks. In simple terms, the advisory tells data brokers that the Fair Credit Reporting Act (FCRA) will be used to "combat misuse and abuse of personal data on background screening and credit reports."
To cover itself from FCRA offenses, Cyber Background Checks has the following information posted on their website:
"Cyber Background Checks/CyberBackgroundChecks.com is not a Consumer Reporting Agency (CRA) as defined by the Fair Credit Reporting Act (FCRA). This site can't be used for employment, credit or tenant screening, or any related purpose."
Despite this legal wording, people can and DO use background check sites for screening. Employers may look up a candidate before scheduling interviews. Banks may use information in background check reports from Cyber Background Checks and similar sites to evaluate loan applicants.
The truth is that there are not enough protections in place to protect digital privacy. This fact makes it more important than ever before to opt out of data collection and sharing sites.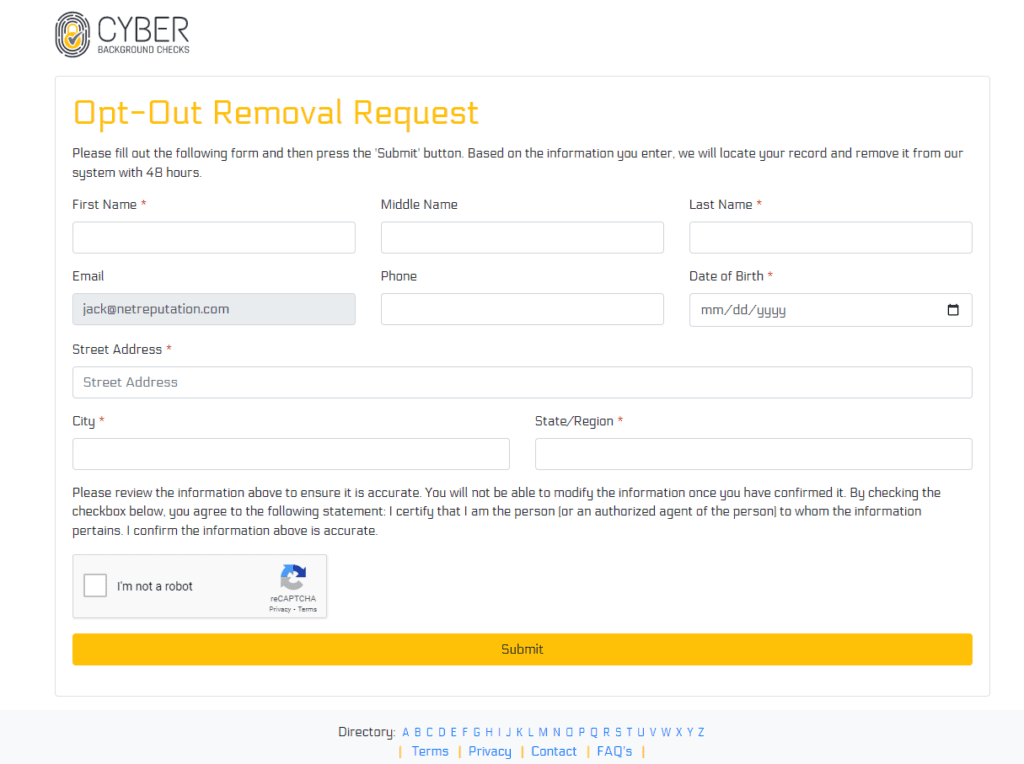 The Cyber Background Checks Removal Process: Step-by-Step Guide
Now that you've learned how Cyber Background Checks and similar sites collect your personal information, it's time to take a deep dive into the opt-out process.
Visit the Cyber Background Checks Record Removal Request page at https://www.cyberbackgroundchecks.com/removal.
Enter your email address. Cyber Background Checks will send a verification link for you to verify that it's really you making the request.
Once you've received the verification by email, click the link in that email to take you to the opt-out removal request form.
Type in the details requested on the form, including full name, email, phone, street address, city, and state.
Check the "I'm not a robot" box, then hit submit.
Based on the information you've entered, Cyber Background Checks will research your request, locate your records, and remove the personal information from their system within 48 hours.
If, after 48 hours, you still see your information listed online, you can call Cyber Background Checks during business hours to speak with one of their representatives. Remember, calling during business hours is the only way to speak to a human; otherwise, you may have to exchange emails with their service department.
Will Completing the Opt-Out Process on Cyber Background Checks Remove My Info from the Web?
If you complete the Cyber Background Checks removal process and opt out from records collection and sharing, you've taken a big step toward protecting your digital privacy.
Unfortunately, this site isn't the only one hosting your records online. With so many background check sites on the internet, you've got your work cut out for you.
You will have to complete a manual opt-out process on each site where you find your data. Data brokers number in the hundreds, and the opt-out process may take months to complete. If sending a message or completing a form online doesn't work, you may have to reach out during business hours to speak to a representative.
As you complete each opt out, your records will begin to disappear from Google search results. In time, you'll "Ungoogle" yourself, allowing you to enjoy the personal privacy and safety you deserve.
Remember also that new data finds its way to the web every day. Public records databases are updated constantly; Cyber Background Checks and numerous other background check sites continually scrape the internet in search of this new data.
If the opt-out process seems too daunting and time-consuming, there are experienced content removal professionals who can help. Companies like NetReputation use an automatic removal tool and a range of legal strategies to help you rebuild, restore, and protect your digital privacy.
Contact NetReputation Today
NetReputation is an award-winning leader in online reputation management. We know that you deserve privacy in the online environment; people search sites like Cyber Background Checks allow anyone to pull up your personal information.
With our help, thousands of clients have protected their digital privacy with cutting-edge content removal solutions. Get your information removed fast and for good with the assistance of our removal team. We perform where others can't; thousands of clients have trusted our methods since 2015.
Ready to take charge of your privacy online? Call NetReputation at 844-461-3632 or complete the online form below for a free consultation.