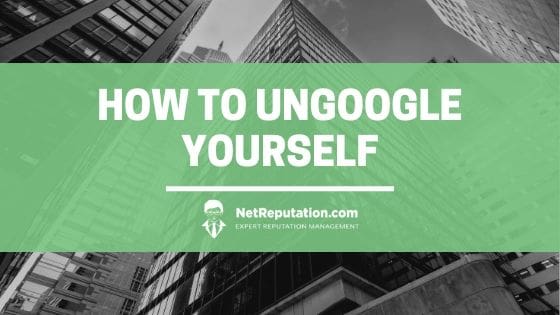 Want to disappear from Google? Contact a Reputation Specialist to learn how to unGoogle yourself fast.
Whether you know it or not, your personal data and private information are online. 
And anyone with internet access can find your home address, email, phone numbers, and work history in just minutes. 
What's worse: social sites make it easy to locate and share your personal data with the world. 
So, what can you do to scrub your name off the internet? How do you clear the web of negative or unwanted blogs, articles, social comments and more?
The internet is a great resource of information. But if not handled well, it can cause a lot of harm to your reputation, safety and bottom line.
Below, we dive into how to remove personal info and unGoogle yourself for good.
Request a Free Consultation
Removing Personal Information From Search Engines
When it comes removing your personal information online and how to unGoogle yourself, where do you start?
With the help of NetReputation, your solution starts with a complete analysis of your personal data online. We comb through thousands of sites to ensure we every mention of your name on the web.
Our goal is to deliver all removals on the first try. And for this reason, we take care to build solutions that get the job done right the first time. 
We locate every personal data point fast, including each mention of your name, contact info, criminal history, work history and more. 
Learn how to unGoogle yourself today with a complete removal solution that rids the web of all online mentions.
Note: Google does not pick and choose what it shows on search results ranking pages. Rankings are based on a variety of factors, including popularity, traffic, trust, updated content, and more.
Your task when removing yourself from search results is to locate all unwanted info and links online. You start by scanning the first several pages of Google (we recommend the first five pages).
Keep a Record of Everything You Want To UnGoogle
Keep a record of all URLs. This provides a quick reference point as you work to erase yourself from Google.
Once you create this list, reach out to each site owner and identify the best removal options available. 
Contact information will either be listed on the site or found with the WHOIS tool.
Perform a quick Google search to learn who controls the website or newspaper. Most people reach out to the author when they find a bad article. Unfortunately, that's like criticizing the salesperson when the clerk gives you incorrect change. 
Send your removal requests to those who control the transaction. Your letter should explain why this content is wrong and how it has crippled your business or personal reputation.
If you can't provide any proof that the content causes you real harm, you won't win in a court of law or the publicist.
How To Ungoogle Yourself on Social Media Accounts
Social media is deemed a self-controlling platform, making these steps fairly straightforward.
[HOW TO UNGOOGLE YOURSELF – INFOGRAPHIC]
If you want to delete yourself from Google or remove your social profiles from search, you must first delete your profiles altogether. That means no more Facebook, Instagram, and no more social media in general.
To start, log into each social media account you wish to delete. Afterward, head to your account settings. Locate the "Deactivate Account" option, which allows you to halt your profile.
Updating Google Search Results Post-Removal
Note: Once you remove the desired web page from the source, your job is not yet finished.
Once you remove the page, reach out to various support teams to ensure that page is no longer ranking in search results. (You can do this here)
To speed up the removal process, you can also access Google's public removal tool.
Related Questions on How To UnGoogle Yourself
What determines whether or not content can be removed? 
If a consumer or blogger lists personal belief you don't like, legal removal is likely not an option. 
But if the consumer posts something dubious that blames you for wrongdoing and cripples your business, you can. In addition, you don't need an attorney. 
Most of the time, a strongly worded message to the webmaster is sufficient.
How long do you have to unGoogle yourself once the information is out there?
Go after the webmaster(s) right away. The longer the negative content is online, the more time Google has to index the web page.
Google will stop indexing a webpage if it reveals private and/or personal information, such as social security numbers. However, you need to make a case to them if it involves other matters. 
If you can't remove the content, what should you do?
There is an added reputation management plan you can use to suppress the article from the first several pages from Google. 
You can do this by creating optimized, high-quality content, such as your own blog, articles, social posts and more.
If you need help with how to unGoogle yourself, personal and private information removal, or an online crisis, at Net Reputation we are here for you.
Contact our Information Removal Team today to get started. 
Request a Free Consultation