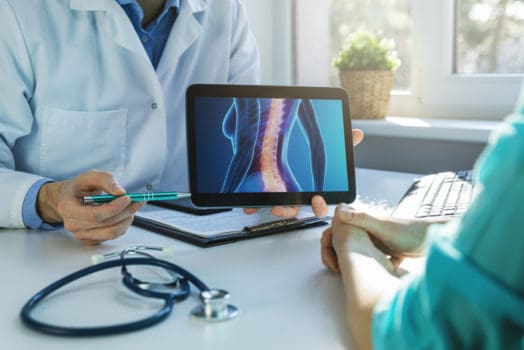 Want to learn more about reputation management for chiropractors? Call 844-461-3632 to speak to an Online Reputation Specialist today!
Working as a chiropractor required years of studying and numerous certifications. To run a practice, you have to be an expert in your field.
Why, then, should you also have to be an expert in unrelated fields? Is it fair for the industry to demand expertise from you in computer science, search engine optimization or reputation management?
It's a lot to ask of anyone, and that is why professional help exists for all of these issues.
Reputation management for chiropractors is often overlooked, and that is a tragedy. Quality reputation management services can help your practice thrive by helping you utilize online resources.
You can reach more patients, improve patient loyalty and spend more time managing your practice with the right help.
In other words, the entire experience can be transformative for your business.
What Is 
Reputation Management for Chiropractors

?

Every business has an online presence. Reputation management for chiropractors (ORM) helps with that online presence by interacting with customers and improving the overall outlook.

Such services typically include review management, where reviews are tracked to gauge how people feel about your business. Review management also includes responding to negative reviews, an attempt to turn them in your favor.

Additional reputation services include tracking customer interactions and public-facing resources that rank or rate a business. Yelp is the perfect example. All of these services help you put your best foot and generate a respected, quality appearance to customers.

With chiropractors, the core services remain the same. Reputation management simply helps track reviews and patient interactions to promote your positive attributes.

ORM makes it easy for potential patients to find you and choose your practice when they need you the most.
Do Chiropractors Really Need Reputation management services?
Many chiropractors and small medical practices tend to shy away from reputation management. To illustrate, look up your local competition and learn how easy it is to find them. The lack of an active, optimized online presence holds many practices back. It also presents you with an opportunity.
Any practice that invests in reputation management has a better chance at rising to the top. A solid ORM strategy means more people find your clinic. In turn, you have greater potential for growth and success.
But most importantly, it lowers the burden for patients to find the help they need when they need it.
Do People Check Chiropractor Reputations?
The short answer is yes. Given the opportunity, most patients comb through reviews before choosing any healthcare provider. This is true not only for chiropractors but also for professionals across other healthcare specialties.
Patients vet anyone from general physicians, dermatologists, and therapists to dentists and other specialists before entering a clinic. The same holds true for your practice.
In fact, Yelp offers a perfect example. The popular review site not only has a feature specifically designed to rate medical facilities, its use also grows every year.
So, if your reputation is damaged, patients will likely skip over your practice and go somewhere else. And in some cases, they might miss out on the best possible care for their medical issue.
How Are Chiropractor Reputations Managed?
Chiropractors tend to benefit from the same ORM services as any other business, only with solutions tailored to their unique needs and industry.
It all boils down to a systematic approach.
The right reputation specialist starts by analyzing your reviews and addressing them directly. If you don't have surveys or reviews, they set up a review management plan for you.
That specialist also looks at reviews on third-party sites, including Yelp, Google, industry-specific sites and more.
Reputation management services for chiropractors then use data analysis to gauge patient satisfaction. They closely observe bad reviews and general sentiment. They also spend every available effort to try to turn negative reviews into positive experiences.
Less directly, they suggest and devise strategies to improve your reputation. This includes review generation, response time management and ways to improve the patient experience.
The right ORM service provider may even help you build a better patient survey.
How Much Does a Chiropractor Need to Invest in Reputation Management?
As a patient service provider, your reputation is everything. But creating the reputation you want requires considerable time and effort.
And how much you devote to that effort depends not only on the scope of your practice but also on your local competition.
Generally, you can choose from one of two approaches. You can focus on hands-on support or automation (or a combination of the two).
Hands-on support is about dedicating a team to interact with patients and handle reviews directly. This includes generating and responding to reviews as necessary.
Automation, however, focuses on using software to track your reputation and flag things that require attention. This approach is designed to save money and help with efficiency.
But combining the two helps you focus support where it can do the most good while improving your return on these investments.
How Do I Choose a Reputation Manager?
Choosing reputation management for chiropractors is much like choosing any other service provider. First, check their reputation. Read the reviews. See how other businesses like them, and if they have the expertise to manage your unique online needs.
With ORM, the firm's reputation says a lot. A company specializing in reputation management should have a solid track record for managing positive reviews and empowering online success.
Once a provider passes your first check, compare services and rates. Ask about the packages they offer. Think about what they can really provide your practice.
Consider what their services cost and if their packages really fit your budget and your needs.
Need Help with Your Reputation?
When you're ready to start your search, look no further than Net Reputation.
As the industry leader in reputation management for chiropractors, we know what you need to fix your reputation and grow your brand online.
Contact us today for your free Reputation Analysis. You can also browse our website. Look at the services to see what they can really do for you and your practice.