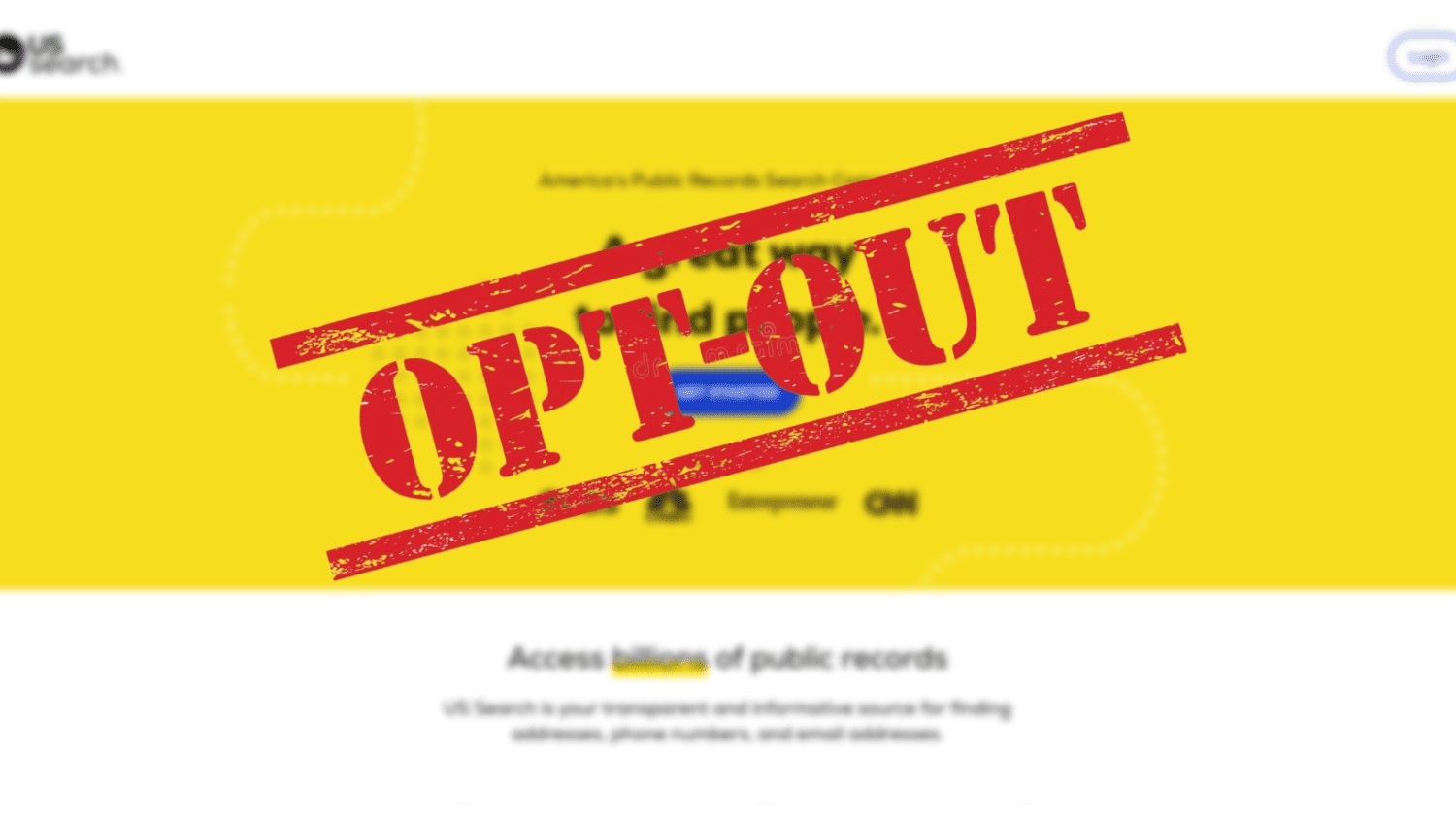 Learn how to complete the US Search opt-out process and protect your personal information from privacy threats in our complete guide below.
Did you know that anyone with an internet connection can visit people search sites and get information about you and your family members in seconds?
If this is a concern — and it should be — our guide to opting out of the popular site called USSearch.com can help you protect your digital privacy. It can also protect your online reputation from damage.
In our guide below, learn step-by-step instructions for completing USSearch's opt out request. When you remove yourself from US Search, you're gaining control of your personal information, which can help reduce targeted advertising, spam emails and phone calls, and much more.
What are People Search Sites?
Billed as "America's Public Records Search Company," US Search is a comprehensive database with millions of records available with a few clicks of a mouse.
People search sites have gained in popularity over the past decade. These sites collect and share publically-available information like property records, criminal records, licenses, and physical details (addresses, phone numbers, names of family members, etc.).
Some of the most popular sites even have a "reverse phone lookup" feature which can result in you getting unwanted calls. US Search and other sites continue to share your information until you make a removal request.
Popular People Search Sites
US Search is only one of dozens of similar sites. Others include:
MyLife
Peoplesmart
Glad I Know
Instant Checkmate
USPhonebook
Been Verified
Locate People
Truthfinder
Every people search site shares different information. One may have your property records on file, while others focus on criminal records, mugshots, or arrest reports. Still others may share details from your social network accounts or online mentions.
How Did US Search Get My Personal Information?
Anyone with a computer and an internet connection can view free details about you, thanks to data broker sites like US Search and many others. How did these data brokers get the information in the first place?
There are three primary sources for information collected by a people search database or background check site like US Search:
Public Records
In most states, public records are available online to anyone with an internet connection. These states have passed laws requiring the posting of a wide range of records, including:
Arrest reports
Court records
Booking photos
Marriage license applications
Property purchases
Tax information
Business licenses
If you've ever filed for a license, been arrested, or had a court case, it's a good bet that at least some of your personal info — first and last name, addresses, etc. — is contained in publicly available records. In fact, nearly every time you've interacted with a government agency, it is likely that information winds up in public records — and eventually finds its way onto the web.
Data Brokers
US Search (ussearch.com) and dozens of other sites like it are known as data brokers, sometimes referred to as data aggregators. These brokers use automated scraping tools to collect information from public records databases and other records resources like social media accounts, then republish it on their sites.
Data brokers like US Search may share information between sites or may partner with data reporting agencies to gather and republish personal information. A cyber background check may reveal far more than you ever expected.
Data brokers may offer this information for free on their website or may charge a fee for the info. Remember that publically-available records reveal many personal details — and if those details wind up on a data broker site like US Search.com, your personal safety and privacy are at risk.
Third-Party Data Sources
While data brokers collect a wide range of information and share it with anyone with internet access, numerous other data sources can be used by criminals to piece together "personas" or falsified identities based on real people.
Imagine that your property records, tax information, and other details like address, telephone number, and marriage certificate can be found on people search sites. Then, criminals may browse your social network accounts, blog mentions, or personal websites for more details. Combined, this personal information is enough to create fraudulent accounts in your name — or worse.
Government Protection of Your Private Data Online
Despite the rise in identity theft in the United States, there has been little action on the federal level to protect data privacy.
That being said, there are two laws — one federal, one state — that bear mention. These laws were designed to protect consumers from fraud in the digital environment.
The first, the Fair Credit Reporting Act (FCRA), was originally enacted back in 1970 and has been modified since then to meet the needs of the digital age. The FCRA limits the use of personal information for certain purposes; failure to follow the regulations can result in steep financial penalties. The Consumer Financial Protection Bureau uses the FCRA to "combat misuse and abuse of personal data on background screening and credit reports."
The second is the California Consumer Privacy Act (CCPA), passed in 2018.. It is a state statute intended to enhance privacy rights for consumers in the State of California. The California Consumer Privacy Act gives state residents the right to:
Know what personal information is being collected.
Know whether their personal information is being sold and to whom.
Opt out of data collection and sharing of personal info.
Make a removal request to delete personal info collected by a business.
The CCPA is considered the "gold standard" of consumer privacy protection, and numerous states are modeling their own laws on it. For further information on your specific rights to data privacy, consult your state's rules.
For data broker site owners, adhering to the laws makes financial sense. Unfortunately, the users of a data broker site like US Search may retrieve information from the site and use it for unlawful purposes. For that reason alone, you should remove yourself from US Search.
Can You Remove Yourself from US Search?
After reading the sections above, chances are you're concerned that your private data online may put you and your family members at risk. Can you remove yourself from US Search and other data brokers?
The answer is YES — but with several caveats.
You may have to go through a verification process, and you may have to visit a dozen or more individual data broker websites to complete a manual opt-out request before your personal information is removed from internet search results. Finally, this process can take time before you see results.
With so much time and effort invested in visiting every opt out page and filling out forms, it makes sense to hire a professional content removal team for help. Content removal specialists at NetReputation have many years of experience helping clients just like you protect their digital privacy online.
In our section below, we'll provide step-by-step instructions for the US Search opt-out process. Let's get started!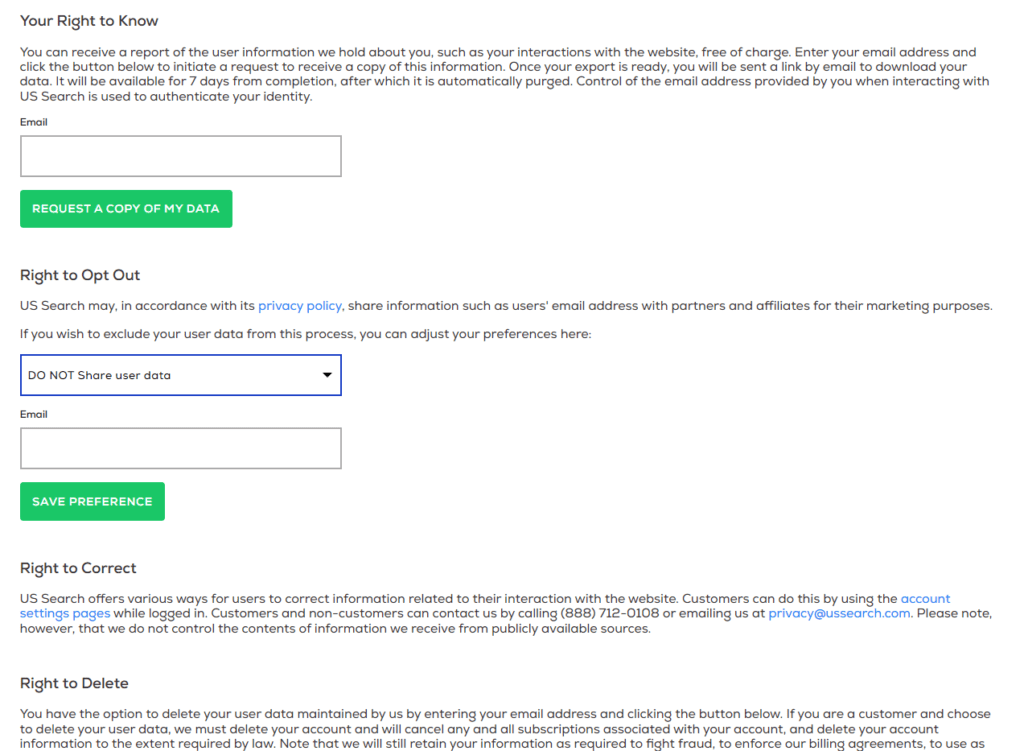 Making a US Search Opt Out Request
The US Search opt out process is relatively straightforward. Step-by-step instructions are as follows to remove yourself from US Search:
Navigate to the Privacy Center page at https://www.ussearch.com/privacy-center
Scroll to the form labeled "Right to Opt Out."
Select "Do Not Share User Data," enter your email address, and click "Save Preference."
US Search is unique in that it offers a suppression tool to prevent your information from appearing on the site. In fact, US Search offers several options for protecting your personal info.
For the suppression tool, navigate to https://suppression.peopleconnect.us/login
Next, enter your email address, check the terms of use agreement box, and click submit.
You will receive a verification email from People Connect, which is the service that suppresses your personal info from several sites, including US Search, Instant Checkmate, and Intelius.
Click on the link in the verification email. You will be directed to another form where you add information, then click "Suppress."
You will have to confirm email by typing in a code that People Connect sends to your verification email address. Once you've done this, your information will be suppressed.
The opt out form for US Search is easy to use and easy to complete. When you remove yourself from the USSearch site, you're taking your first steps toward controlling your personal info online!
The opt out request process will be similar to other data broker websites. We'll cover the basic steps in the next section.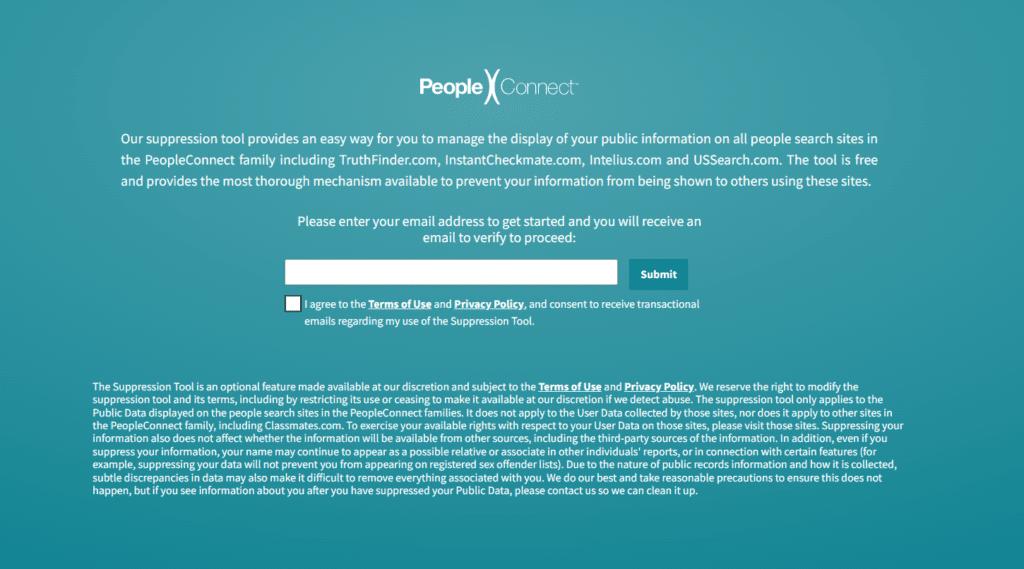 Will the US Search Opt Out Remove My Information from Other Data Brokers?
Congratulations — you've completed the opt out request for US Search!
Did this opt-out request work to remove your personal info from other data brokers? Unfortunately, no.
You will have to complete a manual opt-out process on each site where you find your data. Data brokers number in the hundreds, and the opt-out process may take months. If sending a message or completing a form online doesn't work, you may have to reach out during business hours to speak to a representative.
New data is posted to the web every day. Even if you opt out from every data broker website you can find, chances are that your information is still out there somewhere. Other sites may republish information from social network accounts and other sources.
Eventually, however, your records will begin to disappear from Google search results. In time, you'll "Ungoogle" yourself, allowing you to enjoy the personal privacy and safety you deserve.
Contact NetReputation Today
NetReputation is an award-winning leader in online reputation management. We know that you deserve privacy in the online environment; people search sites like US Search allow anyone to pull up your personal information.
With our help, thousands of clients have protected their private data online with cutting-edge content removal solutions. Get your information removed fast and for good with the assistance of our removal team. We perform where others can't; thousands of clients have trusted our methods since 2015.
Ready to take charge of your privacy online? Call NetReputation at 844-461-3632 or complete the online form below for a free consultation.