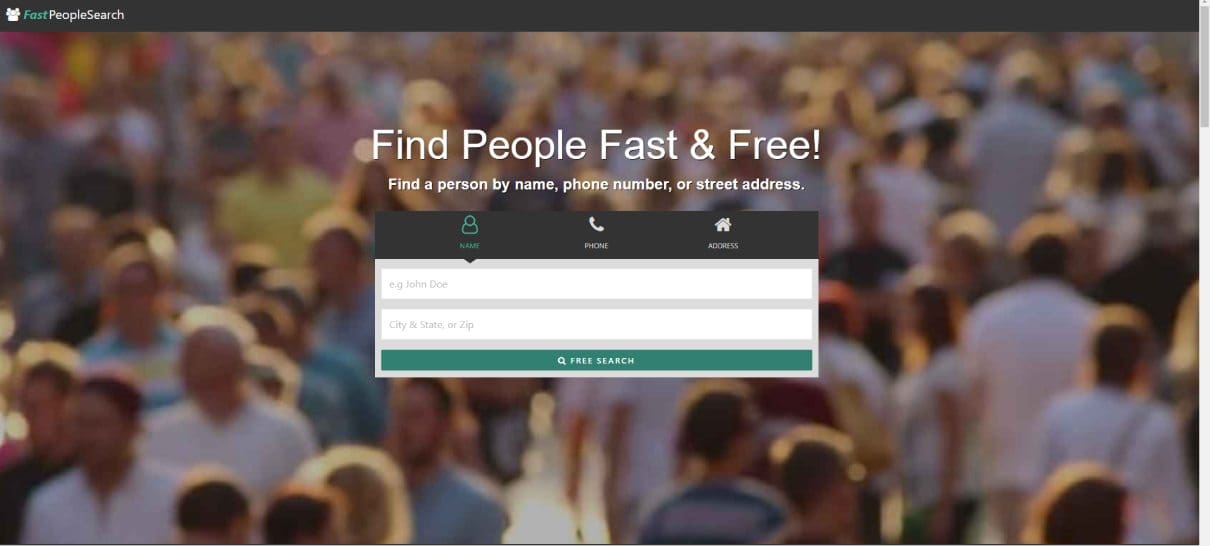 Fast People Search removal can help protect your privacy online. Learn how to complete the FastPeopleSearch.com opt-out process with our guide below.
In today's connected digital world, you can never be too careful with your personal information. With publicly available records at the click of a mouse, criminals can gain access to your private details, potentially putting you at risk of identity theft.
How can you protect yourself against people search sites like FastPeopleSearch? How did all these sites get your information? And can you make a removal request to have your information taken down?
In our guide, we'll show you how to complete FastPeoplesearch opt-out requests, as well as answer all the questions you may have about protecting your personal information.
Info Found on Sites Like FastPeopleSearch
If you've never used a people search tool online, you might be surprised by the sheer volume of information available. Simply visit a site like Fastpeoplesearch, type in a name and click the search button to view free details like:
Full name
Current and past addresses
Telephone numbers
Business addresses
First and last name of long lost loved ones, relatives, and business associates
Residual information from old records
Why are these details so risky?
Having your personal data online puts you at risk of cybercrime, or the criminal act of using your information to commit fraud.
Cybercriminals piece together your details — phone numbers, addresses, names, and more — then use that info to create fraudulent accounts in your name. This is a criminal practice known as identity theft, which costs consumers and companies billions of dollars each year in losses.
The loss of your identity to crime can also damage your online reputation, or the perception people have of you and your business. Can you afford to put yourself at risk when your data is out there for anyone to find?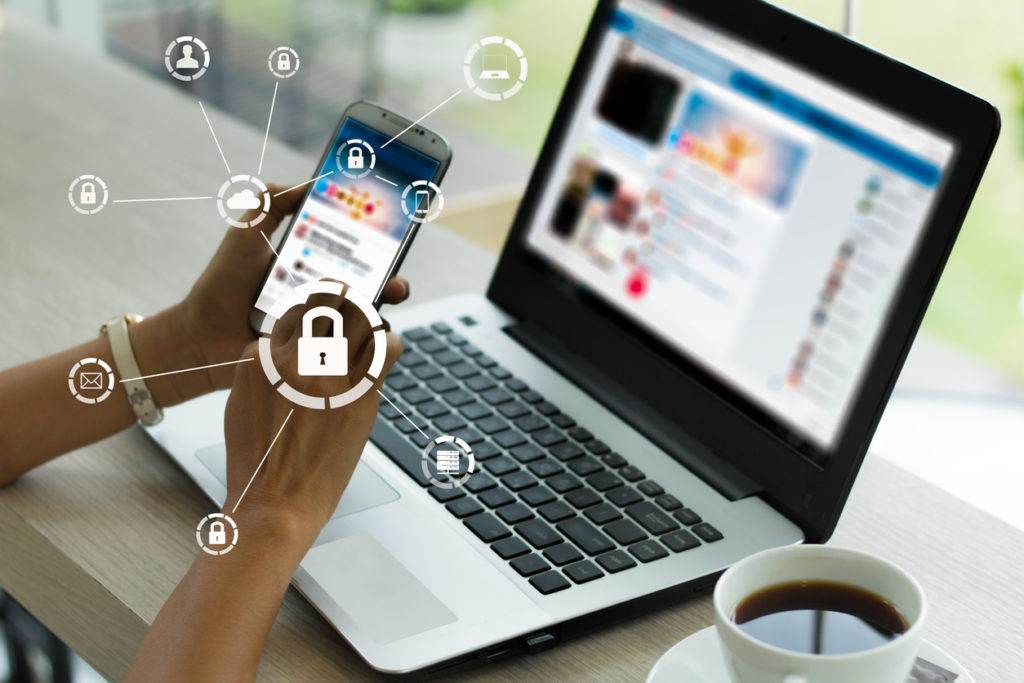 What is Fast People Search?
Based in Boston, Massachusetts, Fast People Search is a website that was "created to bring next generation telephony and big-data access to the general public."
The Fast People Search database boasts:
16.5 billion available records
800 million unique people found in those records
100 million monthly searches
3.3 million results per day
At its core, Fast People Search is a search engine for locating information about individuals just like you. Just like search engines, Fast People Search uses a complex algorithm to accurately categorize and index information, then delivers search results to the user in a coherent format.
With a free search, sites like Fast People Search and similar online services allow anyone to find details about you whether you are aware of those searches or not.
What are People Search Sites?
People search sites like Fast People Search are websites that collect and share information from various sources.
In some cases, the sites make this information available free of charge, while others may charge a fee to reveal multiple records or details. A free search on one of these pages may turn up info that can compromise your online privacy and personal safety.
Other websites may republish this information with or without your consent. If your record is shared to multiple sites, you can easily see how difficult the removal process may be. To opt out, removal of your personal info requires visits to each site, then requesting to "remove my record" using the tools provided by the sites.
One note of caution: people search sites can make it difficult to find the opt out link. Even the FastPeopleSearch removal process is hidden on the site unless you know where to look. A tip is to view the site's "protect my privacy" page to find an opt out request link. You may also do a manual opt out by calling, emailing, or writing the company.
Information for California Residents
Introduced in January 2018 and signed into law in June of that year, the California Consumer Privacy Act (CCPA) is a state statute that was designed to enhance privacy rights for California residents.
The main intentions of the Act give Californians the right to:
Know what personal data is being collected
Know whether the data is being sold or disclosed and to whom
Say no to the sale of personal info
Access personal details
Request a business delete or remove any information collected
The CCPA makes it easy to opt out of records collection and sharing from sites like Fast People Search. Simply submit a request on the website and certain information will be removed once and for all.
How Did FastPeopleSearch Get My Information?
Anyone with a computer and internet access can view free details about you, thanks to data broker sites like Fastpeoplesearch and many others. How did these data brokers get the information in the first place?
There are two primary sources for information collected by a people search database like Fastpeoplesearch.com:
Public Records
In most states, public records are available online to anyone with an internet connection. These states have passed laws requiring the posting of a wide range of records, including:
Arrest reports
Court records
Booking photos
Marriage license applications
Property purchases
Tax information
Business licenses
If you've ever filed for a license, been arrested, or had a court case, it's a good bet that at least some of your personal info — first and last name, addresses, etc. — is contained in publicly available records.
Data Brokers
Fast People Search and dozens of other sites like it are known as data brokers, sometimes referred to as data aggregators. These brokers use automated scraping tools to collect information from public records databases and other records resources, then republish it on their sites.
Data brokers may offer this information for free on their website or may charge a fee for access to the info. Remember that public records reveal many personal details — and if those details wind up on a data broker site like FastPeopleSearch, your personal safety and privacy are at risk.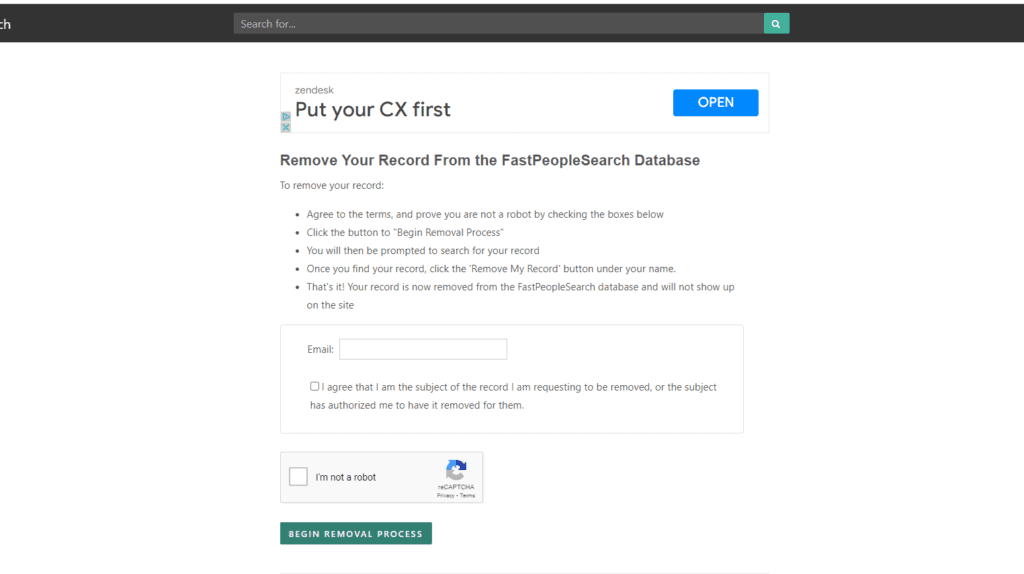 How to Begin Removal Process from FastPeopleSearch.com
To begin removal process from Fast People Search/Fastpeoplesearch.com, there are steps you must take.
First, visit the Removal Page on Fast People Search. You will need to type in a valid email address and click the agreement box. When the boxes have been checked, click the "Begin Removal Process" button.
On the next page, type your name into the box.
Go through the listings and when you find the correct record, click the button marked "View Free Details."
On that details page, click the button marked "Remove My Record."
Fastpeoplesearch removal should take 24 hours. If you do submit a request, be sure to check the website periodically to ensure the data was removed.
When you use the "Remove My Record" tool on Fastpeoplesearch, you must also be aware that certain information cannot be removed. If that is the case, reach out to the website by emailing or calling them for assistance.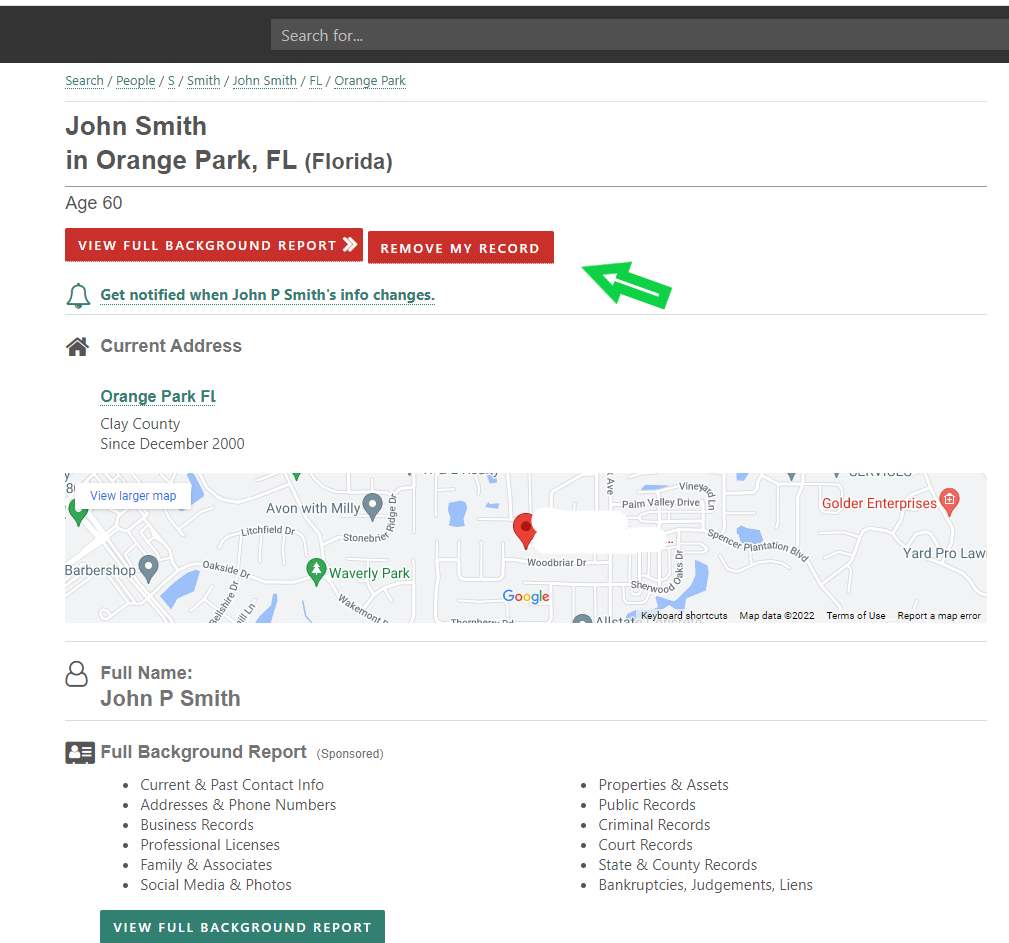 Will Fast People Search Removal Get My Info Off Other Sites?
If you complete the Fastpeoplesearch removal process and opt out from records collection and sharing, you've taken a big step toward protecting your digital privacy.
Unfortunately, this site isn't the only one hosting your records online.
You will have to opt out of each site where you find your data. Data brokers number in the hundreds and the opt out process may take months to complete.
As you complete each opt out, your records will begin to disappear from Google search results. In time, you'll "Ungoogle" yourself, allowing you to enjoy the personal privacy and safety you deserve.
If the opt out proces seems too daunting and time-consuming, there are experienced content removal professionals who can help. Companies like NetReputation use an automatic removal tool and a range of legal strategies to help you rebuild, restore, and protect your digital privacy.
Tips for Protecting Your Online Privacy
In addition to completing the opt-out process on FastPeopleSearch, Truthfinder, PeekYou, PeopleSearchNow, BeenVerified, Smart Background Checks, and many other data brokers, here are some handy privacy tips for you to use when protecting your personal information from theft or loss:
Limit your information sharing on social media sites, especially personal details like vacation plans, pet names, phone numbers, and birthdays.
Stop giving out your personal information to whoever asks. Many websites ask for personal information in order to unlock free gifts or discounts. You're under no obligation to provide that information.
Protect your computer files with antivirus and antispam software.
Change your passwords frequently. For recordkeeping purposes, you can keep an encrypted file of your passwords on your computer.
Enable two-factor authentication (2FA) on any online accounts you use like banking, shopping, and insurance websites.
Use Google Alerts to alert you of mentions of your name or other personal info in Google search results.
Shred any physical mail such as banking statements, shopping receipts, and tax files to prevent criminals from gaining access to your personal information.
Above all, make an opt-out request to any site where you find your information online. The Fastpeoplesearch opt out is only one of many sites where your information is stored and shared; if you complete the opt out process on as many people search sites as you can find, you'll make a big difference in your privacy protections.
Contact NetReputation Today
NetReputation is an award-winning leader in online reputation management. We know that you deserve privacy in the online environment; people search sites like FastPeopleSearch allow anyone to pull up your personal information.
With our help, thousands of clients have protected their digital privacy with cutting-edge content removal solutions. Get your information removed fast and for good with the assistance of our removal team.
Ready to take charge of your privacy online? Call NetReputation at 844-461-3632 or complete the online form below for a free consultation.