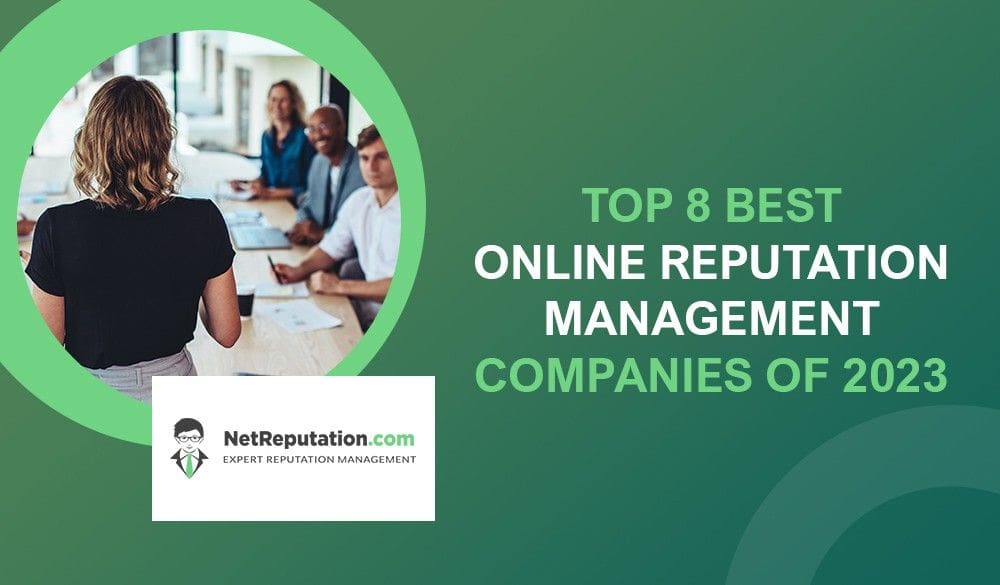 Our guide to the best online reputation management companies below is designed to help you make strategic decisions. 
Maintaining a solid and favorable online reputation is more crucial than ever for businesses of all sizes.
Negative reviews, unflattering news stories, or unfavorable social media chatter can significantly impact a company's bottom line and growth prospects. 
Fortunately, a new breed of companies specializing in online reputation management has emerged, leveraging sophisticated tools and techniques to help businesses maintain a positive online presence. 
In this article, we will explore some of the best online reputation management companies in 2023, delving into their unique services, success stories, and how they could be the key to safeguarding and enhancing your business's digital reputation.
What Is Reputation Management?
Online reputation management (ORM) is the practice of crafting strategies that shape or influence the public perception of an organization, individual, or other entity on the internet. It helps drive public opinion about a business and its products or services. By using ORM, a company can mitigate the effects of negative reviews, enhance positive ones, and create proactive marketing strategies for online consumption. 
Within the digital landscape where consumers often make decisions based on online information, a robust online reputation management strategy is essential for businesses to protect their brand image, maintain customer trust, and ensure sustained growth.
What Are the Services Offered in Online Reputation Management?
The best online reputation management companies provide a wide range of services for their individual and business clients. These services typically include:
Reputation monitoring

Content removal

Review management

Branding

Search engine optimization (SEO)

Public relations

Local SEO and citation management

Social media management

Wikipedia page creation and management

Crisis management

Google My Business/Apple Business Connect management

Pay-per-click (PPC) ad management

Reputation repair
Because each client is different and will have his or her own unique needs and goals, the most experienced online reputation management firms will provide customized services to suit specific needs. 
Whether you are an individual in need of a little help with your digital presence or a corporation requiring an extensive revamp of your digital footprint, the leading online reputation management companies have the tools, experience, and knowledge you need to stand out from the competition.
Who Requires Reputation Management Services?
Reputation management services can be beneficial for a wide variety of entities:
Businesses:

Small businesses to multinational corporations can benefit from these services. Maintaining a positive online reputation can directly impact sales, customer loyalty, and business growth.

Public Figures:

Celebrities, politicians, athletes, and other public figures often use reputation management services to maintain their public image, respond to negative press, and promote their achievements.

Non-Profit Organizations:

For non-profits, public trust is essential. Reputation management can help maintain and enhance this trust, crucial for fundraising and community engagement.

Healthcare Providers:

Doctors, hospitals, and healthcare systems must maintain a positive reputation to attract and retain patients. These services can help manage patient reviews and other online feedback.

Educational Institutions:

Schools, colleges, and universities can use reputation management to attract students, faculty, and donors.

Job Seekers and Professionals:

Individuals can also benefit from reputation management services. A positive online reputation can help in job searches, professional networking, and career advancement.
Anyone with an online presence can benefit from reputation management services. In in our connected digital society, online perceptions can have significant real-world impacts, making reputation management a valuable tool for nearly everyone who communicates or does business on the web.
Top Online Reputation Management Companies in 2023
Now that we've explored the essential components of online reputation management – and why maintaining a positive online reputation is so critical – it's time to take a look at the top online reputation management companies of 2023:
1. NetReputation.com
Rated the best global online reputation management firm by Newsweek, Clutch, and Inc., NetReputation.com has been a leading provider of customized digital reputation management solutions since 2015. The company has helped thousands of clients fix negative search results, grow their brands, improve or repair their reputations, and remove personal information.
NetReputation's process begins with a detailed reputation analysis. Next, their reputation management professionals create web properties and engaging content to build a robust reputation. With content publishing and promotion, they get your story in front of the people who matter most: those who are searching for you online.
Finally, the company continually monitors your brand's online reputation, allowing you to respond to threats before they can harm what you have worked so hard to build. Check them out for a free reputation analysis and learn why they have become the best reputation management company for individuals and business owners alike.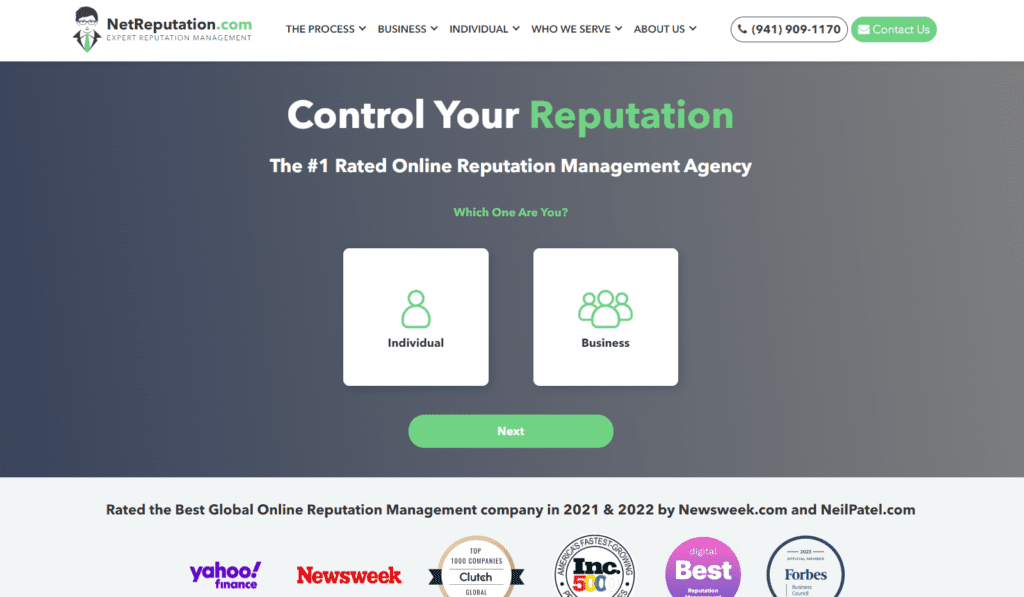 2. InternetReputation.com
As a business owner or individual, what people say about you in the digital environment matters. Your online reputation shapes public perception. A strong online reputation allows for steady personal or professional growth, while a negative reputation can stand in the way of your goals.
With so much at stake, InternetReputation.com can help you take charge of your online presence with a customized online reputation management (ORM) plan matched to your specific needs and goals. The company's reputation management professionals apply cutting-edge tools and strategies to establish a strong online reputation or to repair those damaged by negative online content. 
Their five-step process is proven to ensure long-term success. Build brand awareness, stand out in online searches, and position yourself in the best possible light with InternetReputation. As a top-rated ORM service provider, they have helped thousands of clients strengthen, repair, and defend their online reputations.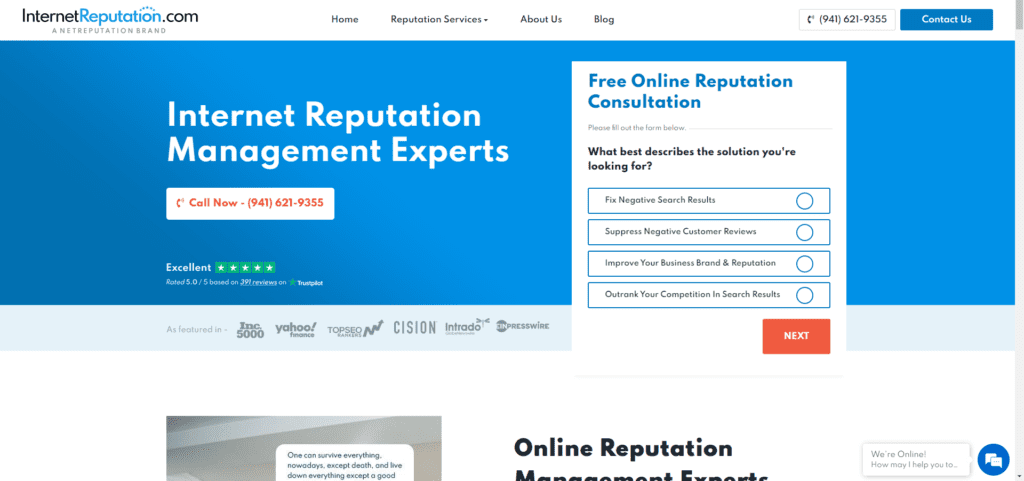 3. OnlineReputation.com
Launched in 2003, OnlineReputation.com has served as the leading internet resource for online reputation management information for nearly 20 years. The company is owned by NetReputation, an industry-leading provider of cutting-edge reputation management services headquartered in Sarasota, Florida. 
OnlineReputation is committed to provide individuals, business owners, and professionals in the online reputation management (ORM) field with up-to-date information.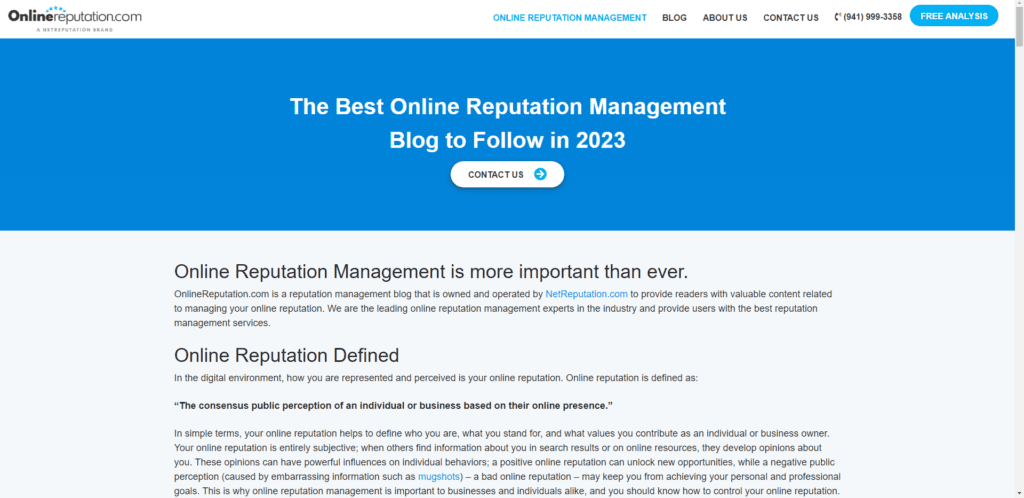 4. EraseMugshots.com
If you've ever been arrested for or charged with a crime, chances are your mugshots have been posted online. Other than removing mugshots online manually by yourself, you can also engage a professional to do it for you. Protect your privacy and preserve your online reputation with the complete mugshot removal services by EraseMugshots.
If someone searches for information about you, will they discover embarrassing arrest photos? EraseMugshots.com can help. They begin by conducting a thorough reputation analysis to pinpoint any public information that has the potential to damage your online reputation. Then, the company's removal experts work quickly to remove or suppress this information permanently.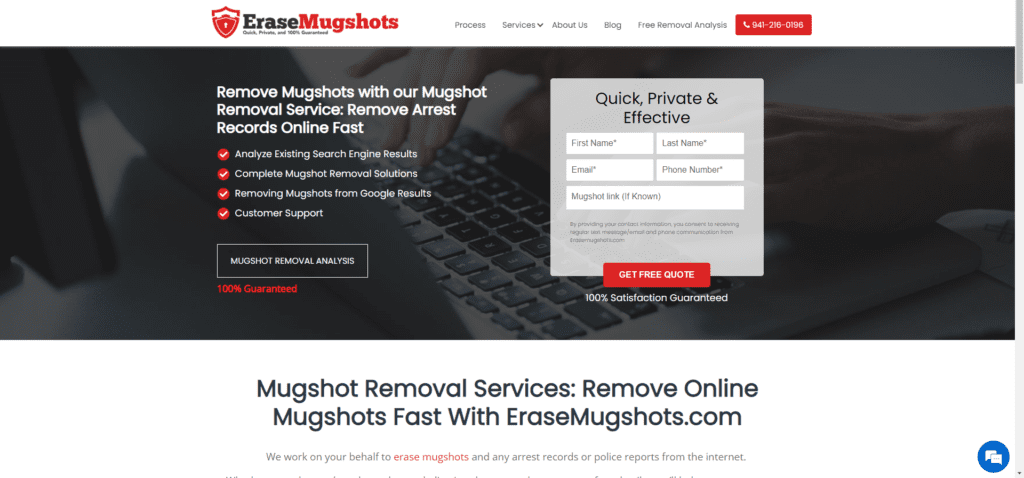 5. RemoveMugshots.com
RemoveMugshots.com is a company that specializes in the removal of online mugshots and arrest records. It provides services to individuals concerned about their online reputation due to past run-ins with the law. 
RemoveMugshots is powered by a team of content removal experts using the latest digital tools and strategies to identify embarrassing search results and to remove them once and for all. By working with various websites and search engines, RemoveMugshots.com helps clients remove these potentially damaging records, thus aiding in reputation management and privacy.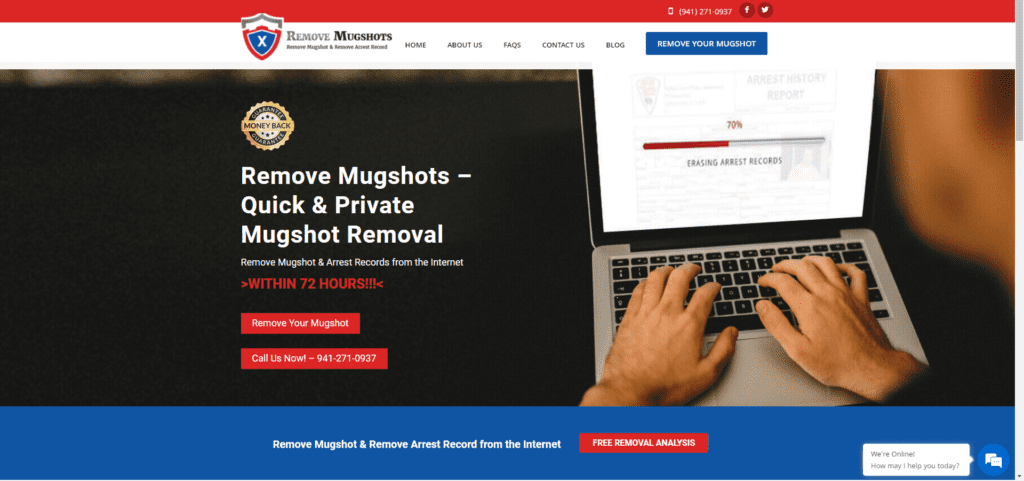 6. ReputationSciences.com
In today's connected world, how you are perceived online can influence your ability to capitalize on your goals in your personal or professional lives. Your online reputation is the public perception others have of you in the digital environment. A positive reputation can build trust, while a negative reputation can erode confidence in you, your business, or your products.
If negative information in search results stands between you and your goals, ReputationSciences.com can help. Own and control your digital reputation with Reputation Sciences, a leading provider of customized online reputation management (ORM) solutions. Their three-phase process allows them to quickly understand, repair, and monitor your reputation, positioning you for great visibility in online searches and helping to restore the trust others have in you. 
Whether you are a business owner or an individual, your online reputation matters. Help to repair damaged reputations, strengthen your brand image, and unlock new doors of opportunity with the proven solutions Reputation Sciences has developed.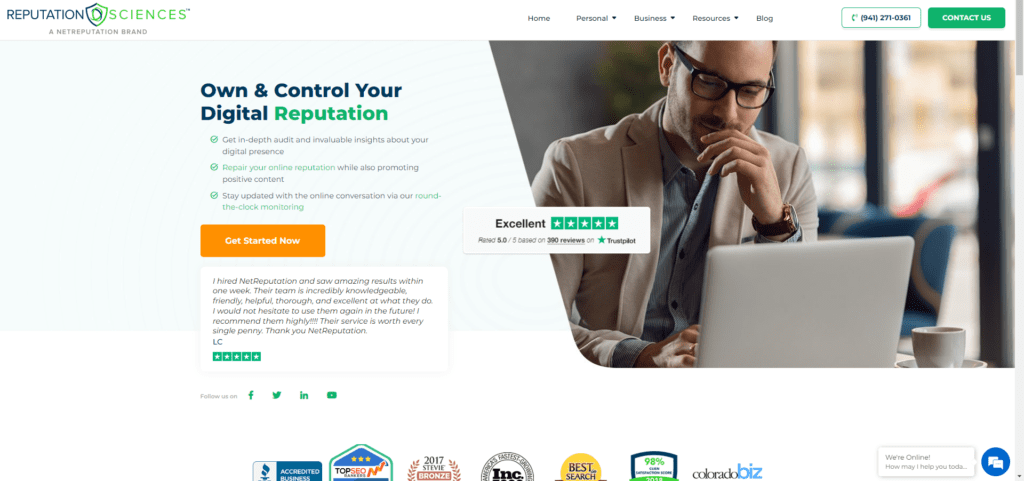 7. InternetPrivacy.com
With cyber-crimes skyrocketing across the country, your online privacy is more important than ever. When your personal information is published on the web, criminals can use these details to stalk you, steal your identity, and create fraudulent financial accounts that result in billions of dollars in yearly losses. Protect your personal information and your family's online privacy today with InternetPrivacy.com.
People search websites have grown in popularity in recent years. InternetPrivacy targets over 70 search websites that publish and sell your personal information online. The company begins their privacy protection process with a detailed web scan to discover exposed data that can compromise your safety. Then, internet privacy experts work quickly to remove or suppress this information, building a ring of protection around you and your family members.
Analysis and information removal are only some of the company's many customized services, including ongoing surveillance and consulting. The company offers a free 30-day trial.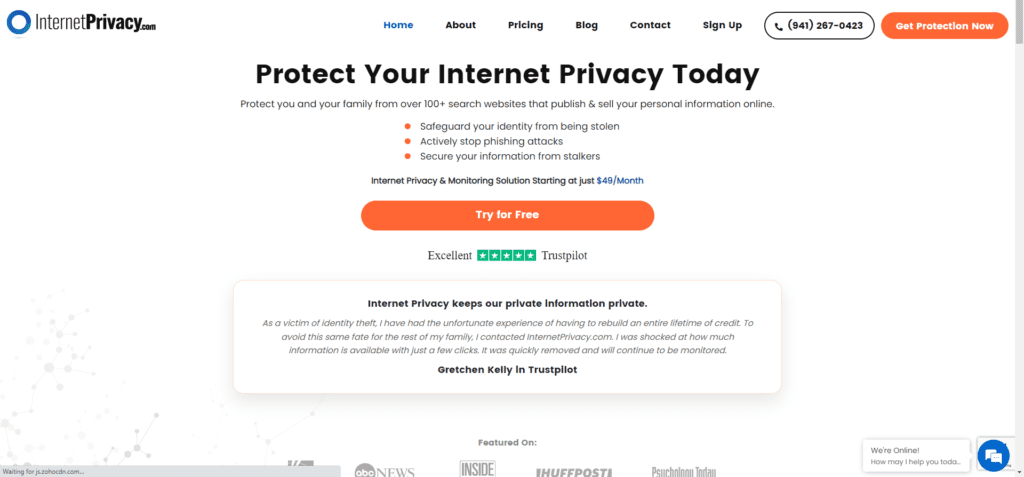 8. RemovePersonalInformation.com
Established in 2012, RemovePersonalInformation.com (RPI) is a company specializing in online reputation management services. It focuses on removing, suppressing, or altering personal and often unwanted information about individuals on the internet. 
The company works with clients to mitigate the factors that lead to negative online reputations, such as unwanted articles, images, or private information, helping to protect and manage their online reputation. 
With decades of combined experience and innovative technologies at hand, RPI's information removal and suppression services are designed to help individuals and business owners overcome reputational risks.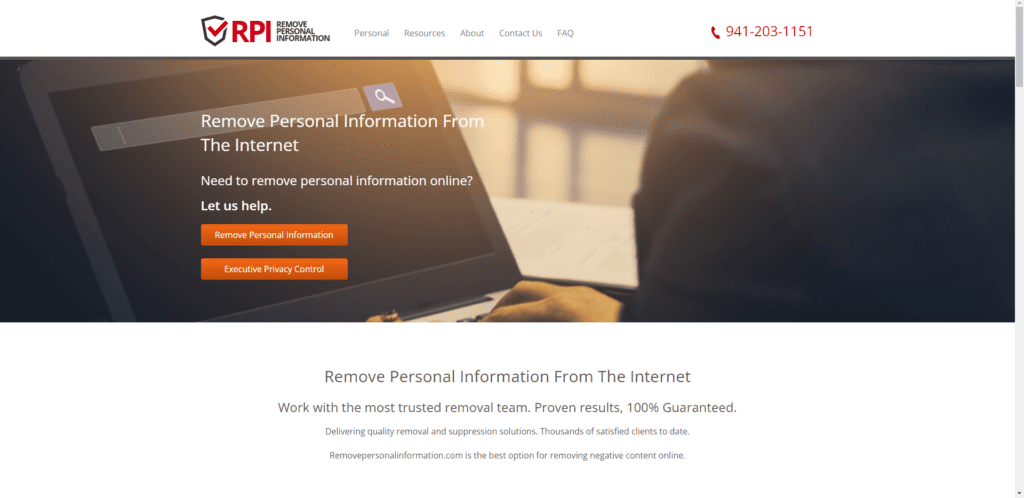 More Great Online Reputation Management Companies
The best online reputation management companies described above lead the reputation management industry, thanks to innovative tactics and comprehensive strategies designed to help clients establish, build, and restore their digital reputations. 
There are several other great companies worth mentioning, each with unique services and tools to enhance your online reputation:
Birdeye: End-to-End Customer Experience and Reputation Management
Birdeye is a comprehensive customer experience platform that helps businesses of all sizes enhance their online reputation and customer engagement. The company provides a suite of tools for managing reviews, boosting online ratings, and improving customer satisfaction.
Birdeye's reputation management services allow businesses to gather and respond to customer feedback from all over the web, helping to manage and improve their online presence across multiple channels. It helps businesses monitor customer sentiment, engage with customers through surveys and reviews, and promotes positive reviews to improve online visibility.
Additionally, their customer experience management services offer a more holistic approach to understanding and improving the entire customer journey. With tools for customer surveys, net promoter score (NPS), customer messaging, and more, Birdeye assists businesses in delivering exceptional customer experiences that drive loyalty, retention, and growth.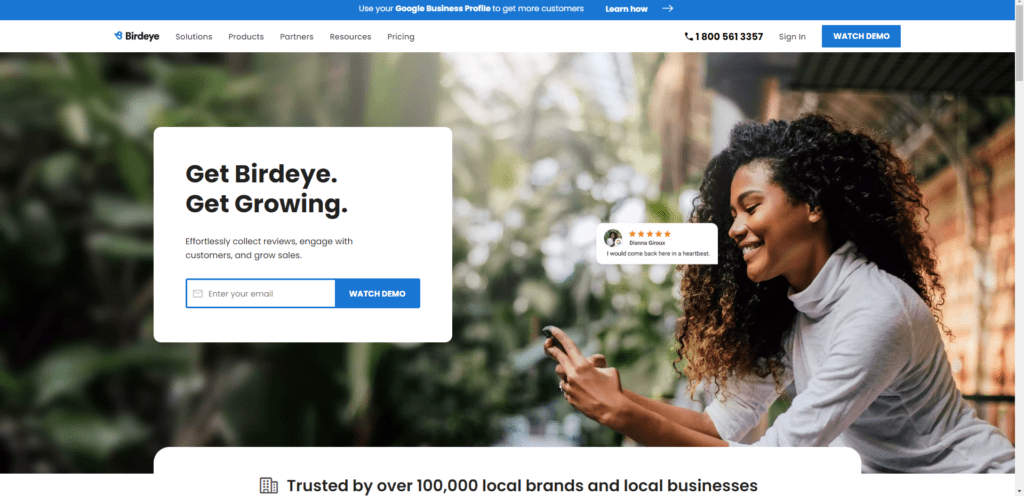 ReviewTrackers: Specialized SaaS for Tracking and Managing Online Reviews
ReviewTrackers is a Software-as-a-Service (SaaS) company that specializes in online review management. The platform is designed to help businesses monitor and respond to online reviews across various review websites and social media channels.
ReviewTrackers' software aggregates reviews from over 100 sites in one place, providing businesses with a comprehensive view of their customers' feedback. It helps businesses improve their online reputation by facilitating prompt responses to customer reviews and concerns, and by leveraging positive reviews to boost their online presence.
Furthermore, ReviewTrackers offers analytics tools that can reveal insights from review data, enabling businesses to understand customer sentiment, identify trends, and make informed business decisions to improve customer experience.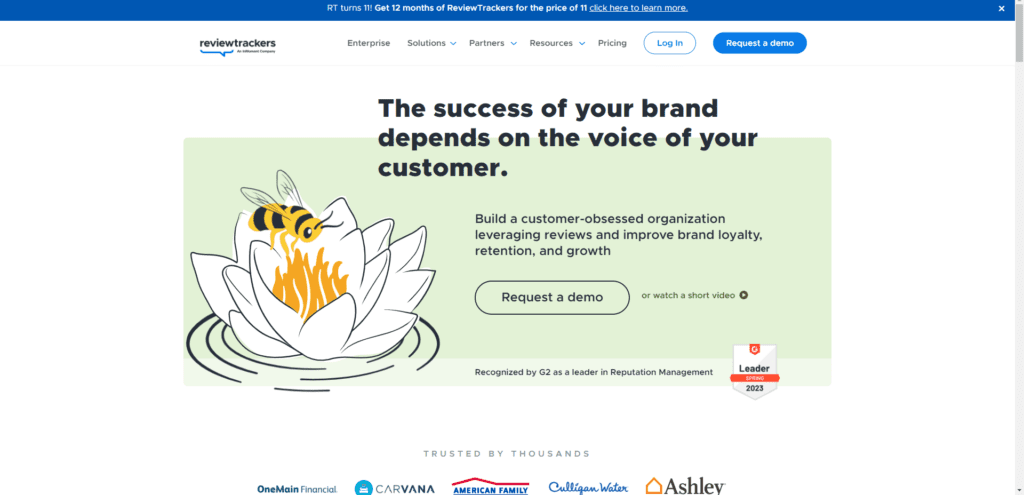 Podium: Platform for Interaction Management and Online Reputation
Podium is a leading customer interaction management platform that helps businesses improve their online reputation and streamline their customer communication.
With its online reputation management services, Podium enables businesses to collect and manage online reviews in one place, facilitating easy responses to customer feedback across different platforms, including Google, Facebook, and industry-specific review sites. By actively managing these online reviews, businesses can improve their online reputation, boost local SEO, and attract more customers.
Furthermore, Podium's interaction management solutions allow businesses to communicate with customers through various channels like text messages, social media, and email, all from one centralized inbox. This simplifies and improves the customer experience, leading to higher satisfaction and loyalty.
Podium's platform is designed to be versatile and is used by businesses of all sizes, from small local companies to large corporations, across a wide range of industries.
Yotpo: Platform for Customer Reviews, Ratings, and Reputation Management
Yotpo is a commerce marketing platform that provides businesses with tools for online review and reputation management, amongst other services.
In the realm of online review management, Yotpo allows businesses to collect, curate, and leverage customer reviews, photos, and Q&As throughout the buyer journey to build trust, drive traffic, and increase conversion. This user-generated content not only helps businesses enhance their product offerings but also improves SEO and overall online visibility.
For reputation management, Yotpo enables businesses to monitor and respond to reviews, thereby actively managing their online reputation. By engaging with customers and addressing their concerns, businesses can foster stronger relationships, improve customer satisfaction, and enhance their brand image.
Additionally, Yotpo's platform integrates with leading eCommerce platforms and other marketing technology providers, making it a versatile tool for businesses of all sizes.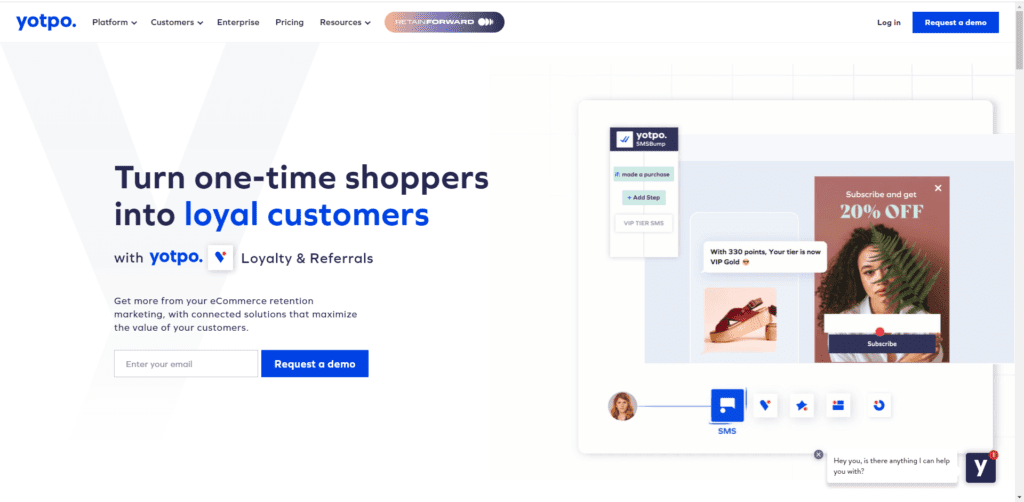 Trustpilot: SaaS Solution Focused on Review Collection and Reputation Enhancement
Trustpilot is a leading Software-as-a-Service (SaaS) review platform that allows businesses to automatically collect, manage, and respond to consumer reviews. The platform is committed to ensuring the integrity of the reviews posted on its site, making it a trusted source of consumer feedback.
Trustpilot enables businesses to use their customers' feedback to enhance their reputation. By encouraging customers to share their experiences and then publicly responding to these reviews, businesses can improve transparency, build trust, and foster stronger relationships with their customers.
The platform's review collection capabilities are particularly robust. Businesses can invite customers to leave reviews via email, SMS, or other customer touchpoints, providing a wealth of valuable feedback that can be used to improve services and products.
Trustpilot also provides tools for businesses to analyze review data, discover trends in customer sentiment, and use these insights to inform decision-making and strategy.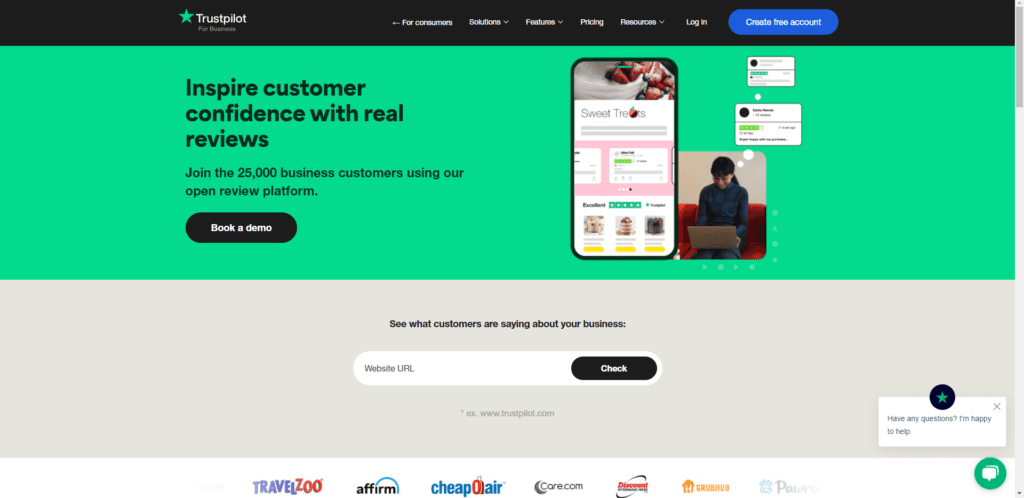 How to Choose the Right Online Reputation Management Company
As a business owner, your online reputation is one of your most valuable intangible assets. Here are some tips for helping you choose the best online reputation management company for your needs:
Step 1: Identify Your Business's Reputation Management Needs
Identifying your business's reputation management needs involves a few steps, including understanding your current reputation, identifying areas for improvement, and aligning those needs with your overall business goals. Steps include:
Assess Your Current Online Reputation:

Start by searching your business online, including search engines, social media, review sites, and other platforms where customers may leave feedback. Evaluate the sentiment of the reviews and comments you find. Also, check your business's visibility on search engines.

Analyze Customer Feedback:

Regularly read and analyze the feedback from your customers. Are there recurring issues or complaints? Are customers praising a particular aspect of your business?

Monitor Social Media:

Social media platforms can be a source of informal feedback. Monitor your business's mentions and hashtags to understand public perception.

Competitor Analysis:

Look at your competitors. How do their online reputations compare to yours? What can you learn from their successes or failures?

Identify Your Goals:

What do you hope to achieve with improved reputation management? This could be anything from better brand awareness, increased customer trust, improved star ratings on review sites, or a more robust crisis management plan.

Look for Gaps:

Where are the gaps in your current reputation management strategy? Do you struggle to respond to negative reviews, lack a proactive approach, or need better tools to monitor your online reputation?

Consider Your Resources:

Assess your current resources. Do you have a dedicated team for managing your online reputation or will you need to outsource these tasks to a reputation management service?
Understanding these aspects can help you identify your business's reputation management needs and guide you towards the best solutions to meet those needs.
Step 2: Research Reputation Management Companies and Read Their Reviews
With the list of best reputation management companies in mind, begin your research by evaluating how customers view candidates. Reviews can reveal a lot about factors like:
Quality of service

Timeframes of reputation management campaigns

Variety of services

Personalization/customization of services

Presence or absence of long-term contracts and payment plans

Results delivered (whether or not results met client expectations)
Take the time to research each candidate carefully before agreeing to sign a contract. The best companies will stand out, helping you narrow your search. 
Step 3: Evaluate Companies' Expertise and Experience
Evaluating a reputation management company's experience and expertise involves several steps. You'll want to investigate their track record, understand their methods, and ascertain the quality of their customer service. Here are some tips:
Check Their Track Record:

Look at the company's history and see what kinds of clients they've worked with. Have they handled businesses similar to yours, and in your industry? A good track record with a variety of clients can indicate adaptability and experience.

Read Reviews and Case Studies:

Look for reviews of the company online and read case studies on their website. Pay particular attention to how they've handled challenging situations and what outcomes they've achieved.

Understand Their Approach:

The company should use ethical, white-hat methods for reputation management. Avoid companies that promise quick fixes or use dubious tactics, as these can damage your reputation in the long run.

Consider Their Expertise:

Evaluate their knowledge in various aspects of reputation management, such as SEO, social media, review management, PR, content creation, and crisis management. A company with a broad range of skills can offer a more comprehensive strategy.

Assess Their Tools and Technology:

Find out what tools they use to monitor and manage your online reputation. The company should use modern, sophisticated software to track changes in your online reputation and react promptly.

Quality of Customer Service:

Good customer service is crucial. You should feel confident that the company will be responsive and communicative. Ask them about their process for updating clients and handling any issues that arise.

Request a Consultation:

Most companies will offer a free consultation. This can give you a sense of their expertise and whether they understand your business's specific needs.
Remember, the best reputation management company for you will align with your needs, understand your business, and use ethical strategies to improve and protect your online reputation.
Step 4: Assess Pricing and Value Proposition
Assessing the pricing and value proposition of an online reputation management company requires understanding their service offerings, comparing them against the pricing, and aligning these with your business needs. Here are a few steps to guide you:
Understand Their Services:

Firstly, gain a clear understanding of the services the company offers. Do they provide review management, social media management, SEO, content creation, PR, or other services? Make sure they offer the specific services that your business needs.

Review Their Pricing Structure:

Examine how the company structures its pricing. Is it a monthly or yearly subscription, or do they charge per service? Are there additional costs that aren't included in the base price? Remember, the cheapest option may not always provide the best value.

Compare Value Propositions:

Look at what each company offers in relation to its cost. Consider both tangible (like software tools, reports) and intangible offerings (like expertise, customer service).

Check the Scalability:

As your business grows, your reputation management needs might change. Does the company offer packages that can scale with your business?

Assess ROI:

Consider the potential return on investment. A good reputation management service can help improve your online presence, attract more customers, and ultimately increase sales, outweighing its cost.

Look at the Terms of Contract:

Is there a long-term contract, or can you cancel at any time? Make sure the terms are flexible enough to suit your business needs.

Ask for a Custom Quote:

If the company's packages don't exactly match your needs, ask for a custom quote. This will ensure you're not paying for services you don't need.
By taking these steps, you can better assess whether a reputation management company's pricing and value proposition align with your budget and requirements. Keep in mind, effective reputation management can be a significant investment, but the benefits to your brand can be substantial.
Step 5: Meet with Several Online Reputation Management Companies and Make Your Final Decision
Once you've completed your due diligence on candidates for your online reputation management needs, it's time to complete the selection process by meeting with your best choices. During the meeting, consider:
Understanding of Your Needs:

The company should demonstrate a clear understanding of your business, your industry, and the specific reputation challenges you face. They should also be able to provide clear solutions tailored to your unique needs.

Strategic Approach:

Ask about their strategy for managing and improving your online reputation. The approach should be comprehensive, ethical, and aligned with your business objectives. Be wary of quick fixes or promises that seem too good to be true.

Transparency:

The company should be open about their methods and the tools they use. They should also provide regular reports showing their progress and the current state of your online reputation.

Services and Pricing:

Ensure you fully understand the services included in their packages and the associated pricing. Ask whether they offer any guarantees or refund policies.

Customer Service:

Pay attention to their communication style and responsiveness. The best reputation management companies will provide excellent customer service, keeping you informed and quickly addressing any concerns.
Remember, the goal of the meeting is to ensure that the company is not only capable of managing and improving your online reputation but also a good fit with your business's culture and values. Don't be afraid to ask questions and make sure all your concerns are addressed.
Key Takeaways
In our guide to the best online reputation management companies of 2023, we touched on key aspects of online reputation management. 
We started with its importance for businesses and stakeholders, and reviewed several companies specializing in the field, like RemoveMugshots.com, RemovePersonalInformation.com, Birdeye, ReviewTrackers, Podium, NetReputation.com, and Trustpilot. 
We then discussed how businesses can identify their reputation management needs and evaluate potential service providers, considering factors such as experience, approach, customer service, and pricing. 
We hope our guide provided a thorough understanding of online reputation management, from recognizing needs to selecting a suitable company.
Online Reputation Management Companies FAQs
The team of online reputation management professionals at NetReputation receive many questions from current and prospective clients. Here are a few of the most common questions:
Is online reputation management the same as SEO?
While Online Reputation Management (ORM) and Search Engine Optimization (SEO) overlap in some areas and complement each other, they are not the same.
SEO is the practice of optimizing a website to rank higher in search engine results pages (SERPs) for specific keywords. It involves various techniques such as keyword optimization, quality content creation, backlinking, and website technical optimizations. The primary goal of SEO is to increase organic traffic to a website.
On the other hand, ORM is a broader concept focused on managing the public perception of an entity (a person or an organization) on the internet. This involves monitoring and influencing the digital reputation of the entity. It not only encompasses SEO techniques to promote positive content but also includes managing reviews and ratings, responding to customer queries, handling negative content, and crisis management.
How much does it cost to clean up an online reputation?
The cost to clean up an online reputation can vary greatly depending on the complexity of the situation, the size of the company, the scope of the work involved, and the reputation management service provider you choose. 
Some companies might charge a one-time fee for certain services like removing specific unwanted content, while others may offer subscription-based packages that provide ongoing reputation management and monitoring services.
Remember, the best reputation management strategy is a proactive one. Investing in ongoing reputation management can help prevent reputation issues before they arise, which can be more cost-effective in the long run.
However, costs can change over time and vary between different service providers, so it's always best to get quotes from several companies to understand current rates. Remember to consider not just the cost but also the value and ROI the service can provide.
How long does online reputation management take?
The length of time required for online reputation management can vary significantly based on several factors including the scope of the situation, the strategies implemented, and the severity of any damage to the online reputation.
For minor issues, such as a few negative reviews or comments, a reputation management campaign might start seeing positive results in a matter of weeks or a few months. In some limited cases, positive results may begin to appear in days, but typically take a bit longer. However, for more severe or widespread reputation issues, it might take several months or even years to effectively repair and rebuild the online reputation.
Contact NetReputation Today
Since 2015, NetReputation has helped thousands of individual and business clients with their online reputation management needs. We are proud to offer a wide range of customized services, each designed to produce the results you demand.
If you're ready to begin your reputation management journey, contact our team at 844-461-3632 for your free consultation. If you prefer, complete the online form below to connect with one of our representatives.