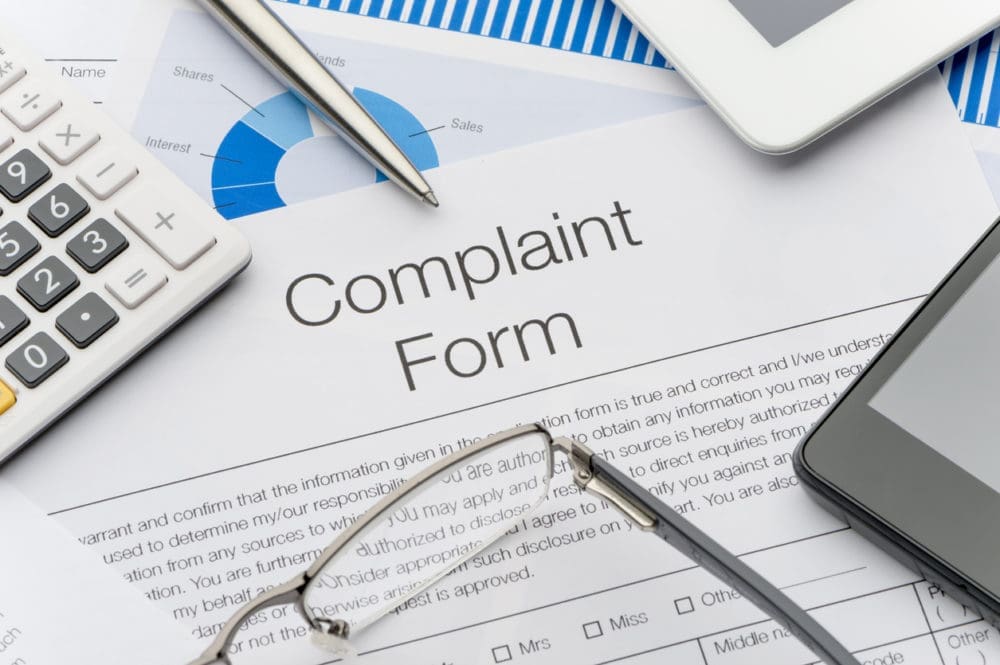 How to Remove a BBB Complaint: Learn how to remove a BBB complaint to protect your brand reputation and to preserve marketplace trust.
If your business has a presence on the web, chances are people are searching for information about you and your company before paying your business a visit. The information they find in search results can have a profound influence on purchasing behaviors.
When negative reviews on the Better Business Bureau (BBB) website threaten to undo all you've worked so hard to achieve, you may wonder how to get a BBB complaint removed.
In this guide, we will explore what the Better Business Bureau is, how companies are perceived based on their profiles on the BBB website, and how to remove a BBB complaint that is threatening your business prospects. Let's get started!
What is the Better Business Bureau?
The Better Business Bureau (BBB) is a private, non-profit organization founded in 1912. According to the Better Business Bureau's website, its vision is to create "an ethical marketplace where buyers and sellers trust each other."
As of 2020, over 400,000 businesses in North America were accredited by the BBB. Accredited businesses pledge to adhere to the organization's Code of Business Practices, which put a premium on ethical, transparent, and customer service-oriented practices. Individuals use the ratings and recommendations of the BBB every day to make informed purchasing decisions; bad ratings can damage what you've worked so hard to achieve in your business operations.
BBB Overview
The Better Business Bureau provides business owners and consumers with a wide range of tools with which to create connections. These tools include:
Business locator
Scam search feature
Scam research and studies
Establishing a BBB business profile
BBB accreditation procedures
Consumer review tools
Consumer complaint filing tools
For the purposes of this guide to removing BBB complaints, the consumer review and consumer complaint tools stand out. These tools are designed to allow consumers to make fair and honest assessments of the companies they do business with. In other words, the goal is to share a truthful account of a customer's unique experience. Unfortunately, these tools can be abused, potentially putting your brand reputation at risk.
The BBB receives thousands of defamatory, fake, and malicious complaints and reviews each week. Automated tools sift out these complaints from legitimate ones, but any complaint that slips through the cracks puts your business in the crosshairs of negative feedback.
Your BBB Profile
Business owners can create a business profile on the BBB website by submitting basic information on the name, location address, and type of business. Once the basic information is added to the BBB's online form, business owners have the option to check the box labeled "I'd like to learn more about becoming a BBB Accredited Business."
Once the form is completed, click "Add my Business to the Directory" and the Better Business Bureau will create a profile. This profile is the foundation of your digital presence on the BBB site and serves as a portal for customers to learn about your business.
BBB's Rating Criteria
The Better Business Bureau does not rate only accredited businesses; the organization rates every business — even non-accredited businesses — that submits a profile request to the BBB directory.
The BBB rating system implemented a new format in 2009, where businesses receive a letter-style grade from A+ to F. There are 16 grading elements in the BBB rating system, including:
Complaint history
Complaints volume
Unanswered/unresolved complaints
Action by government agencies
Background information
Type of business
Time in business
Advertising issues known to BBB
Each of these grading elements corresponds to a points system; points can be earned or deducted based on the BBB's analysis of the business in question. The key takeaway is that the rating system is designed to show how well — or how poorly — a given business interacts with its customers.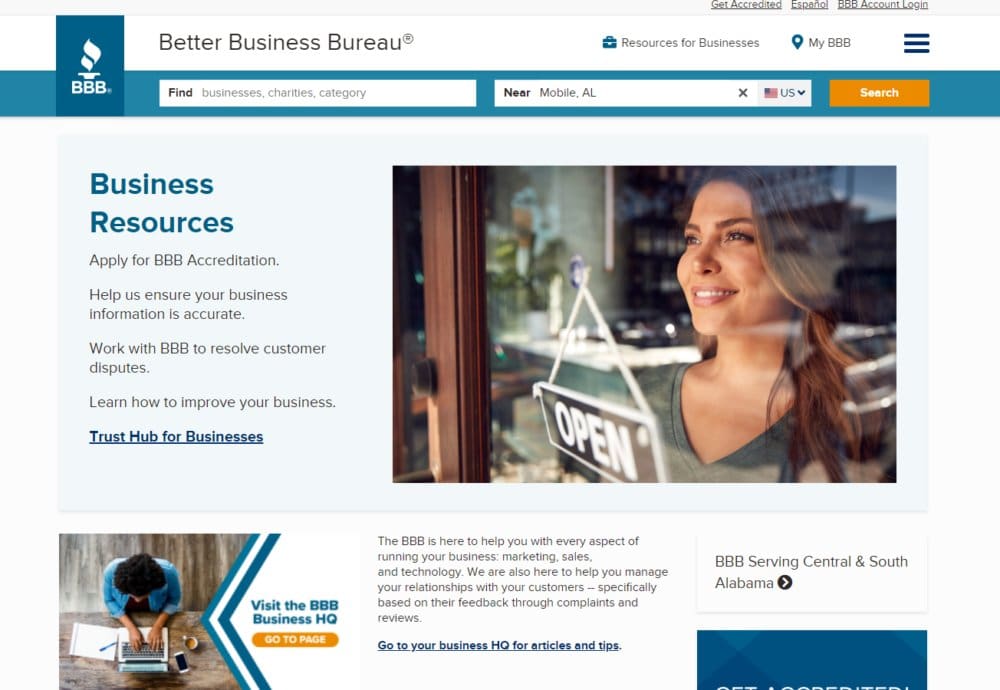 BBB Complaints vs. BBB Reviews
In any discussion of the Better Business Bureau, its ratings, and its mission, it is important to make a distinction between consumer complaints and consumer reviews.
A BBB complaint is a formal complaint filed against a business by a consumer, often for failure to meet expectations or if they believe they were treated unfairly. A BBB review, by contrast, is a relatively new feature launched to allow customers to share their experiences without having to go through the process of filing a formal complaint.
Typically, a customer cannot file a complaint and also leave a negative review, but people have figured out how to work around this limitation, often to the detriment of business owners.
How are BBB Complaints Putting My Business at Risk?
In today's highly-connected digital environment, one of the first places people turn for information about businesses in their area is the web. A simple Google search can turn up pages of information about local businesses, including online reviews, BBB ratings, and BBB complaints.
Because the Better Business Bureau's website is such a trusted resource, complaints and ratings tend to rank highly in online search results. In other words, if your business has received a BBB complaint, chances are that complaint is at or near the top position on Google search results pages. Since those top results are the ones customers click on, negative ratings or complaints by customers are far more likely to be spotted by someone searching for business information online.
As customers research your business, they may be confronted by these negative reviews and ratings. Any negative sentiment can erode trust between you and a potential customer, often leading to that customer frequenting your competitor. Can you afford to lose out on business because of negative feedback: an unfair BBB complaint, a bad review, or a negative rating?
Customer Complaints on BBB
When a customer files a complaint on the BBB website, that complaint goes through a multi-step process before it affects your current rating on the platform.
First, the BBB complaint is filed by the customer. Within two business days of the original complaint date filed, the BBB forwards the complaint to the business owner, usually by sending the complaint to the email address listed in the business profile.
Next, business owners have 14 days from the date filed to respond. If no response has been made in that timeframe, a follow-up letter will be sent to your physical address and email address.
After you respond to the BBB complaint, the customer filing the original complaint will be notified and asked to provide a response.
Finally, complaints are generally closed after 30 days. The BBB may keep complaints open if there is an exchange of responses between the business owner and the person filing the complaint until that complaint is resolved.
It is important to point out that not all complaints on the Better Business Bureau platform are legitimate. Business owners in every industry have experienced negative reviews and ratings based on misunderstandings or negative information posted by competitors, people with nothing better to do, or malicious behaviors. Still, these customer complaints represent a very real risk to your business's success and your online reputation. Having negative reviews removed is a critical solution to help you protect what you've worked so hard to achieve.
What to Do if You Receive a Better Business Bureau Complaint
The Better Business Bureau prides itself on the quality and transparency of the customer/business owner interaction. Complaints are taken seriously by the BBB and the organization works hard to facilitate a resolution between those filing a complaint and the business owners targeted in the complaint.
There are several types of complaints the BBB will not move forward on, including:
Complaints centered on specific business policies
Complaints about product or service pricing
Complaints regarding professional procedures
Complaints consisting of a dispute between employer and employee
It is important to understand that non-accredited businesses are under no obligation to respond to complaints; the Better Business Bureau requires only BBB accredited companies to respond to a complaint filed by a customer.
Resolving a Customer Dispute
The first step for any business owner facing a BBB complaint is to resolve the dispute with the customer. After all, the Better Business Bureau's goal is to facilitate an interaction to resolve each dispute.
Businesses have two options: to reach out to customers directly or to use BBB's tools to create a correspondence with the customer.
Proposing a Resolution
The Better Business Bureau handles correspondence between businesses and the customers who file a complaint. The owner can submit a proposal to resolve the dispute, leaving it up to the customer to decide if the proposal solves the problem or not. If you feel as though the complaint is unfair or if the customer is not satisfied with your attempts to resolve the issue, you may wish to take the next step, which is Better Business Bureau arbitration.
Arbitration and Mediation with BBB
When you choose mediation, the BBB employs a professional mediator to work with both parties to resolve any potential issue that led to the complaints. The mediator or arbitrator reviews all evidence supporting each side of the conflict to create a possible resolution that satisfies both parties.
For mediation, the Better Business Bureau chooses a meeting place and time for each party in the complaint to resolve the dispute. Typically, meetings are held at a local BBB office convenient to both parties.
Removing a BBB Complaint
If the above steps to resolve a Better Business Bureau complaint fail, business owners face a significant hurdle: getting the BBB complaint removed. This requires action both on the part of the company owner and the person filing the complaint.
How a business responds can have a powerful impact on the complaint removal process. The business owner should approach any communication with transparency and with concern, helping to establish some measure of trust with the person making the complaint.
In order to have a complaint removed from the BBB, the customer must submit an exact copy of the original complaint to a local BBB office, usually by fax or email. This should be accompanied by a request to remove the complaint from the business profile. The BBB offers a handy tool for locating your nearest BBB office and its fax number on its website.
Here are some tips for getting a customer to agree to remove a complaint:
Offer to resolve any issue that led to the complaint. If the complaint was based on poor services delivery, attempting to make things right can restore trust.
Be prepared to work with the customer. Contact them directly or through the Better Business Bureau complaint resolution system. Once they are satisfied with your proposal, ask for them take the complaint down.
Respond politely. Take ownership of any problem the customer may have experienced. The key here is to demonstrate to all stakeholders that you take your business seriously and that complaints can be resolved with enough time and effort.
Remember, if a business fails to respond to a complaint, there's a strong chance that it will remain visible for all your potential customers to see. Getting it removed can be time-consuming and frustrating, but the process to do so can help you preserve your valuable brand reputation.
Removing a BBB Review
The process to remove negative reviews from the Better Business Bureau is similar to the process needed to resolve a dispute. It is important to point out that the BBB itself will not remove a customer complaint — businesses can only request that the BBB not publish how they respond to the customer.
Start by asking the customer to retract or remove the negative review. If they agree, they must use the same email address they used to post the review in the first place. Again, work with the customer to resolve any dispute and to restore a trustworthy relationship. If done correctly, negative reviews removed from your profile will help you protect your reputation and brand identity.
The business response is critical. In every piece of communication between your business and its consumers, you must take ownership of any problems or issues that led to bad reviews. Perhaps your services delivery model was poor, or you simply made a mistake. Offering to correct it can help consumers regain the trust they had in your company and this alone may encourage them to honor your review removal request.
A Word About Review Management
The Better Business Bureau is a popular platform where customers can share their experiences with local businesses. For company owners, the BBB is not the only place to worry about negative sentiments, negative reviews, or other unflattering information.
Third-party review sites like TrustPilot, YellowPages, and Google Reviews all feature prominently in search results. Every time a bad review gets posted to one of these platforms, your online reputation is at risk, potentially shutting you out of new business opportunities.
The solution is review management. As part of a more comprehensive online reputation management campaign, managing reviews across web platforms allows you to take charge of the online narrative. With review management at your side, you can establish brand awareness, preserve the strength of your digital footprint, and rebuild the trust lost to unflattering reviews.
Getting Help with BBB Complaints
If your local BBB office has been unable to help you resolve customer complaints, there's another solution. The leading online reputation management (ORM) service providers have worked tirelessly with the Better Business Bureau and with third-party review platforms to help business owners recover from the reputational damage caused by bad reviews or negative ratings.
NetReputation's team of expert content removal professionals can show you how to remove a BBB complaint and how to protect your online reputation from the damage caused by consumer complaints. Take a look at our reviews on Sitejabber, TrustPilot, and Clutch to see what others have said about the quality and effectiveness of our online reputation management services.
Call NetReputation Today for Online Reputation Management Services
Don't let BBB consumer complaints and negative reviews stand in the way of your success. At NetReputation, our team of review management experts can help you take down business complaints to protect or restore your online reputation. Since 2014, we have helped thousands of clients with proven strategies that deliver the results you deserve.
Contact NetReputation today at 844-461-3632 or complete the online form below to get started with a free consultation.