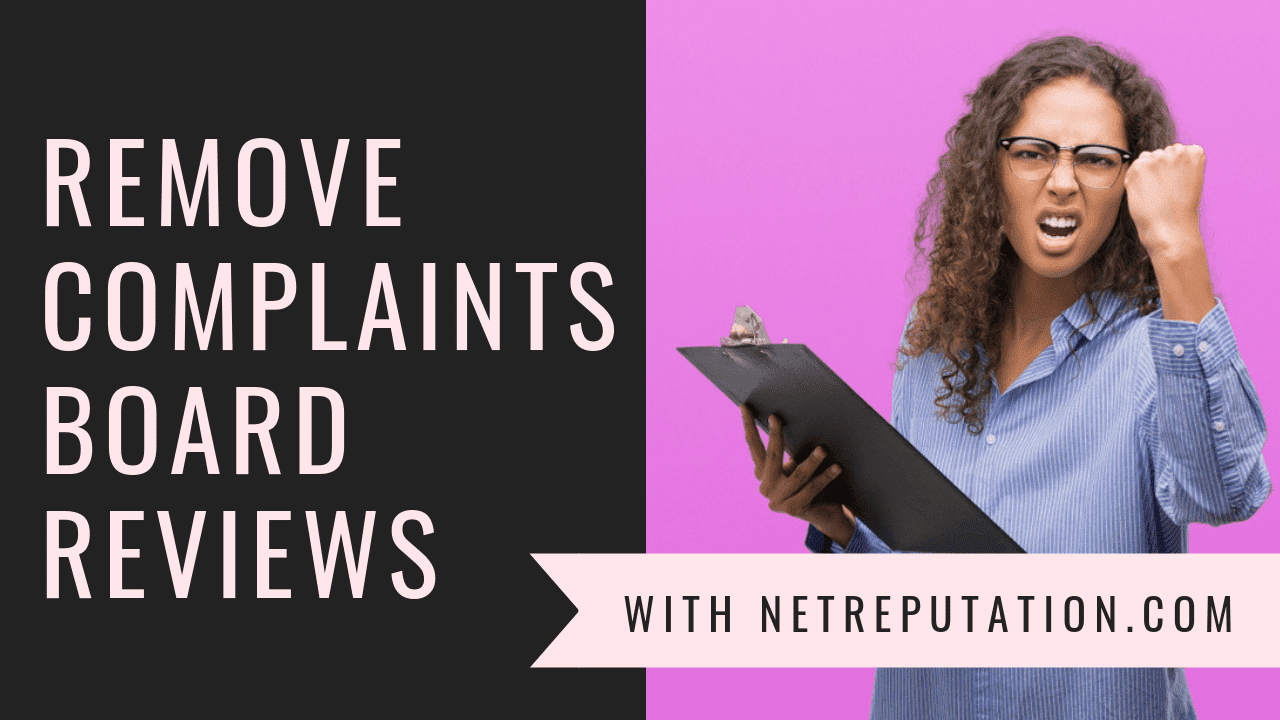 Need help removing a complaint from Complaints Board? Contact a Complaints Board Removal Expert today.
With more consumers turning to the web for answers, there may come a time when they find negative info on your company. 
The internet is home to countless websites that are easily accessible to anyone at nearly any time. This means if there is something negative online about you, chances are good your customers are seeing it.
One of the most notorious consumer websites people turn to besides The Better Business Bureau is Complaints Board. 
Complaintsboard.com is similar to Yelp in many ways. Visitors can check out and leave detailed reviews on businesses throughout the area.
Bad reviews are typically unflattering and harmful for businesses across the web. Negative reviews can cost you money, business opportunities and even threaten your brand reputation.
Now, let's learn more about the Complaints Board and how to remove complaints fast.
How To Remove Complaints From Complaints Board
With over a decade as the top online reputation management firm and managing removals from ComplaintsBoard.com, we know exactly how to remove bad reviews and posts online.
Additionally, if you can show proof that a review is false, this can be grounds for immediate removal. 
At NetReputation, we've done it all. 
And with the help of our reputation and SEO specialists, you can work for a brighter online future.
When you take a look at how ComplaintsBoard works, you learn the website is mostly run by the consumers. With minimal interaction between the site owner and commenters, things can get messy across the site.
This is particularly true when it comes to vetting what is real and what is not.
However, Complaints Board removals are fairly straightforward. Learn more below.
Remove Complaints Board Reviews: Overview
Below, we provide a basic primer on Complaints Board is and how it works.
This way, you may follow these steps for removing that Complaints Board comment from Google as soon as possible!
ComplaintsBoard.com is a privately-owned complaint site. While overseen and regulated by the webmaster, the content comes from individual reviewers (consumers).
One of the biggest problems with Complaints Board is they do a poor job vetting reviews. While the owner of the site requests that everyone provide honest feedback, this rarely happens in practice.
In their disclaimer, ComplaintsBoard.com states they are not responsible for any of the content posted on the site. This means that accuracy is not the site's primary concern.
And for this reason alone, you should always seek options for how to remove complaints from Complaints Board.
How do negative complaints online impact my business?
Negative reviews can hurt business. Most of the time, those leaving negative review are not even customers! 
There have been similar reports on Yelp and TripAdvisor. And as one could imagine, this led an abundance of fake reviews. 
Amazon is one of the best companies to turn to for online reviews. Amazon requires proof of purchase to leave a review. And if all review sites used this model, they might start earning a lot more trust.
Of course, we aren't saying that online reviewers should be silenced. We just believe that reviews should be true, as these reviews on Complaints Board can have serious consequences for online brands.
WHAT CAUSES COMPLAINTSBOARD.COM TO RANK ON GOOGLE?
When looking into the staying power of Complaints Board, you notice this site has been around for some time. 
In addition, it gets a solid boost on Google. 
But, why do Complaints Board posts rank so well in search results?
Date Published
Depending on how new the Complaints Board post is, it may have different effects on Google, Bing, or Yahoo. If you already have information online about your brand, it will be more difficult to have a complaint ranking.
On the other hand, if you have no content online, you may find a ComplaintsBoard ranking tomorrow or even within hours.
Domain Authority
Google ranks sites based on domain and page authority. Sites are ranked on a scale of 100, ComplaintsBoard.com is currently 69/100. This means you have a good chance of outranking Complaints Board when posting on websites higher than 69 domain authority.
Flashy Headlines
"Complaints Board" appeals to many consumers. Consumers are generally nosey. They want to know everything about a business. And when people see the words "fake", "scam" or "complaint" next to your name, they are likely to click through onto that particular website.
More visitors typically means a higher domain authority. That is why it's so important to act on these negative postings fast.
Social Shares & Engagement
When a company receives a new complaint on ComplaintsBoard.com, people want to hear about it. And these articles then start appearing on social platforms like Facebook, Instagram, and Pinterest.
Everybody wants to voice their opinion. Your goal is to nip negative sharing in the bud before it gets worse.
Why Does My Complaints Show On Google But My Competitors' Not?
Odds are they may have more quality content online than you. 
When you have little-to-no information on Google, it is much easier for a new website to rank on Google.
Companies that are good at promoting themselves online update their content regularly. They also keep their info up-to-date. 
But many local and startup businesses struggle with this. This is mainly because they have no online presence.
Branding yourself online can take time. The average time it takes to build a website, and get it ranked on Google is about 24-months, says Income School. 
But at NetReputation, we can build your online presence much faster.
Remove Complaints Board Entries From Google 
If you are the victim of a negative complaints board review, do not worry. 
There are many options to remove negative complaints from the first few pages of Google, Bing, and Yahoo.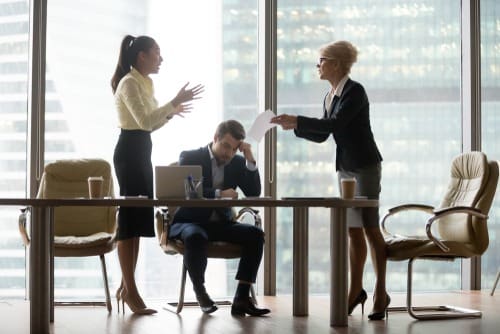 Where to Start
After clicking on the report, read over the complaint and hear what your disgruntled customer had an issue with. 
Before scrolling down, notice the blue hypertext link in the top right, above the first paragraph of the article.
This is where you start. It is time for you to voice your side, take responsibility, and make amends with the reviewer. You may also scroll to the bottom of the article for the same feature.
When you respond to negative reviews, always remember to be polite, honest, and apologetic. The last thing you need is to make the situation worse. 
To learn more, read our recent article on how to effectively respond to negative reviews online.
After you voice your rebuttal on Complaints Board, that review will list as "RESOLVED."
What Happens if the Complaints Board Reviewer is Hostile?
When you come across a hostile review, it is best to let it be.
Reply one time in a polite manner, apologizing for their experience. And if they respond again, let it go unanswered. If the post is truly uncalled for, others will notice.
Keep in mind that will never satisfy 100% of your customers. But you can attempt to provide everyone a great experience.
If after leaving a rebuttal, nothing happens, what can you do next?
Takedown Requests for ComplaintsBoard.com
As we mentioned before, NetReputation has removed negative items from the internet for over a decade. So when it comes to how to remove negative content, you won't find a better option.
One of the most successful removal options we offer is takedown notices. By sending Google a legal takedown notice, we can have Google "de-index" the content from Google search results. 
What is de-indexing?
De-indexing is the process of ensuring a particular website is no longer visible on a specific search engine. And to ensure the article won't be reposted, look into tracking the keywords within Google Alerts. 
When submitting a takedown request,be sure to read  Google's terms and conditions. You may need to provide proof that the article is libel and misleading to readers. 
This is sometimes not the most effective option, as businesses can find it troubling if the review is true. Protect yourself online.
If any of these items are online, you have a good chance of a direct/immediate complaint removal from ComplaintsBoard:
Hire NetReputation's Top Notch Legal Assistance
Seeing as negative articles online can be handled outside the courtroom, we always recommend you look into other options on how to remove complaints from Complaints Board and elsewhere.
Over the past few years, we've earned many positive customer reviews, such as on the Better Business Bureau.
We work to actively suppress any and all articles hurting your reputation on Google, Bing, and Yahoo. 
Whether it's on ComplaintsBoard.com or a similar service, like the BBB, we can help restore your presence online fast. Our proven approach targets your specific keywords and pushes negative content out of sight quickly.
We then promote those keywords in a positive light with content of our own. By creating new quality content about your business, you have a great chance of "flooding out" the negative reviews on ComplaintsBoard.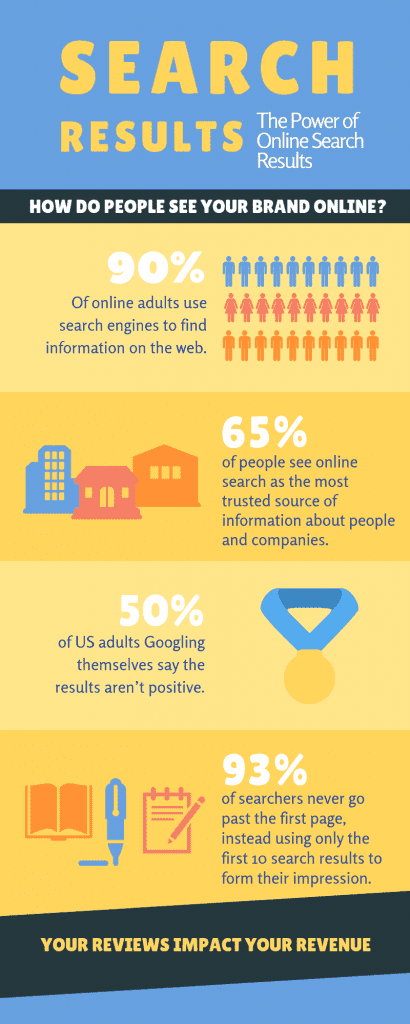 Another reason we do not recommend hiring an attorney to sue Complaints Board is that, as discussed before, they do not claim responsibility for the complaints left on their website.
How To Remove Complaints From Complaints Board By Suppression
There are some very effective ways to rebuild your online reputation in order to combat sites like ComplaintsBoard.com. 
While suppression does not completely remove your listing from the internet, it hides them well. 
NetReputation offers a wide array of Online Reputation Management Services you can choose from. Suppression is the art of hiding a particular website that you may deem negative. 
As well as harmful to the overall performance of your business, by creating additional content and websites you are building a foundation for yourself online.
 Whether that be through the use of social media platforms such as Facebook, Instagram, or Twitter there are endless ways to create content online for you.
Search engine suppression pushes Complaints Board posts out of sight
Through our solutions, we utilize the efforts of press releases to quickly publish quality content online. Suppression becomes simpler when you have minimal content online about yourself or business.
If done right, removing a Google review from the front page can be fairly simple. Once you have perfected one, you can apply that to any website you are seeking a first-page removal from.
Not only will you be working to hide negative posts. But you are also seeking to promote yourself online for future employers to see! 
Talk about killing two birds with one stone. 
Now you are one step closer to a positive online reputation. In as little as one month you will start to see progress on hiding your unwanted entries.
 Let NetReputation work to remove your Complaints Board posts and comments.
Faqs About ComplaintsBoard.Com
ComplaintsBoard.com does have a designated page just for popular questions (click here). 
Every removal solution is different and is home to distinct variables that change from publication to publication. 
Contact us today in order to know what options you have on removing or suppressing your negative entry on Complaints Board.
Final Thoughts on Removing Complaints Board with NetReputation.com
Depending on the number of total postings and if the review is true or not, these results will vary. 
But as we mentioned before, there are several things you can do in the efforts of removing ComplaintsBoard.com from Google, such as press releases, blogs or custom websites.
Some more general facts when actively working to suppress your name is to target keywords. Keywords are what tell Google what the article is about. So by simply writing a longer, quality post, you can actually outrank any competition.
In conclusion, the less information you have online the more prone you are to ComplaintsBoard ranking on Google. 
Routinely monitor your results online or contact the professionals at NetReputation.com to do it for you! 
Contact our Content Removal Team today for a FREE CONSULTATION regarding how to remove complaints from your ComplaintsBoard.com.