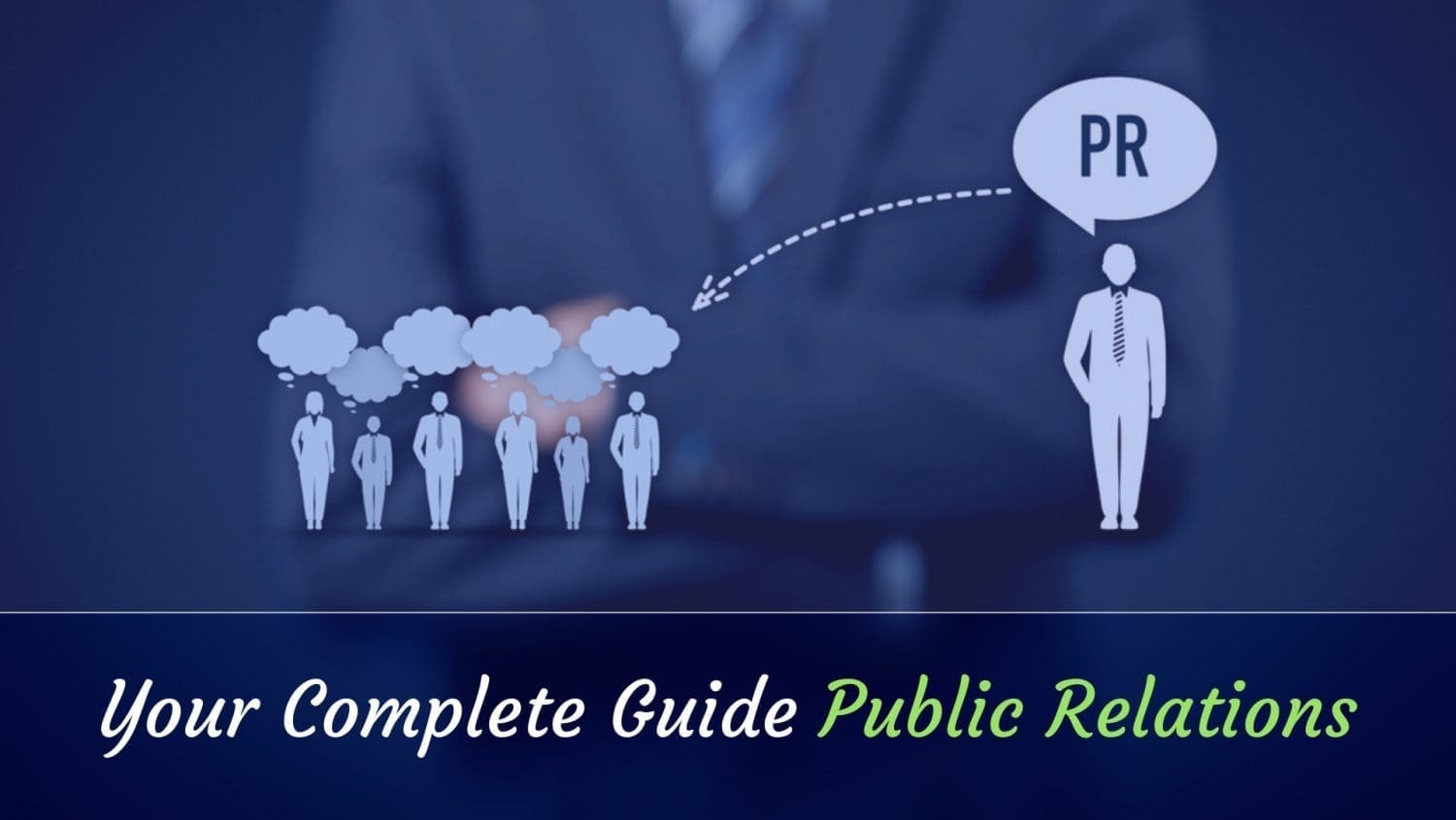 Complimentary Public Relations Guide
Are you looking to expand your business opportunity and expose your valued brand to groups of new people who are likely to be interested in what you are offering?
Say hello to public relations.
Public relations (PR) is how the company communicates and builds relationships with people. It's how a company markets its brand. Communication is how business brands send information, which is similar to branding. The only difference between PR and branding is that PR is more focused on communication, reputation, and bringing awareness to who they are, rather than relying exclusively on visual elements, such as logos designs. It's sending a positive message to people about who you are.
And of course, it's about more than posting something on social media! Much much more is involved in public relations.
To learn more about public relations read our detailed PR guide below!
Request a Free Consultation
Top 3 Media Strategies for Public Relations
Public relations is divided into three distinct categories: owned, paid, and earned media. Each of these categories works towards the same reputation-building goal, but each method requires different strategies to get there.
If you want an effective PR strategy, you should be optimizing all three categories listed below.
(1) Owned Media
This is defined as any content that your business controls. Owned media is often the go-to strategy for businesses looking to build a PR campaign that enhances their brand and what they represent.
In addition, owned media is the most important type of PR-related media. That's right, the most important. You should focus on this PR-related media the most because you have the most control, making it the most valuable kind of media (unlike the other two) that represent your business.
Owned media consist of three separate categories:
Social Media Posts (Facebook, Twitter, Instagram, YouTube, Quora, and many more…)

Blog Content

Website Copy
Each of these act as a virtual home for your PR activity. People writing about your personal brand or products will, more often than not, reference owned media in their own coverage. It's a valuable benefit to controlling PR-related media.
(2) Paid Media
Paid media is a common standard in the marketing world and only becoming more popular. It's no different when it comes to paid media in PR.
Paid media refers to paying for a service to make your content visible. It's common practice to use different online reputation management services to promote owned media, and it can be done through different services:
Social media advertising

Influencer marketing

Pay-per-click (PPC)
Investing in your PR content is becoming increasingly popular because it communicates a larger message to people. An effective message. Since the majority of social platforms are reducing organic reach for business accounts, it's an effective and efficient way to make sure your content gets to your intended audience, the people you are trying to reach.
(3) Earned Media
This kind of PR strategy comes through word of mouth or social media – newspapers, Facebook, Instagram, etc. Defined as the tactic to boost conversation around your brand, earned media is often collected from owned media because it gets people talking about your business.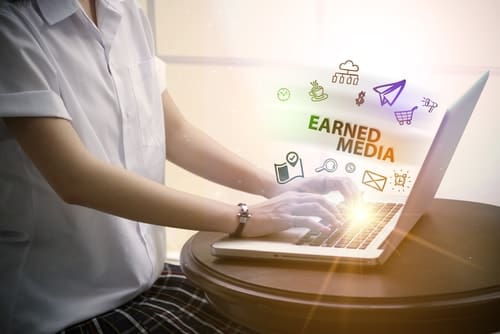 Earned media, however, is the hardest kind of PR strategy to execute. It's because you need to do something before you earn it. Of all PR strategies, earned media takes the most time and effort — why it's termed "earned" media.
But if you have the resilience and dedication, earned media can be the best tactic to build your business reputation and brand.
The truth is if you see your business, product, or services being:
Reviewed on industry blogs

Praised in customer testimonials on social media

Rank on Google. Get in front of your competition.
… it's bound to make a lasting impression on your prospects!
Request a Free Consultation
Public Relations vs. Marketing
Although PR and marketing are very similar in their approach, they both have different goals. The main goal of public relations is to boost the reputation of your brand with different strategies. It doesn't always translate to more sales, and typically it includes indirectly promoting your brand through activities, such as press release writing and speaking at industry events. On the other hand, the main goal of a marketing campaign is to boost sales. Instead of improving someone's perception of your business, marketing strategies focus on driving revenue and boosting profits.
 Public relations and inbound marketing are closely related, and using them together achieves the best results.
That's because people don't buy products, they buy brands. If someone is willing to buy your product (because of marketing strategies), it means they're already connected with the brand (through PR).
This explains why the average revenue increase attributed to consistently representing a brand is 23%. You would see similar results if you combined both strategies.
Put together marketing and PR and they're a perfect match for business success! There are many industries that rely heavily on online reputation. Automotive reputation management is a growing necessity for every major car dealership make sure you have a brand crisis management plan in place in case anything negative should surface online.
Inbound Public Relations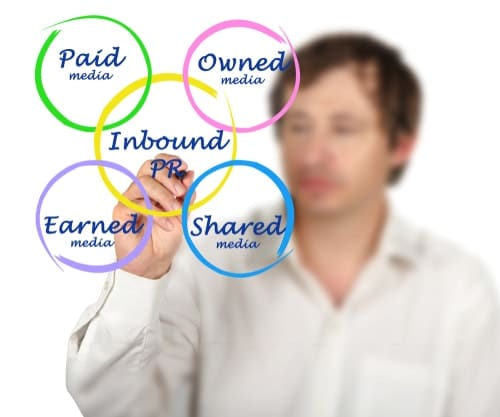 Inbound has been named the future of PR. It combines PR's greatest strength (content) and inbound (measurement) so you can prove the ROI of your public relations strategy in order to optimize your business.
Inbound PR works so well because you can see what's working and, just as important, what isn't working.
For instance, if your business was struggling to collect backlinks from your coverage, the inbound PR approach would allow you to identify this and tweak your strategy in the future.
This insightful presentation by Iliyana Stareva, first presented at the Inbound 2016 conference, shares everything you'll need to know about inbound PR and how you can tweak your strategies.
Inbound PR is a dependable and reliable way to build your brand, generate leads, and convert those leads through your public relations strategy. Inbound PR is the future!
What Does a Public Relations Manager Do?
PR managers enhance content. The typical day in the life of a public relations manager, whether you are working in-house or an agency, consists of strategizing content to promote your business image.
Main Activities of Public Relations:
Standard day-to-day tasks of a PR manager can vary greatly. But they often focus mostly on:
Writing press releases for company-related information.

Creating fact sheets about the company to be sent to media teams to build their brand.

Providing media training to both in-house and external teams.

Speaking at business events.

Finding and analyzing media coverage in order to promote that content through owned and paid media outlets.

Attending industry events to positively represent the brand at trade shows, recruiting events, etc.
Common Skills of PR Managers
Successful PR managers not only have foundational skills but are especially skilled in public speaking and media relations.
The following skills are essential for public relations success in any public relations position.
Great Communication
Public speaking, promoting content through social media outlets, networking, etc. These all require great communication. And they are essential for building your business's reputation.
PR managers will spend the majority of their time effectively communicating and promoting a business.  
That is why excellent communication is such a valuable skill for PR managers to have.
Writing Skills
Besides having valuable communication skills, PR managers should also be well-versed in writing.
Writing press releases and company-related news requires writing skills that are able to properly convey a message to people when they read it or listen to it. That is why PR Managers must possess some writing skills if they are to effectively promote their business.
This is especially important when PR Managers promote their business through blog posts, website content, and press releases.
Creativity
Just like in marketing, creativity goes a long way in the public relations world in order to promote a business.
The most effective PR managers are creative and know how to create a strategy that reaches a wide audience. Not only will this skill help PR managers in "boring" industries, but it'll drive earned PR coverage if you can craft a unique spin on a story because it attracts a wide audience, who are engaged in what you have to say.
Strong Research Skills
A lot of Public relations is understanding how people communicate. The goal of any PR Manager is to get people talking about your brand. PR managers with excellent research skills will exploit these opportunities to boost the image of a business.  
PR managers will also need to do research when planning their strategy. For instance, they might need additional information, statistics, and data points to boost the power of their owned media, in which strong research skills are essential.
Goals of Public Relations Campaigns
Goals are a measure of success for any PR campaign.
Here's a list of KPIs that you should always have when determining the effectiveness of your PR strategy.
(They also follow the inbound PR methodology! That's a plus!)
Brand Mentions
Brand mentions are almost self-explanatory. They are created when someone mentions your brand in any way in their earned media coverage. Most often they come out when news publications cover your story, without linking back to your website.
Brand mentions are great for promoting brand awareness, but there's just one particular issue with brand mentions – they can be difficult to track.
Fortunately, tools like Mention scan the internet for any reference for your business's name. These online tools can help you find out how many people covered your PR campaign and where they covered it.
Usually, a high number of brand mentions means a successful strategy because your brand is getting promoted through word-of-mouth.
People talking about a brand does not always translate into instant success. They have to be talking about the good parts of your brand for it to be deemed successful. Earned media coverage will sometimes mention how awful your brand is, without any mention of what is good about it. That's why understanding context and what people are saying about your brand is important.  
Backlinks
Related to brand mentions, backlinks guide you to where your PR story has been discussed. The sites that have mentioned your brand will have links to your website, making it easy for readers to find your website and the original content.
You'll not only benefit from new visitors when collecting backlinks from PR coverage, but you will also see a rise in your SEO rankings, too. However, you must ensure you have the proper reverse SEO strategies in place when working to suppress negative content
Site Traffic
Successful signs of a PR campaign are when people are discussing positively talk about your brand and visiting your site through earned media.
To replicate the success of your previous PR campaign, track the number of visitors that visited your site or page from your previous campaign. Do the research. Figure out where they came from (was it a particular piece of coverage?) and aim to replicate this success in future PR campaigns.
New Customers
It is difficult to measure how many new customers came directly as a result of your PR campaign. But if you were successful in attracting new customers in prior campaigns, investigate and research in order to produce the same positive results.
To see where customers came from:
Attracting new customers as a result of your PR campaign addresses your success.
For those who don't see an influx of conversion-ready site traffic, do not be discouraged. The goal of PR is to promote brand awareness, spread the ideas of your internal thought leaders, and communicate the ideas of your brand through PR strategies. If you are doing all of these activities, there's a high chance you will get returning customers and new customers to purchase your products.

Public Relations Tools
If you are looking for PR guidance, a way to improve your PR skills, look at these helpful resources below.
These six excellent public relations tools provide a basis to complex guides to understanding public relations.
CoverageBook: Use this tool to find and collect any coverage of your PR content. It's great for PR agencies who're building coverage reports for their clients.
Mention: Track who's mentioned your brand in earned media coverage.
Monitor Backlinks: Track who's mentioned your brand in coverage and included a backlink to your site.
Muck Rack: Collect details of media people who might be interested in covering your PR story.
PR Fire: Take tedious PR tasks off your hands. Have your release distributed to journalists and receive a report of results. It's fantastic for in-house teams who're doing their own PR.
Agility PR Solutions: Provides powerful yet easy-to-use media database, monitoring, and analytics solutions to help identify and connect with influencers, capture coverage, and measure impact.
Conclusion
It's time to start reading and learning, taking the first steps to become a PR guru and strategize for the future. We can't wait to read about your successful brand in the news.
There's, however, one thing you should keep in mind: PR is an ongoing strategy and not a one-off task.
With anything that takes dedication, it can take a while to see results. But don't give up!
With a solid strategy and a commitment to learning strategies about getting people to talk about your company, you'll soon see more mentions, backlinks, and a general buzz. It all starts now. In conclusion, let's get started on making your memorable brand.
Request a Free Consultation