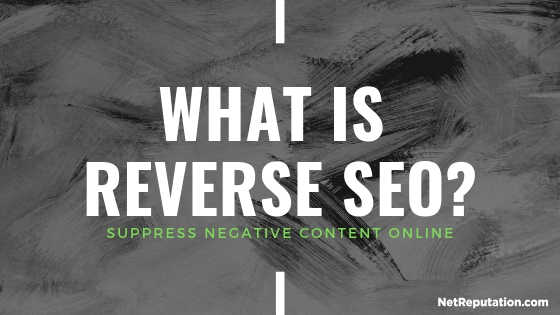 Reverse SEO is how digital marketers and search engine optimization experts push down unwanted links appearing in search results. To build an expert reverse SEO strategy that improves your business, call 844-461-3632 to contact an SEO expert today. 
Have you ever Googled yourself and were surprised to see the search results?
Google does an excellent job at pinpointing to most relative articles based on the words you type into its search bar. But what can you do when you see something negative?
What steps can you take to clear those pages from search results rankings and the public's eye? The answer lies in reverse search engine optimization.
Regarding your reverse SEO strategy, there are various reputation management strategies you can begin to implement today such as writing articles with long-tail keywords, eliminating broken links across the website, optimizing specific keywords, and avoiding keyword stuffing.
As a first step, defining a great content strategy should be completed early on in the marketing plan and should include page optimization, online marketing, website design, and any other improvements that can be made.
When people search for you online using Google or another search site, they are presented with a list of results. These results can influence behaviors, and ultimately affect your reputation. A single negative review, an unflattering news article, or an embarrassing photograph can harm your reputation. That's why reputation management is so important. Reputation management companies have the tools and the strategies you need to suppress negative information. With the right strategy and fresh content that puts you in a positive light, you can drive negative results to the second page of search results. This helps restore your brand name, your reputation, and your business opportunities. Remember:
65% of people view online search results as the most trusted source of information. That's a higher level of trust than any other online or offline source.
How Do I Clean Up My Search Results in Search Engines?
As dealing with negative search results can happen to anyone, whether you are a business owner or individual, we decided to come up with several tips and tricks to assist those attempting to hide pesky negative online reviews, old embarrassing photos, or bad press.
The best way to maintain or repair your personal reputation is to routinely monitor the internet and wipe away anything that is deemed detrimental to the overall success of that business/individual. In order to accomplish this, you must conduct a background suppression or removal, and wipe the major search engines of any personal information. Online reputation management is a critical component of protecting what you've worked so hard to earn: your online reputation.
Now let's take a deeper look into how reverse SEO works and what you can start doing today in order to promote yourself in a more positive light online and what are some of the most efficient things you can do to remove negative content from google search.
Online reputation management plans are essential for everyone. Consumers turn to the internet for answers to all their problems, that's why you should make sure you know how to handle your image on the internet before it ruins your life.
When working with us, you won't have to deal with any stressors. Upon discussing with our team, you will be designated your very own SEO consultant that can conduct optimization effort audits on your behalf to see where optimization benefits the most. Every reverse SEO campaign is tailored to the unique needs and goals of each client.

In the digital world, your online reputation is a fundamental part of your online presence. Your reputation tells others who you are, what you do, and what you stand for, either as a business owner or an individual. This online reputation has the effect of influencing consumer purchasing decisions, potentially driving new streams of revenue to your company. A good reputation supports business growth, while a bad reputation can lock you out of emerging opportunities. In simple terms, your internet reputation can make or break your business.
The vast majority of consumers turn to the web to research businesses before making shopping decisions. Negative reviews posted in Google search results harm your search rankings while influencing how others see you. Bad reviews tend to cause consumers to turn to your competitor's site; even a single bad review can have long-term effects on your business.
Online reputation management, then, makes sense from a business perspective. With reputation management, you can keep your internet reputation strong or restore a damaged reputation. Reputation management companies like NetReputation can help you develop a reverse SEO strategy that suppresses negative web pages or negative reviews.
How to Reverse SEO Specific Web Pages on Google
As business owners, there are many things we do every day that may ruin the optimization efforts for our websites. In this regard, using the best keywords for SEO is a must. If you are currently struggling with a negative link or bad publicity on the first page of Google, there are several things to do for those looking for how to push negative search results down.
Just make sure you are going after the organic traffic with keywords that are heavily searched for in your industry. Forgetting to do this will not only negatively affect your SEO but will also hurt your efforts to obtain a position on the first page of Google. Search rankings are important to drive traffic to your site and to your business; improving these search results is one of the benefits of the SEO techniques below.
Whether you have one negative appearing or several ones within Google's web pages, here is a list of 4 reverse SEO ideas you can start implementing today to avoid a brand crisis down the road.
1. Reverse Search Engine Optimization With Content Creation
Reverse SEO through content creation is one of the most efficient methods you can use to improve your image.
When it comes to making a name for yourself or for your brand online, promoting yourself as much as possible is a must. Whether your efforts are paid or organic, consumers want to read about the most trending, up-to-date news.
Selecting keywords to use within your content, is a great method for optimizing your efforts but try to avoid bad practices, like keyword stuffing your articles. Google hates this and will penalize writers for trying to "beat" the system.
And if you wonder what keyword stuffing means, that's when you place your keywords too many times within the article, accounting for over 2.5% of the text.
For businesses, this could be as simple as publishing a few blog articles on your website each week or undergoing various public relations strategies, such as press releases. Press releases are an effective way to perform reverse SEO for a bad review, negative article, or an unwarranted photo.
Typically these media outlets have high domain authority and are viewed favorably by Google. That's why you will always see news stations and large publishers in the top positions of each SERPs (Search Engine Results Pages).
So, How Do I Write a Press Release?
When writing press releases, make sure to include your list of keywords whenever possible. Google will scan each page to decipher where to place you within the search engines ranking pages and the more narrowed in your content is the better shot you have at ranking favorably on Google, Bing, and Yahoo.
One other thing you can do to maximize your efforts is to create a press release content release schedule. This way, you can plan your posts and publications ahead of time in case your personal schedule gets busy. Planning publication on a schedule also allows you to share your press releases on social media, blogging platforms, and other websites with ease. Every time you post these content pieces to other websites, you increase the chances that you will appear high in Google search results.
A good content strategy is key and is the foundation of your campaign but you need to make sure that your goals are clearly defined and in line with your overall online marketing strategies. A press release campaign is a great way to extend your strategies.
Since Google does not penalize web pages based on likes, you must remain proactive and repeatedly put out more and more content. Use tools like SEMRush to find the best keywords to use in order to outrank the article in question.
Furthermore, it takes roughly 2-3 weeks for a new article or press release to gain traction online, so if you do not see movement within result pages do not give up, it will happen. Just give it time to adjust. Eventually, you will see the benefit in your search rankings and online visibility. New articles are a core component of online reputation management and have the ability to suppress negative reviews while building your brand.
Top Press Release Media Outlets for 2020
PR Newswire
Digital Journal
Boston Globe
Yahoo Finance
Reverse SEO is a highly sought-after solution in today's world of reputation management strategies. If you have any additional questions please fill out the form below and we can help you suppress web pages that are limiting the success of your business.
2. Reverse SEO By Creating Various Business Listings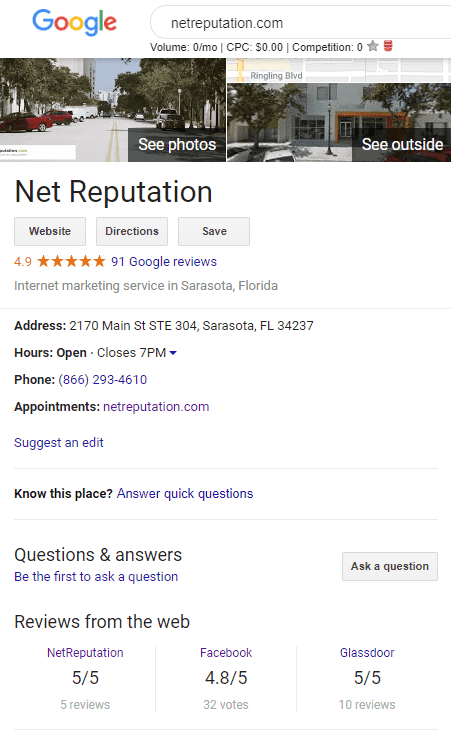 One quick and easy way not only for performing reverse SEO but also to increase your visibility online and get more relevant content about you or your business on Google's first pages is to create business listings. Every listing is a new way to build your brand, helping you to stand out from the competition.
One important thing to keep in mind when creating your business listings is to stay consistent. It is a bad practice to use different phone numbers and contact information across your profiles. Alternatively, make sure all the information is the same with a slightly altered bio or about me section.
In addition, ensure that the contact information across all of your listings is identical. Google will get confused if you have a phone number on Facebook that does not match your phone number on your Google My Business listing.
Although you may already think you have a few listings here and there, there are several hundred options to choose from. So why limit yourself?
Just like press releases and media outlets, business listings also hold high authority online. Sites such as Yelp, Google, Yahoo, TripAdvisor, Expedia and hundreds more show on the first page. Authoritative sites offer great potential for traffic, improving search rankings for the keywords people use to find you or your business. When selecting sites to create listings on, avoid the use of less-popular sites. These low quality backlinks do not provide much, if any, boost to your rankings.
Not only is it bad for technical SEO efforts to neglect the creation of various business listings but creating business listings is one of the best ways to market yourself or business FOR FREE in 2020.
Where Can I Create New Business Listings?
Here is a list of the Top 10 sites you can start creating/updating your business information on, we excluded the obvious choices such as Google, Yelp and TripAdvisor in case you already are listed on those platforms:
Manta.com
MerchantCircle.com
SuperPages.com
HotFrog.com
BrownBook.com
Lacartes.com
Ebusinesspages.com
City squares
Elocal.com
Finduslocal.com
3. Reverse SEO By Conducting Audits for Additional Insights
Have you ever audited your own site?
Do you have the ability to conduct a technical SEO audit on your business to see where there is room for improvement?
For most, the answer is probably no unless you have an in-house IT or Technical Specialist. As a business owner, you may already have various tasks daily to deal with and SEO can take a lot of time if you are not so tech-savvy. SEO techniques can be complex, particularly for someone with little or no experience in this challenging field. Thankfully, SEO services are readily available; an SEO company can help you navigate the various components of a good negative SEO strategy.
To Efficiently and Effectively Manage Your Own SEO (and Reverse SEO) Efforts, You Will Need to Have Knowledge of the Following Factors:
How to increase page speed
Optimal keyword difficulty and search volume terms
Knowledge regarding various keyword research tools (SEMRush, Moz, Ahrefs, and many others available online)
How to decrease loading times
How to avoid the pitfalls of using the same keywords too many times in web content
Proficiency in internet marketing
Knowing how to establish a positive online presence
Is there anything out there to make the process easier?
There are several tools available on the internet, as well as websites, that can perform this on your behalf.
Finding out the best keyword ideas for SEO is essential. Doing so helps you achieve first-page position on each organic search engine. The most effective tool for this today is SEMRush. Although this is a paid feature, they do offer a free trial so you can at least run one SEO audit, export the insights and work on them over time.
You can then conduct various organic SEO audits for your website. This will uncover any bad links, problems with site structure, error-filled pages, on-page search engine optimization insights and even a list of keywords you can start to implement.
SEMRush is an alternative to hiring an organic SEO consultant to work for you. Simply export your report to a management software like Trello and work through the checklist one by one. Considering this, the best way to reverse SEO and respond to negative online reviews, combat negative results or web pages, is by simply optimizing your own content.
So, gone are the days where you could stuff web articles full of keywords and have them rank on Google's result pages in a few days. As technology grows, so does Google's algorithm.
Synonyms and relative terms are factored in, determining Google to penalize you and deem your web pages as "spam". Running a quick organic SEO audit on SEMRush helps uncover what parts of your website need adjustments, including specific web page or web properties.
Start with long-tail keywords on each web page to build up your traffic. As your site gets more powerful in authority over time you can begin to write using broader competitive keywords.
4. Performing Reverse SEO Through Social Media
Social media marketing is becoming more of a trend, particularly as millennials are starting to get older and enter the workforce. So why not use social media even for performing reverse SEO?
Creating profiles on Instagram, Facebook, and Twitter are some of the easiest ways to promote yourself FOR FREE! Furthermore, one of the most growing marketing techniques in 2020 is Web 2.0.
Online marketing is key in 2020 as everyone uses their cell phones to research and communicate. That's why you must have a way to connect with your audience in all shapes and forms.
For example, if your company publishes a new blog or page on its website, it should then be shared to Instagram for more exposure. From Instagram, it can then be shared on Facebook and Twitter too. You can continue with this process throughout all of your social media footprints to maximize your efforts.
This chain-building technique quickly increases the page authority of that particular blog or webpage by supporting site backlinks to and from your website content. This can influence search results, as activity on social media platforms sends signals to the search algorithms. Every time a follower interacts with your page, authority builds.
 Gain more followers online by consistently publishing new content!

Here is a list of the most visited social media platform by users in 2018:
Facebook
YouTube
WhatsApp
Messenger (Facebook)
WeChat
Instagram
QQ
Tumblr
Qzone
Tik Tok
So, we highly recommend you create a profile on as many of them. You do not necessarily need to post everywhere (although we do recommend it). The benefit of backlinks alone makes the process of creating social media profiles worth the extra effort.
Therefore, social media profiles alone should give you an added boost in organic search engine optimization. Making it much easier to suppress and perform reverse SEO on negative web pages.
FINAL THOUGHTS ON REVERSE SEO
Furthermore, when working on technical or reverse SEO yourself, it is important to keep in mind, the results will not be instant. Continuous efforts must be put forth in order to keep pushing information off the first pages of search engines. Rank higher in searches and drive traffic to your web page with our reputation management services.
If you have any additional questions don't hesitate to contact us. Just complete the form below. As soon as you do, we will get back to you within 24-hours.
As a final thought, we have to state this one more time… neglecting your optimization efforts is bad for technical SEO overall. You want to remain active and consistently monitor and update the content published on your website.
Online reputation management services by NetReputation are 100% guaranteed for life! You only have one reputation; we make sure it's a good one!