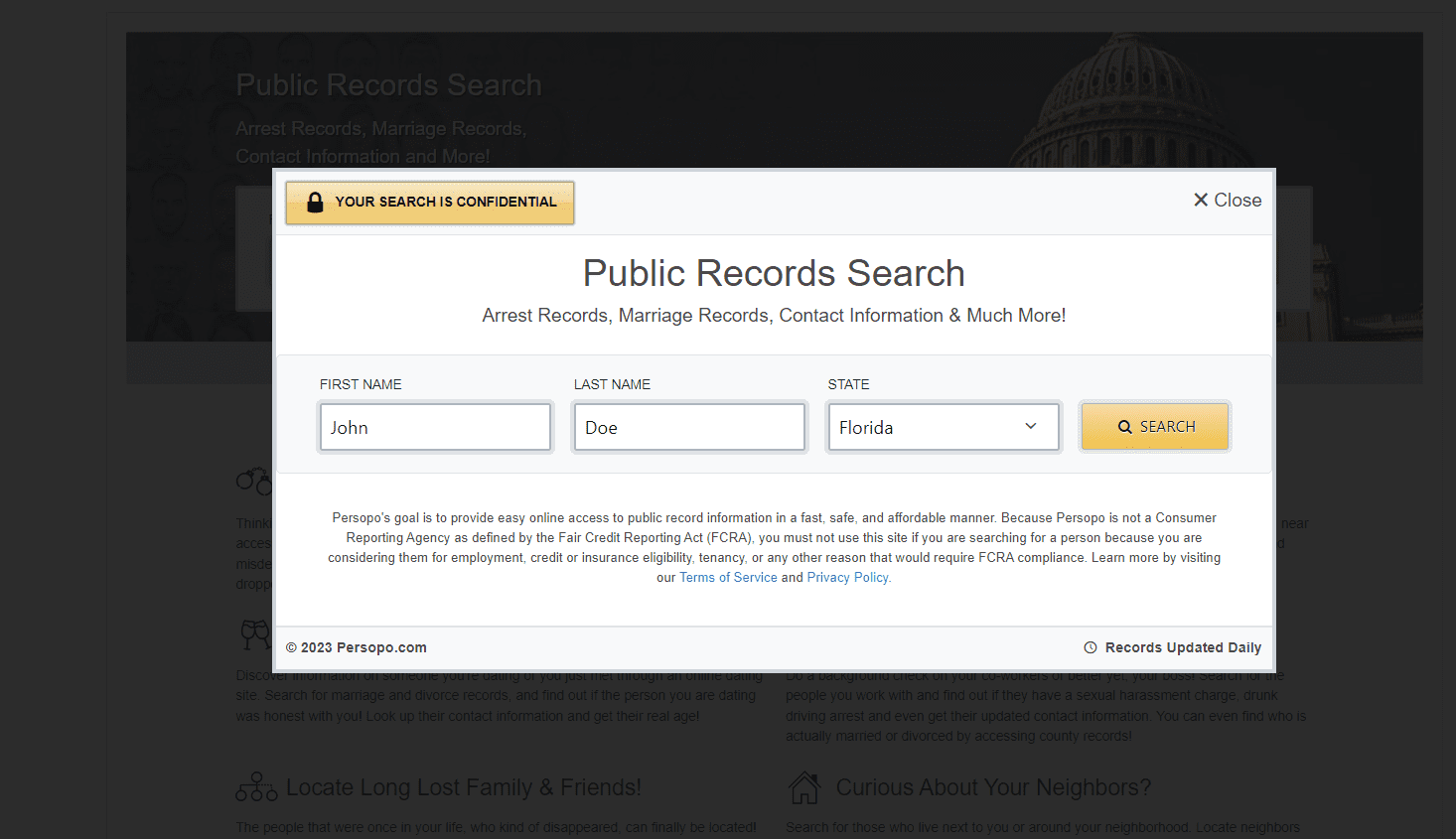 Home » Blog » Privacy » Opt Out Guides »
Learn everything you need to know about the Persopo opt out process in our complete guide below.
Whether you realize it or not, your personal info can be found online with just a few clicks of a mouse.
So-called "people search" sites have proliferated in the digital age; today, there are literally hundreds of sites with names like MyLife, Glad I Know, Instant Checkmate, and Peoplesmart.
With your personal info and private details available for all to see, you and your family may be at risk.
If you're concerned about personal privacy, our guide to the Persopo opt out process will help you take control over your data.
Ready to opt out of Persopo and data brokers like it? Let's jump right in with our complete guide to the Persopo opt out process.
How Divorce Records and Other Personal Information Can Damage Your Online Reputation
Every day, people turn to popular search engines like Google to learn about the people and places they encounter.
Information in search results influences others' perceptions of you. This perception is known as your online reputation.
Consider for a moment the online dating scene using apps like Tinder or Plenty of Fish. If someone you met on a dating app did a Google search for you and found copies of your divorce records, criminal records, or other data, would they think differently about you?
Now, imagine you've just applied for a job. Employers may also use Google or another search engine to conduct an informal background check before scheduling your interview. Again, criminal records, divorce records, and other tidbits of your personal info tell a story; is your story a positive one or is the information putting you in a bad light?
In the digital age, your online reputation is one of the most valuable assets you have. Protecting it — and protecting your privacy online — is an essential task you must address.
Privacy Risks Associated with Personal Information Online
Your personal information is online right now — and you may not even be aware of how much information is available about you and your family members. And, new records are added to the digital environment every day.
It should come as no surprise, then, that this represents a significant privacy risk. With easy access to your personal info, criminals can use this data for numerous activities. The two greatest privacy risks include:
Identity Theft
When criminals gain access to your personal information, including data from public records sources, social media, and other sources, this information can be used to create a "persona" — a fictitious person who shares your first and last name but isn't you.
Identity theft cases are on the rise on a worldwide scale; in 2021 alone, nearly 1.5 million Americans reported that their identities had been stolen.
Financial Fraud
Once a persona is created, cyber criminals can apply for loans, file fraudulent tax claims, open credit card or banking accounts in your name, and so much more. Financial losses related to fraud and identity theft reached $43 billion in 2021; fraud experts saw a sharp uptick in reported fraud cases during the coronavirus pandemic of 2020/2021.
If you're concerned about your digital privacy and want to protect yourself and your loved ones from the financial and reputational threats presented by identity theft, continue reading for information on how to make an opt out request on data brokers like Persopo.
What is Persopo?
Billed as one of the world's largest public records search sites, Persopo is a proprietary database containing billions of records.
Persopo claims to "provide easy online access to public record information in a fast, safe, and affordable manner."
To use the Persopo database, simply type in a first and last name or partial name, city, and state, then click "Search." A listing of results is generated; the entire listing includes information like:
Police arrest records, including speeding tickets, arrest reports, and criminal histories
Phone numbers
Current residence
Age
Arrest warrants
Possible relatives
E mail addresses
Previous addresses
Marriage records
Licenses & permits
Sex offender status
Miscellaneous records
Some of the information in the Persopo report is free; to get more detailed records, a paid service is available for those using the Persopo database for more extensive background checks.
What are the Uses of Persopo and Similar Data Broker Sites?
According to the Persopo website, visitors can use it to:
Find criminal records, arrest records, and police records
Protect yourself from dating a fraud
Locate long-lost family and friends
Protect your family and children
Search for those you work with
Locate information about your neighbors, coworkers, and people you meet
As we will see in the next section, users are forbidden from accessing records on the Persopo website for certain purposes, yet difficulties exist in protecting people from unauthorized access to their personal information. A single listing on the site can lead to criminals using details for fraudulent purposes or someone wishing to learn about you prior to an employment interview or when you apply to the college of your choice.
Is Persopo a Consumer Reporting Agency?
According to Persopo, the data broker site is not a consumer reporting agency as defined by the Fair Credit Reporting Act (FCRA). Data providers that share public records and personal information must adhere to rigorous guidelines under the FCRA.
Because the site is not a reporting agency, Persopo has the following statement on its homepage:
"Persopo's goal is to provide easy online access to public record information in a fast, safe, and affordable manner. Because Persopo is not a Consumer Reporting Agency as defined by the Fair Credit Reporting Act (FCRA), you must not use this site if you are searching for a person because you are considering them for employment, credit or insurance eligibility, tenancy, or any other reason that would require FCRA compliance."
Why is My Personal Information Online?
In the digital age, your personal information finds its way onto the web from uncounted sources. The goal of websites like Persopo is to provide easy access to information such as marriage records, arrest histories, and contact details.
In our next section, we'll share how Persopo and data brokers just like them gain access to this information.
How Did Persopo Get My Personal Info?
Persopo — and similar data brokers like PrivateEye, FastPeopleSearch, US Search, Smart Background Checks, Cyber Background Checks, and Intelius — get access to records from one or more of two primary sources and at least one secondary source:
Public Records Databases
In most states, public records are available online to anyone with an internet connection. These states have passed laws requiring the posting of a wide range of records on municipal databases or federal websites, including:
Arrest reports
Court records
Booking photos
Marriage license applications
Property purchases
Tax information
Business licenses
If you've ever filed for a license, been arrested, or had a court case, it's likely that at least some of your personal info — full name, addresses, etc. — is contained in publicly available records. In fact, nearly every time you've interacted with a government agency, it is likely that information winds up in public records — and eventually finds its way onto the web.
Data Providers and Data Brokers
Data brokers, sometimes referred to as data aggregators, use public records databases and information sources to republish details about people. That means your info is on more websites than just Google.
These data brokers use automated tools to collect information, where it is then shared with online users. Data aggregators may also partner with data reporting agencies to gain access to even more details about you and your family members or possible relatives.
Secondary Information Sources
Information brokers often use secondary sources like social media accounts, blog mentions, and personal or professional websites to collect information about people.
Persopo Opt Out Request: Removing Your Personal Info from the Persopo Database
There are two options when you wish to make an opt out request with Persopo. The Persopo opt out process is relatively straightforward and should only take a few minutes to complete if you make your opt out request online.
Digital Request
Visit the Persopo website and click "Opt Out" at the bottom of the homepage.
Here, you will find opt out information and instructions for making your request.
Next, use the Persopo search tool to locate your information. Once you've found the records you want, cut and paste into text format and email it to the opt out support team at Persopo with the address support persopo.com.
Regular Mail Request
To opt out of Persopo by mail, follow steps one and two above. Instead of emailing your text information to support persopo.com, you will contact Persopo by mailing the information and letter to:
Persopo
Attn: Persopo Opt Out Department
848 N. Rainbow Blvd Suite 20
Las Vegas NV 89107
When you contact Persopo, it's a good idea to include a letter stating your opt out request and identifying details that prove you are who you claim to be. For email, include in the subject line "opt out request" to ensure the e mail is directed to the right personnel.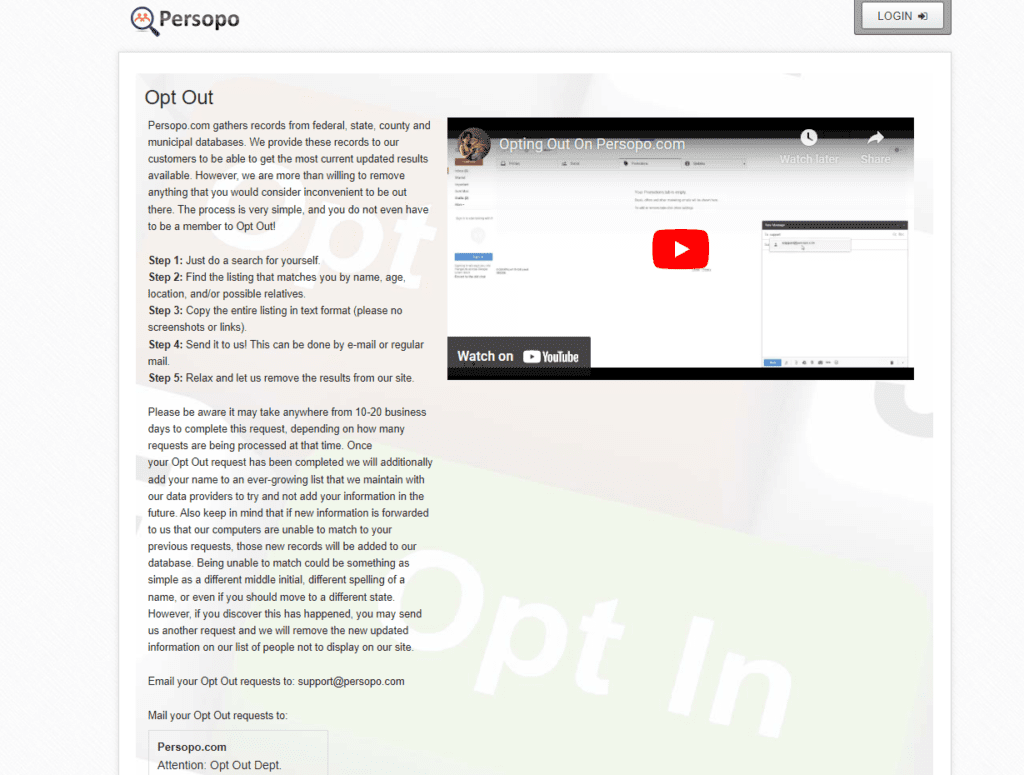 How Long Will it Take for Pending Requests from the Persopo Opt Out Process?
According to the Persopo opt out information page, it can take 10-20 business days before pending requests are processed.
If you've waited 20 or more days for your opt out request to be processed and you can still find your listing in a Persopo search, contact Persopo. Again, there are two ways to contact Persopo if you need help withe an opt out request.
Email at support persopo.com with the subject line "need help with an opt out request."
Mail using the address:
Persopo
Attn: Persopo Opt Out Department
848 N. Rainbow Blvd Suite 20
Las Vegas NV 89107
If all of this seems too time-consuming, a professional content removal team, such as the experts at NetReputation, can help you. Our talented team has the experience, tools, and industry knowledge needed to make your opt out request go as smoothly as possible. In no time, you've taken steps to protect your digital privacy and online reputation by controlling access to public records!
Will Opting Out of Persopo Remove My Info from Other Data Brokers?
Congratulations — you've completed the opt out request for Persopo!
Did this opt-out request work to remove your personal details from other information brokers? Unfortunately, no.
You will have to complete a manual opt-out process on each site where you find your data. Information aggregators number in the hundreds, and the opt-out process may take months. If sending a message or completing a form online doesn't work, you may have to reach out during business hours to speak to a representative.
New data is posted to the web every day. Even if you opt out from every broker website you can find, chances are that your information is still out there somewhere. Other sites may republish information from social network accounts and other sources.
Eventually, however, your records will begin to disappear from Google search results. With a bit of work and patience, your details will be completely removed from searches. In time, you'll "Ungoogle" yourself, allowing you to enjoy the personal privacy and safety you deserve.
Tips for Monitoring Your Online Privacy
As we conclude our guide to the Persopo opt out request process, here are some personal privacy tips you can implement to protect against fraud or identity theft:
Limit the information you post on social media, including birthdays, pet names, and vacation plans.
Stop sharing your phone numbers and email addresses with anyone who asks, including retailers and telemarketers.
Protect your computer files with antivirus/anti-spam software.
Use an incognito browser if you use a shared computer.
Create strong passwords using uppercase letters, lowercase letters, and special characters.
Change your passwords regularly.
Turn on two-factor authentication on banking or other financial websites.
Shred any mail that contains personal information like credit card numbers, Social Security numbers, or banking details.
Monitor your children's internet activity and teach them about internet safety.
Adding these tips to your routine can prevent most of the risk associated with identity theft and fraud. By opting out of websites like Persopo, you have taken an even bigger step toward complete information privacy!
Contact NetReputation Today
NetReputation is an award-winning leader in online reputation management. We know that you deserve privacy in the online environment; people search sites like Persopo allow anyone to pull up your personal information.
With our help, thousands of clients have protected their private data online with cutting-edge content removal solutions. Get your information removed fast and for good with the assistance of our removal team. We perform where others can't; thousands of clients have trusted our methods since 2015.
Ready to take charge of your privacy online? Call NetReputation at 844-461-3632 or complete the online form below for a free consultation.