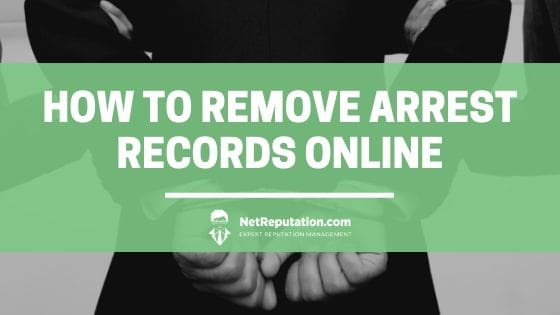 Want to remove arrest records from the internet? Speak with a Records Removal Specialist today! 
Is it possible to remove arrest records from the internet?
Yes! NetReputation has successfully removed thousands of criminal and arrest records from sites like Google, Bing, or Yahoo. 
Whether or not you have an arrest or conviction in your past, more individuals see their criminal record history exposed in search results across the web. This is regardless of the outcome. 
This has created an online epidemic, as many individuals have nowhere to turn for help.
That is, until now.
If you have an arrest record, that information and all related documents are public information. This means anyone with access to the internet can find your personal info fast. 
Many states have already passed legislation to protect those affected by these websites. Yet, we rarely see the courts side with the plaintiffs. 
As long as there is no court order for removal, any site or search engine can distribute your arrest info, even if it is many years old.
As long as the website doesn't demand payment, it's within its rights to post this type of content.
Request a Free Consultation
Some states, such as California, no longer release mugshot photos to the general public. However, many of these arrest records and mugshot sites continue to post arrest details online.
The consequences of these posts can be severe. And not only for your online reputation, but also for your personal and professional life. 
Arrest records and mugshots on the first page of Google make it difficult to obtain a new job or get approval for a loan. They also make it nearly impossible to buy a new home, apply to college, or even try online dating. 
Your online reputation should be your best advertisement. That's why we make it our mission to remove arrest records and help you defend and define your online image. 
Since sites do not disclose the legal outcome of any particular arrest or criminal charges. In these cases, it is up to the person viewing your criminal records to determine your guilt or innocence.
Most feel that even after serving time, these sites can still severely impact your well-being. Others believe these sites are doing the community a favor.
We will let you form your own opinion. But we can all likely agree that charging to remove your arrest records is unethical, at best. 
NetReputation is a reputation management company which was formed with the sole purpose of assisting individuals to rebuild and repair their online presence, through high-quality content creation to remove negative content.
Finding And Removing Arrest Records and Mugshots From The Internet
Mugshot websites like BustedNewspaper make it easy for anybody to locate police records on the internet. 
For example, once you reach the homepage of BustedNewspaper, you're directed toward a search bar on the right side of the page.
The only thing left to do is type in a name. And nine times out of ten, their info will pop up.
Sites such as BustedNewspaper provide such information as:
Full name

Date of birth

Age

Race

Gender

Your address

Booking date

Charges or reason for the arrest
Request a Free Consultation
Our team removes most arrest records and mugshots in just 3-4 days. But this short removal time is only possible after many years of experience!
Once we remove your information, it typically takes Google about one week to update their search results to reflect the changes.
Now let's dive into how you can remove arrest records online and finally take back control of your online reputation.
Cases Dismissed, But Files Still Appearing On Search Engines Results!
Here we go, time for some fun stuff!
But before we go on, there are some things you should know. The most important is that there is a grace period between the initial arrest and when the judge finalizes your case.
Whether you are innocent or guilty, or eligible for records expungement, your "crimes" are still public information. 
In many cases, the average time between expunging your records and online removal is about 6-12 months. During this interval, websites can publish and share your arrest records across the internet.
Sealing of Court Records

. When you seal your criminal

record

, it is no longer public information. The information will remain on your record, but nobody will be able to access that info.

Expunged Records. Filing for expungement is a level above sealing your court records. An expungement essentially erases any trace of your arrest from your criminal history.
Will NetReputation.com Remove My Arrest Records?
For the most part, everyone is eligible for arrest records removal.
To receive a free removal consultation, please contact us and fill out the form below. One of our experienced team members will reach out as soon as possible.
Our Removal Service
After you complete the form below, we follow up with an email and phone call. We understand this is a sensitive matter and comes with a sense of urgency. 
For this reason, your designated account manager will search the entire internet for all traces of your arrest.
Most find themselves playing whack-a-mole when they are unsure where their arrest records actually are. And the last thing we want to do is remove 1-2 mugshots and have additional images show up a few weeks later. 
That is why our team searches over 400 mugshot publications and local newspapers to ensure we locate all arrest records online.
When you're ready to take the next step, we will send you a detailed statement of work. We do this prior to collecting payment to illustrate our process from start to finish. 
This also includes our 100% money-back guarantee. So, if we fail, you will get your money back within a few days.
Want to delete those arrest records fast? Call our Removal Team today to schedule an appointment.
Request a Free Consultation