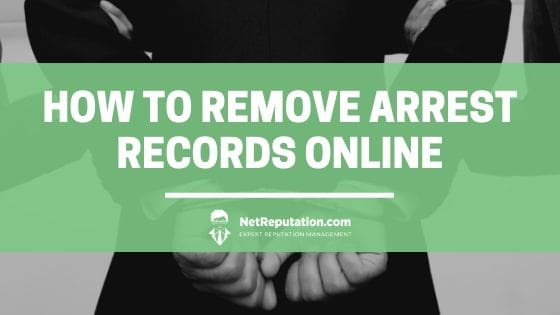 Want to remove arrest records from the internet?  Call 844-461-3632 or learn more about arrest records removal in our guide below. 
Is it possible to remove arrest records from the internet?
Yes! NetReputation has successfully removed thousands of embarrassing criminal records from sites like Google, Bing, or Yahoo. Our team of mugshot and records removal experts have the tools and technology to protect your privacy with cutting-edge services.
If you've ever been arrested, chances are your sensitive information has been posted to the web. These official records are often available to anyone with access to the internet. In this guide, we will explore how why public court records and arrest details can harm your reputation, then provide tips on how to remove court records from Google searches.
Your Personal Information is at Risk
Whether or not you have an arrest or conviction in your past, more individuals see their criminal record history exposed in search results across the web. This is regardless of the outcome of the arrest or any case filed against you.
This has created an online epidemic, as many individuals have nowhere to turn for help.
That is, until now.
If you have an arrest record, that information and all related documents are public information. This means anyone with access to the internet can find your personal info fast. Records of your arrest or criminal history are not the only concern; personal details contained in public records may include:
Marriage records
Post office box or home address
Other court records
Social Security number
Property ownership details
Telephone number
Personally-identifying information (birthdate, physical location, names of family members)
Open access to your personal information on Google search results has led to a shocking increase in identity theft. Criminals can use personal details posted about you online, then create fraudulent accounts in your name. Identity theft costs people billions of dollars each year when private information falls into the wrong hands. If your sensitive information or details have been exposed online, what can you do?
Damage to Your Online Reputation
Mugshots and details of your arrest or other information are not only embarrassing. Access to this information on popular sites like Google, people search sites, and online search results can damage your online reputation. Whether you are a business leader, a celebrity, or an average person, how people perceive you online is critical.
Your reputation is an integral part of your online presence. As a component of your digital footprint, this reputation tells people who you are and what you stand for, helping to build trust between you and others. If it becomes damaged, you may miss out on opportunities, such as buying a home, getting a car loan, or being accepted into the school of your choice. You may even be passed over by employers when applying for jobs. Access to personal information like your public records, regardless of who has access to it, can have long-term negative effects on your future.
Request a Free Consultation
Removing Public Records: What Legal Options Do I Have?
In many states, government agencies like the county clerk, sheriff's department, or courts may be legally required to make records public. Data brokers scrape this information, then post the details to their own websites. Public records information can include mugshots, arrest details, public court records, and more.
Many states have already passed legislation to protect those affected by these websites. Yet, we rarely see the courts side with the plaintiffs. You may imagine that your legal options are limited, and in some cases that is true.
As long as there is no court order for removal, any site or search engine can distribute your arrest info, even if it is many years old. This information can come back to haunt you years later, such as when an employer conducts a background check or your loan officer reviews your background before extending a home loan to you.
Like it or not, people are looking for you online. The information they discover can have powerful influences on their next steps. Will they hire you, grant you a place in the school of your choice, or extend a home or vehicle loan to you? If you have negative information available in search results — information including mugshots, criminal or arrest records, or unflattering background information — you may be passed over for someone who is considered less risky.
As long as the website doesn't demand payment, it is within its rights to post this type of content. Sensitive information posted to these sites continue to affect your digital presence and can harm your reputation.
Perhaps the only recourse from a legal perspective is to file a formal removal request with any website that has posted your personal information, including public records. The removal process varies between websites; in some cases, you may be required to provide specific court records like an expungement or statement from the county clerk's office to get your mugshot removed or to take down information from public records.
Government agencies are not obligated to remove public records, and in fact may be forbidden from doing so unless there is a compelling legal reason. The process to remove court records is challenging. In some cases, you may need the assistance of an attorney to file a formal request with the county clerk's office or other government agency to have private information removed from government-operated websites.
Sources of Personal Data on the Web: Data Brokers and Public Records Websites
How do public records appear on people search websites? Aren't there laws protecting your personal information and privacy online?
Generally speaking, when a government agency posts personal information and original records to be accessed online, these details are picked up by a wide range of data brokers, some of which operate in the gray areas of online privacy laws. People search sites often claim to be free to post details under the Freedom of Information Act or other public records laws.
To combat the spread of certain public records and to help preserve your online privacy, many states have passed laws or have implemented policies. Some states, such as California, no longer release mugshot photos to the general public. However, many of these arrest and mugshot sites continue to post arrest details online despite laws attempting to prevent your personal information from being shared online.
Opt Out of People Search Sites
The consequences of posts containing public records and personal information can be severe. And not only for your online reputation, but also for your personal and professional life.
Most people search sites do not disclose the legal outcome of any particular arrest or criminal charges. In these cases, it is up to the person viewing your criminal records to determine your guilt or innocence.
Most feel that even after serving time, these sites can still severely impact your well-being. Others believe these sites are doing the community a favor.
We will let you form your own opinion. But we can all likely agree that charging to remove your records is unethical, at best. In fact, many people search sites or data brokerages are forbidden from charging a fee for a removal request. These sites typically have some sort of opt out form or other opt out process that you must follow in order to remove court records from the internet.
NetReputation is a reputation management company which was formed with the sole purpose of assisting individuals to rebuild and repair their online presence, through high-quality content creation to remove negative content. Our team uses a wide range of strategies, including legal options, to help you opt out of data collection and sharing, have your records removed from the internet, and protect your privacy from the activities of people search sites.
How to Remove Your Arrest Record from Internet Searches
Mugshot websites like BustedNewspaper make it easy for anybody to locate police records on the internet. The site operates a database pulled from public records across the country. Court records are only one of many sources for this information.
For example, once you reach the homepage of BustedNewspaper, you're directed toward a search bar on the right side of the page.
The only thing left to do is type in a name. And nine times out of ten, their info will pop up.
Sites such as BustedNewspaper provide such information as:
Full name
Date of birth
Age
Race
Gender
Your address
Booking date
Charges or reason for the arrest
Information from court records
Our team can remove embarrassing court records and mugshots in just 3-4 days. But this short removal time is only possible after many years of experience! Other companies may claim to be able to remove public records in 24 hours, but this is simply not possible.
Once we remove your information, it typically takes Google about one week to update their search results to reflect the changes. That means even after the removal process is completed, records from the internet may still appear in search results for a period of time. Patience is the key when you want to remove public records from Google searches.
Now let's dive into how you can remove your records online and finally take back control of your online reputation.
Request a Free Consultation
Cases Dismissed, But Public Records Still Appearing On Search Engines Results!
Here we go, time for some fun stuff!
But before we go on, there are some things you should know. The most important is that there is a grace period between the initial arrest and when the judge finalizes your case.
Whether you are innocent or guilty, or eligible for records expungement, your "crimes" are still public information.
In many cases, the average time between expunging your records and online removal is about 6-12 months. During this interval, websites can publish and share your public records across the internet.
Sealing of Court Records. When you seal your criminal record, it is no longer public information. The information will remain on your record, but nobody will be able to access that info.
Expunged Records. Filing for expungement is a level above sealing your court records. An expungement essentially erases any trace of your arrest from your criminal history.
What About Public Records Removal?
For third-party sites like personal search websites that manage a database of information, the opt-out procedure typically works to get certain information taken off the web. Some owners won't necessarily delete this information without a legal reason, such as a court order or a formal takedown request.
For government sites, your options may be more limited unless you can provide a compelling reason why your information needs to be removed. For cases of identity theft or similar crimes, government agencies that have put your details on the web may pull down the information you don't want others to see. Remember that a criminal only needs to get their hands on your marriage license, your Social Security number, or similar details to steal your identity. Removing public records can be a time-consuming task; NetReputation can help you with our information removal services that protect your reputation while improving your privacy online.
Will NetReputation.com Remove My Arrest Records?
For the most part, everyone is eligible for removal of records from the internet. NetReputation has helped thousands of clients take charge of their online privacy by handling the removal process for them. From public court records to marriage records, personal information, and details that can compromise your safety, our team provides the services you need to remove public records once and for all.
To receive a free consultation, please contact us and fill out the form below. One of our experienced team members will reach out as soon as possible.
Our Customized Information Removal Service
After you complete the form below, we will follow up with an email and phone call. We understand this is a sensitive matter and comes with a sense of urgency.
For this reason, your designated account manager will search the entire internet for all traces of your arrest. This includes searching for court records and other public records that contain information you want to be removed from view on the web. Once we have located this information, we go to work, targeting each site individually with opt out requests, legal options, and strategies to help get this information removed. We have developed relationships with many websites and database hosts, allowing our team to be successful in removal with one simple request. Remember that information from public records exposes you to anyone with an internet connection; we work quickly to protect your reputation and your online safety.
Contact NetReputation Today for Expert Help in Records Removal
Most find themselves playing whack-a-mole when they are unsure where their arrest records actually are. And the last thing we want to do is remove 1-2 mugshots and have additional images show up a few weeks later.
That is why our team searches over 400 mugshot publications and local newspapers to ensure we locate all arrest records online. We scan the web, searching for data that can compromise your safety and your privacy.
When you're ready to take the next step, we will send you a detailed statement of work. We do this prior to collecting payment to illustrate our process from start to finish.
This also includes our 100% money-back guarantee. So, if we fail, you will get your money back.
Want to delete those arrest records fast? Call our Removal Team today at 844-461-3632 to schedule an appointment or by filling out our contact form below for a free consultation. One of our representatives will be in touch promptly.
Updated 8/2022
Request a Free Consultation