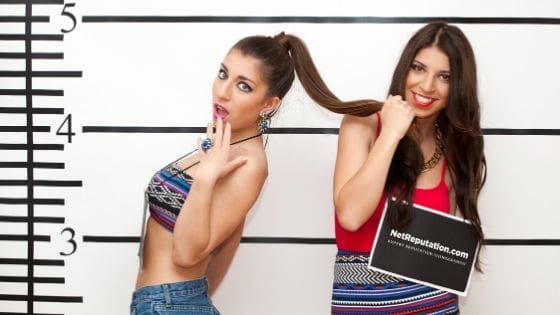 Ever been arrested? If the answer is yes, the odds are great that your mugshots and arrest information are online. 
Mugshot photos and arrest information are public record, no matter whether the charges are true.
In fact, most charges people face never go to court. Yet, they continue to struggle due to mugshot sites posting that embarrassing information online.
There are no nationwide laws regarding releasing mugshots online. And since the arrest did occur, there are no grounds for slander or defamation.
Unfortunately, this leaves many individuals at the mercy of someone else.
Whether you want to remove an arrest record or need to remove other negative content, submit the form below to start your FREE ANALYSIS.
Request a Free Consultation
Who Publishes Mugshots Publicly?
Mugshots and arrest details are available to the public through your local county office(s). Most of the time, you can locate these records on Google within minutes. 
Although state police and other government websites do hold mugshots, the websites we typically see ranking favorable on Google are independent businesses.
This is what happens as your mugshot makes its way to Google. Let's take a look at the journey.
Police arrest you and take your mugshot at the station.
They then upload your mugshot into the county database.
Officials update these databases every 24 hours.
Next, third-party websites crawl and copy that recently added/updated information.
Mugshot sites compile this info into an "arrest profile" they then feature online.
Next, the webmaster posts & indexes each page into Google's Search Console
Within 1-2 weeks, Google begins to recognize these new websites and ranks them in search.
From this point, your mugshot may spread like wildfire
So there are no laws about releasing mugshots directly to Facebook! 
That is why you must remain proactive when protecting yourself and your online reputation in 2021.
Guidelines for Publishing Booking Photos Online
When it comes to publishing and distributing mug shots online, there are not many laws or state ordinances in place to prevent abuse. 
As long as the information goes online while the arrest is public record, there is no legal obligation to remove it.
But what if my case was dismissed or expunged? Some sites will bend at the knee and remove your arrest profile from their domain if you email them a copy of your dismissal/expungement. 
However, the average arrestee is found on an average of 5-10 different websites. So the odds that all of them remove pro-bono is nearly impossible.
More so, there are specific law enforcement purposes for demanding the removal of a mugshot. These exclusions include minors, top-level government officials, and high ranking members of our armed forces.
Due to the Freedom of Information Law, there are zero restrictions set forth onto mugshot publication websites. 
Unfortunately, nowadays this has side railed the industry into a profit mongering seat pool of greedy individuals looking to make a quick buck on tarnishing your online reputation. 
Overview: Freedom of Information Law (Laws About Releasing Mugshots)
The Freedom of Information Act (FOIA) is a governmental law that has stood in existence dating back to 1966. 
The FOIA is the law that allows the people the power to examine and reproduce any and all records generated by Federal agencies. This goes for all departments within the executive branch of our government. 
In 1996, the FOIA was altered to permit people to gain more access to digital records and data. 
Furthermore, the revisions made to the law became recognized as the Electronic Freedom of Information Act (E-FOIA).
In order to receive this data all someone is expected to do is register an FOIA application. 
So, who can file a request? Those permitted to inquire about records include all U.S. citizens, businesses, corporations, international subjects, and colleges. 
Nevertheless, please note that while they can file a request the information is for the most part freely accessible, but securing the data is ordinarily not free.
Exemptions to the Freedom Of Information Act.
Data listed as matters of national security or foreign policy.

Internal agency systems and organization practices.

Any knowledge that has been explicitly excused from a different law.

Trade mysteries, financial data, or business reviews that have been collected from a person and is exempt or confidential.

Documents that would be deemed an intrusion of personal privacy, such as personnel, medicinal, and other related reports.

Studies or other data that has been received during law enforcement purposes.

Erudition on financial companies with respect to their actions, research, or status.
Need to remove a mugshot online? Contact us today!
Request a Free Consultation