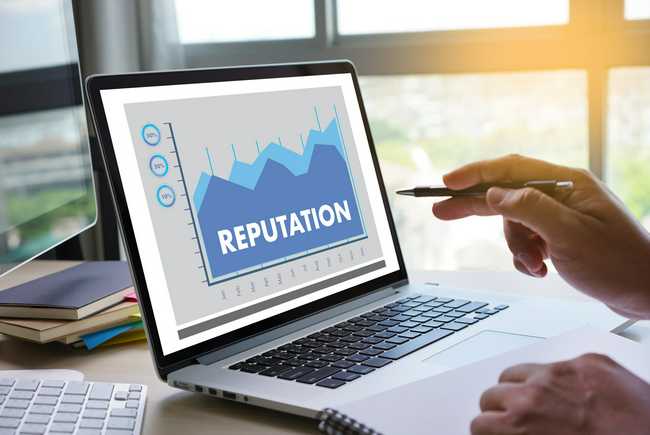 Our guide below provides a detailed look at the 10 best reputation management services for individuals and business owners. 
Research shows that 87% of shoppers will hop online to learn more about a company before making a purchase over the internet or in the store.
If someone Googles your brand, what will they find?
With so much hinging on your digital image and influence, it pays to invest in reputation management services.
Today, we're sharing 10 facets of our platform that can make a major difference in the way people perceive, interact with and ultimately patronize your business.
Ready to learn more? Let's get started.
Request a Free Consultation
What is Reputation Management?
Before we dive into 10 ways you can protect your online image, let's cover what online reputation management services entail.
Decades ago, your brand earned its good name (or lack thereof) based on word-of-mouth communication. However, as the Internet of Things (IoT) enhances connectivity and drives a more global marketplace, anyone can find out the juicy details about a company in a few clicks.
Today, your reputation is grounded in online reviews, social mentions, and Google searches. It's more imperative now than ever before to take control of the digital conversation surrounding your brand.
A company specializing in reputation management can help you better understand how to monitor, influence, grow and manage the sentiments said and spread about your company online. As customers continue to leverage real-time feedback functions to weigh in on the brands they love (or otherwise), they're finding their voice and helping to shape your perceived character.
You can't be online 24/7, constantly refreshing your page to read new Facebook comments or monitor reactions across other social media and business profiles. This is why it's smart to let a reputation management agency take the reins for you!
What are some of the top services you can receive when you partner with an agency like ours? Let's take a look.
1. Researching Mentions
You can't take action to correct, reverse or repair any brand damage if you don't know about it.
To this end, an online reputation repair firm like ours will begin its process by conducting thorough research via a free consultation analysis. At this time, we'll conduct online searches and rake through every fine-print detail to detect every mention of your brand name.
From there, we can take multiple courses of action depending on what we find.
2. Developing a Web Presence
Before deliverables can fall into place, we'll need to make sure your web presence is the exact way it should be. First, if you don't have a website, now is the time to make one. It can be as sleek or as simple as you'd like, and tools like modern content management systems (CMS) allow you to create a stunning site without a second of developer experience.
This will include taking a closer look at your social media profiles and aligning them with your business' ever-changing wants and needs.
Once you have a strong and reliable web presence in place, you'll be better fortified to defend your brand against naysayers.
3. Building Great Content
If we're going to restore your shiny image, we need substance to back up our claims. This means we'll work with you to bulk up your website with a good mix of time-sensitive and evergreen pages, interesting blog post, videos, and more.
To do so, we'll brainstorm with your internal teams and inquire about what makes your company unique. Why are you the best in the business? If so, what kind of industry-leading advice do you want to share with others in your niche?
We'll take the time to learn what you stand for, what you know, and the kind of people who are heading online to learn more about it. Then, we'll spin it into professional content for use across your website.
If we detect websites that are spreading false or misleading information about your brand, we'll take immediate action.
First, we'll work to determine if the information is slanderous, defamatory or liable. If this is the case, most major search engines, including Google, Yahoo, and Bing, will terminate the posting due to their strict privacy policies.
Or, if the issue is one of data duplication, we'll help you protect yourself by filing a DCMA Takedown Notice or claiming the copyrights to your information.
Keep in mind that while it's possible to remove most content that's negative, harmful or simply untrue, this isn't the case everywhere. Review sites, including  BBB, are the one exception.
As these sites encourage users to post their honest feedback about interactions with your brand, there isn't an option to remove any dialogue surrounding yours.
5. Background Search Clean-Up
Regardless of how storied it is, we all have a history. Yet, what happens when some not-so-great parts of your past come back to bite you?
The reality is that 84% of people trust online reviews as much as personal recommendations from friends and family members. If they Google your name and find a few facts out that you'd rather not remember, we can help.
Our reputation management services can clear up your advanced background check in only a few steps.
There's a strong chance that your brand did a 180-degree pivot and now you're the best in the game.
The only problem? You could have the top-quality products in the local and extended market, but if you have a stain on your background, it can put a dark cloud over any future prospects.
The good news? We can help here, too.
In addition to adding top-tier quality to your website, we have the unique capability to remove anything less than. In the case of background checks, we can remove any negative information that pings for your name on the following websites and databases:
BeenVerified
Instant Checkmate
People Wise
ZoomInfo
US Identify
US Search – for People Data
We can also help you remove a criminal record from more than 30 databases. This can help you restore your privacy and allow you to focus on core business.
This is great news for brands looking to stay un-tarnished, as well as individuals with a background that could keep them from some of the most lucrative and rewarding careers.
6. Suppression
Negative media reporting got you down? It can be disheartening to Google your name and see only bad press, especially when more than 70% of all internet traffic doesn't make it past the first Search Engine Results Page (SERP).
If you can't remove the news story, you can suppress it, and we can help.
We'll work to replace every negative search result with ones that are positive, creating content such as articles, blogs, and social media posts that work in tandem to rebuild your online integrity.
We can help suppress negative mentions on the following types of resources, among others:
Internet Slander
Public Information and Newspaper Articles
Internet Defamation
Consumer Advocacy and Complaint Websites
Before you know it, those negative news sources are pushed lower and lower on SERPs, replaced with ones that steer the focus in a new, better direction.
7. Review Monitoring
Where do most buyers go when they're ready to make a major purchase? They peruse Amazon reviews, of course!
While those reviews might be part of a giant enterprise, such feedback is equally important to your startup or small-to-medium business.
Studies show that it takes 12 positive experiences with your brand to rebuild your brand image after someone had one negative experience. Moreover, news about a bad experience reaches twice the number of people as praise for a great one.
When it comes to reviewing your business, customers have multiple platforms to choose from. A few of the most common include:
Your social media pages
Your Google My Business profile
The Better Business Bureau
Angie's List
Business.com
You need a partner on your side dedicated to monitoring sites like these, along with many others. Otherwise, you'll spin your wheels picking apart every testimony and traveling all over the internet trying to find everything that everyone's ever said about your brand.
Request a Free Consultation
8. Publishing Logistics
Ready to see new and improved mentions of your name? At this step in our process, we'll take care of that requirement. Creating dynamic content is the beginning, but those materials have no weight until you send them out into the world!
One of the strongest ways to reverse a bad reputation and create a new brand identity is to publish what you've been working on.
Once we've conducted research, discovered mentions of your name, and created new content, it's time to click "Publish."
If you're an individual user, this means enhancing your personal presence within the public domain. Business users, on the other hand, can use this step to establish and improve their brand image.
However, we know that it can be difficult to commit to a regular content creation schedule. That's why we handle the publishing logistics for you,
9. Promotion
You've done the legwork and published your new content. Now, it's time to make sure it gets into the right hands.
Word travels quickly online, but sometimes, it doesn't move as fast as you need it to. This is why we focus on effective promotion strategies to help reverse any negative trends as soon as they occur as possible.
In the final stage of our approach, we'll divide all of your digital content into three separate categories as follows:
Owned promotion
Earned promotion
Paid promotion
Let's take a look at each promotion type in detail.
Owned Promotion
For this type of promotion, we'll reach out to your readers directly, creating e-mail content and asking them to subscribe for updates.
Earned Promotion
Earned promotion occurs when our agency leverages social media networking to earn comments and feedback for your business.
Paid Promotion
These promotional tactics involve paying websites or blogs with major industry influencers to mention your brand in the online content they develop.
10. Corporate Security Solutions
Almost all websites are vulnerable to many different types of cybercrime. Recently, these criminals have adopted more sophisticated and tech-savvy measures to break into websites, including:
Advanced phishing kits
Attacks conducted via smartphone
Remote access attacks
Using any of these means, a hacker can access your online content, edit it, and republish it in minutes. While a strong firewall and competent IT team can help mitigate such external risks, business owners should also take their internal teams into account.
Our team will work with you to create a robust digital privacy protection plan that can safeguard one of your most valuable assets: your image.
Some of the measures we can help put into action include:
Permission restrictions
Limits on personal device use
Muti-step authorizations
Cloud sharing
Cyber attack response training
With these elements in place, you can rest assured that you're one step closer to preventing unauthorized and unwanted access to your systems.
Leverage Our Reputation Management Services
Remember the game of Telephone? It's fun to hear the final version of the word or phrase and compare it to the original.
This isn't the case with your brand reputation.
It only takes one remark to spark a fire and before you know it, the voices all mix together and appear to work against you. Then, you're left with an image that doesn't align with your mission or values, affecting your future, morale, and bottom line.
If you're looking for reputation management services to help turn it all around, we'd love to connect. Contact us today to receive a free consultation and service proposal. Let's chart a new course together!
10 Best Reputation Management Services – 5 Best Reputation Management Services – Top 3 Reputation Management Services

Request a Free Consultation