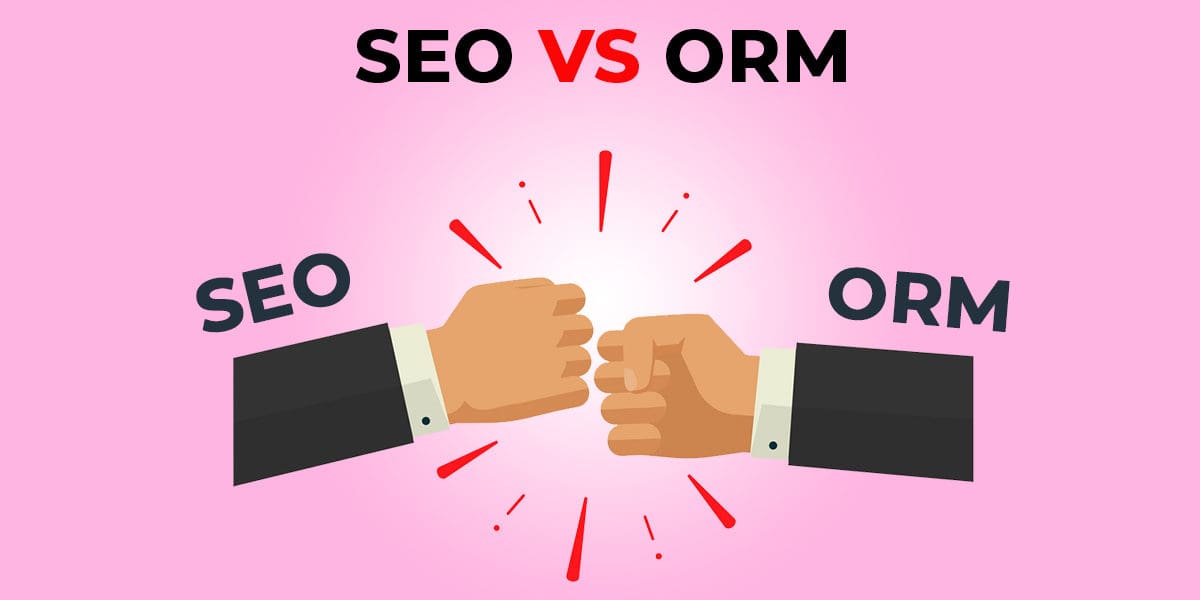 Welcome to the moment in time where things like SEO (Search Engine Optimization), and ORM (Online Reputation Management) are what is setting one brand and their online marketing efforts apart from others.
It isn't that the concepts are new — it's just that as the digital world keeps marching on, there are some fundamentals that shouldn't be overlooked. You've got to pay attention to search engines and their ever-changing algorithms while paying close attention to the demands and preferences of your current and potential customers.
SEO & Online Reputation Management Defined
As stated above, SEO stands for Search Engine Optimization. The goal of SEO is to increase the quantity and quality of your traffic so that you show up in organic search engine results.
Online Reputation Management, on the other hand, is the process of taking control of the online conversation. This process sees you and your marketing team develop strategies for making sure consumers are finding the right information they're seeking out, and they're given enough (truthful) information to move on to the next step.
The main difference between SEO and online reputation management (ORM) is that SEO focuses on improving visibility in search results, while ORM targets improvements in the public perception of you and/or your company.
Successful ORM is about creating balance, addressing misleading information (if needed), and managing your reputation with genuine care.
Put simply, SEO is more technical and objective in nature, while ORM is more subjective.
Begin with the "Whys" and "Hows" of Your Brand
As you consider which content tactics are most important for your brand (both SEO and ORM), it is recommended that you take a step back and look at things from the top-down.
Are you still in touch with the "whys" and "hows" behind your brand and products? Why was it built in the first place? What problem was the brand intending to solve? Who was (and is) the intended audience?
Do you know what your goals are? Do your goals need to be updated and/or reestablished?
These questions may sound a bit elementary, but you'd be surprised at how many brands haven't even taken the time to ask them and find genuine answers.
Once a product hits the market, it's a race against time — so marketers throw up a bunch of content (without much research) and hope that you're hitting all the right keywords, key phrases, title tags, and more. They publish your content with a hope and a prayer that it's going to show up somewhere near the top of Google, Yahoo, and/or Bing.
And sometimes, some pretty bad decisions are made. In order to get clicks and drive more traffic to a landing page, maybe they decide to fudge things a bit. Or use sensualization to get clicks, or use bait and switch marketing tactics to inspire more page views and conversions.
Things can get dicey in these cases, which can lead to horrible publicity, a poor reputation, and even lawsuits.
How SEO Works
When you build a website, it's like building a house. You've got to lay your basic foundation, which includes everything from your code to your site structure and sitemap to your pages and site content.
SEO should be a large part of your overall foundation — not an afterthought. If you aren't already aware, Google alone has more than 200 ranking factors that it considers when ranking an article, landing page, or website.
The five most important ranking factors include:
1. Quality of content. Gone are the days where you could throw a mix of keywords up with a lot of semi-informative content and rank at the top. The better your content's quality the higher you can potentially rank.
2. Content freshness. Regular publishing is a must with Google's growing focus on quality content.
3. Backlinks from higher ranking sites. The more links from leading sites, the better for your brand.
4. Mobile optimized first. Google now indexes for mobile and offers local search results for more customized browsing.
5. Page speed. The faster your site, the better.
Other important factors include having a secure (https) site, a positive user experience, and Schema markup code.
How Online Reputation Management Works
Online Reputation management is all about being proactive and realizing that the sooner you take control of your messaging, the better. As you are considering whether or not you need to dive into ORM head-first, here are some key facts to consider:
The Internet has become the first source of information for consumers. When someone has a question, they reach out for their phones and computers to find answers.
Consumers tend to trust the internet and what it tells them. In fact, according to Edelman Insights, two out of three people see the Internet as the most reliable source of information about businesses.
According to Cross-Tab, a whopping 70 percent of hiring managers have rejected a candidate because they found some negative info about them on the Web.
When seeking out info on a brand or business, 97 percent of consumers look for online reviews.
Reputation Defender, the pioneer of the reputation management space, points out that there are two cycles of online reputation. The first is the Vicious Cycle. If you ignore your online reputation, you will most likely be subject to misinformation and rumors.
The second is the Virtuous Cycle or actively managing your online reputation and creating positive, informative content that helps build trust.
Unfortunately, numerous brands fall into the first category. They don't take the time to consider the negative consequences of their marketing and information efforts and then have to spend days, and even months, in damage control mode.
The Virtuous Cycle Looks Something Like This
1. Develop quality content that is accurate, balanced, and inspired.
2. Consumers will naturally be drawn to the content, want to click to learn more, and enjoy reading.
3. Search engines see that your informative, quality content is popular with consumers. Thus, search engines are more likely to promote your content.
4. Social media helps your content stand out even more. Consumers have a reason and a desire to interact with the information you're sharing.
5. You follow up with more quality content and gain positive media coverage as a result of your efforts.
The Vicious Cycle Looks a Lot Like This
1. A brand puts out misleading, unfactual information, and it ranks highly in search engines.
2. Consumers click through and read.
3. Search engines see that users are clicking on the content and continue to push the content up in search results.
4. Social media efforts push the misinformation out to a wider audience.
5. Follow up content doesn't right the wrongs, but further pushes the misinformation to the masses.
6. The grand has a public relations nightmare due to rumors, lawsuits, negative consumer reviews, and more.
A Poor Online Reputation Never Goes Away
Once a scandal or poor reputation is amplified on the internet, it will never fully go away.
A brand will always be tasked to "right the wrongs," "set the record straight," and seek to overshadow the negativity that lurks in customer reviews, Reddit conversations, news articles, and more.
Can Your SEO Efforts and Reputation Management Efforts Be Best Friends?
The answer to this question is a definite "yes." Your SEO and Reputation Management efforts should go hand-in-hand and work in concert to help you grow your brand.
This is where the above discussion of top-down strategizing and planning comes into the mix. As you work to develop your SEO article concepts, the key is to think deeply about the information you're including in your SEO content.
Is what you're saying truthful and accurate?
Will your words do more than just inspire search engines to give you favorable ranking?
Will the SEO content be consistent with messaging found on your social media pages?
Does your SEO content link to resources and content within your site that will help build knowledge and trust?
Additionally, parts of SEO are used in the creation of a powerful ORM strategy. Some include:
Seeking out toxic links and having them removed. This can help avoid ranking penalties with Google and cut ties with websites that don't have your best interest at heart.
Constant brand monitoring allows you to stay on top of what people are saying and build links for SEO purposes.
Information-rich content that is SEO-friendly is a win-win for both relationship management and your rankings on leading search engines. The secret to your success here is blending the two efforts seamlessly.
Which Does Your Company Need More of Right Now? SEO and Online Reputation Management
If you're not sure, you can follow the following steps:
Check Google to see what happens when you search for your company, brands, and products.
Look closely at where it appears. Is it at the top or a few pages down? Does it not show up at all?
Search for customer reviews. Make a list of where they show up. Facebook? Trust Pilot? Google? Amazon?
Analyze whether or not your reviews are positive or negative. Is there anything that stands out to you?
Decide what actions you need to take and create a strategic plan.
If there is very little information about your company/brand and you aren't showing up in your search efforts, there are a few things you need to consider doing ASAP.
First and foremost, you should consider making a media/article list and calendar. Within this spreadsheet, you can also create tabs for backlinks, SEO keywords, key phrases, and other elements that you need to focus on. There isn't a one-size-fits-all solution, so create a framework that works best for you and allow for it to evolve as time progresses.
This can be in the form of a Google Sheet, Excel Spreadsheet, or via an online content management platform. Within your calendar/list, you can create a tab/field in which you can indicate whether or not a piece of content is being developed for SEO, ORM, or a mix of both.
In the case that there are very few search results for your brand and you aren't showing up on the first or second (or even third or fourth) page of results, it's obvious that you need to do lots of SEO work.
In your media calendar, create a list of SEO-driven article titles, order them in terms of importance, and then go into creation mode. It's also important that you take a deep-dive into what you can do beyond creating content.
Seek out industry-specific and/or lifestyle-oriented sites that are highly ranked and find creative ways to build backlinks. Make a list of backlinks that currently exist and make notes as to whether the backlink is helping or hurting your ranking and/or reputation management. If you end up concluding that a backlink is hurting your brand more than helping, you can write a note to the owner of a specific site and ask that it be removed.
You should also do everything you can to get your clients/customers to leave detailed reviews on Google, Trust Pilot, Facebook, LinkedIn, etc. The more positive feedback that you can get, the more likely you'll be able to convert new customers.
On the other hand, if there's tons of info out there about your brand/company and it just so happens to be more negative than positive, you know that your effort should be more ORM focused.
This doesn't mean to completely disregard your SEO strategy. But it's the moment you need to step back; evaluate where you've been and how you got there, and where you want to go; then create a strategic plan for bettering the public's perception of your brand. As mentioned prior, your ORM pursuit must be genuine and well-intentioned.
And finally, if you really want to step things up and you have the cash to do it, you may consider hiring SEO and ORM specialists. The right partner can help guide your brand and give you the tools and support you need for future success.
Conclusion – SEO and Online Reputation Management  
It simply isn't true that SEO is "better" than ORM or ORM is "better" than SEO. Both techniques and strategies must go hand-in-hand to lead your company/brand to greater success.