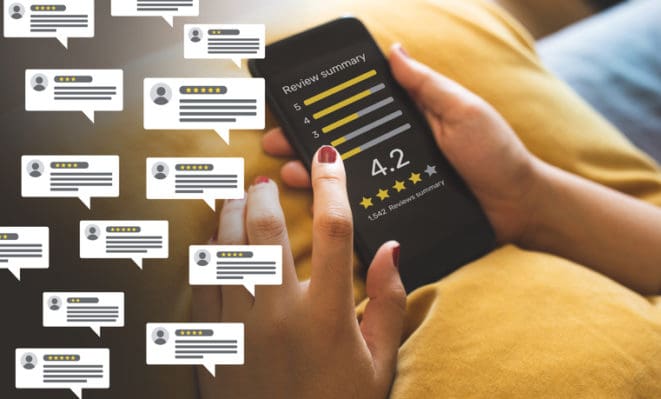 Have bad reviews? The right Yelp reputation management service can help! Contact our review management team today at 844-461-3632 to learn more. 
Whatever the reason for a negative review on Yelp or other online review sites, the potential damage is just the same. According to a recent survey by Bright Local, 88% of consumers look at online reviews before choosing a business.
A single negative review can cause them to skip your business and patronize your competitor down the street. The good news is that you don't have to just sit back and hope for positive reviews to make the negative one less noticeable.
A good Yelp reputation management service provider can help you regain control of your Yelp reputation and put that negative review behind you.
What is my Yelp reputation, and why does it matter?
Yelp! is one of the largest online business review sites.
Founded in 2004, the Yalp site now has more than 206 million reviews on its business listing pages. Yelp gives businesses a one to five-star rating, based on the average rating from the customer reviews. The site features all types of businesses, from restaurants to pet groomers.
Yelp! is free for users to register, leave a review or browse through existing reviews. The platform also allows business owners to respond to reviews left on the site.
Basic listings on Yelp! are free for business owners. Yelp also has several upgraded features that start at $1 per day and allow you to do things like add a call to action button on your profile page or remove competitors' ads from your pages.
Why is your Yelp reputation important? The vast majority of shoppers–more than 80%–turn to the internet before choosing a business to visit in person.
If you accumulate a large number of negative Yelp reviews, it's likely that these shoppers will turn to your competitors rather than your business.
Yelp! has a stellar online reputation for being impartial and eschewing advertising or promotional posts. According to ReviewTrackers, an astonishing 97% of people who visited Yelp ended up making a purchase.
The people who use Yelp aren't just casual browsers; they are looking to buy.
According to research by Harvard Business School, a one-star improvement in a business Yelp rating led, on average, to a 5-9% increase in revenue.
If you think that Yelp! doesn't matter, you might want to think again.
Can I just disappear from Yelp?
No. Like it or not, most businesses have listings on Yelp. The site uses your public information to create a skeleton profile about your business.
You can choose to add information to your Yelp profile, but your basic information is going to be on the site either way.
What are reputation management services?
You are likely researching for a Yelp reputation management service because you've been hurt by a negative review on Yelp or another online review site.
Don't panic; we can help you restore the integrity of your brand and improve your Yalp reputation.
Our reputation management services include…
Alerting you when new reviews are posted (so negative reviews won't be allowed to languish unanswered on Yelp)
Getting you more positive reviews from your customers
Repairing your Yelp (and other social media site) reputation
Helping you position your business as a leader in your industry
Solidifying your brand marketing, so that you're giving a consistent message across all of your marketing channels.
Creating an online presence for your hotel if you don't have one. If you're not easily found on the internet, you're losing business.
Finding outlets for positive articles about your property to help you expand your online audience. We want the world to know about all of the good things your business is doing, whether that's giving back to the community or winning a coveted award.
Keeping an eye on what people are saying about your company online. We'll be right there to combat the negative and we'll use the positive to promote your business.
Monitoring your social media pages and responding to comments and questions. An unanswered question on your social media pages can turn into a PR nightmare. So can an uncivil discussion on an unmonitored page. We understand that you have a business to run, so we keep an eye on your Facebook, Instagram, Twitter, and other pages for you.
Online reputation management
"Business Insider" magazine defines reputation management services to include "search engine optimization, content development and management, social media monitoring and management, review acquisition and management, third-party website monitoring and competitor monitoring to mend a poor reputation or maintain a positive image."
We do all of that and more.
Can't I just deal with Yelp to manage my reviews?
Yes, you can, but it's difficult. If a negative review violates Yelp's terms of service, the review can be taken down from the site. Violations of the TOS include posting fake reviews, being paid or paying someone to post a review, posting defamatory or threatening reviews, plagiarizing reviews and reviews that don't talk about a personal experience.
Most of these things are hard to prove, so it's rare for a review to actually be removed from the site. For example, can you prove that the reviewer never visited your store?
Yelp! allows users and business owners to flag reviews posted on the site for removal. You need to give a reason for the removal. The post will then be sent to an editor who will review your comments and decide whether the review stays or goes.
The process can take anywhere from a few days to a few weeks.
What happens if I get an undeserved negative review on Yelp?
Yelp gives business owners the opportunity to respond to reviews left about their business on the site. We think it's important to answer any construction criticism left on Yelp. However, it's important not to take the bad review personally and react negatively.
This will only compound the problem and make a bad situation worse. Once you've calmed down, you won't be able to remove your "knee-jerk" response.
Whether you deserve that bad review or not can be a subjective thing. The poster felt strongly about the situation or he or she wouldn't have left the review. However, sometimes things can be out of your control.
For example, maybe your store was closed when the poster visited because of a power outage, a death in the family, or some other unusual situation over which you had no control.
In cases like that, it's best to answer the review and politely explain the situation, and apologize for the inconvenience.
What if what the review talks about never happened? That gets a little trickier. You don't want to call the reviewer a liar, but neither do you want the public to think that's the kind of thing that happens at your business.
This is when our Yelp reputation services can be invaluable.
How much do Yelp reputation services cost?
You could argue that a good business reputation is priceless.
However, you don't have to pay a fortune to get help with your online Yelp reputation. Our fees are reasonable and vary depending on the size of your business, the number of reviews you have on Yelp, and the number of negative reviews.
How long does it take to rehabilitate my online reputation after a negative review?
We start working on improving your Yelp reputation right away. The time it takes for your Yelp reputation to improve depends on several factors. However, you should start seeing improvement within a few weeks, and it should steadily improve from there.
We'll work with you to best manage your online reputation.
For example, we'll show you how to respond to negative reviews so that readers respect you and your business. A study by Review Trackers found that 45 percent of consumers are more likely to visit a business if it responds to negative reviews.
How can I get more positive Yelp reviews?
It's an unfortunate fact that dissatisfied customers are more likely to leave a review than those who have had a positive experience with your company. Studies show that consumers are 22 percent more likely to leave an online review after a negative experience than after a positive one.
We'll show you how to encourage your customers to leave good reviews without violating the Yelp terms of service.
For example, we recommend making your customers aware that you are listed on Yelp and encouraging them to visit the site rather than actively soliciting reviews (which is a breach of the Yelp terms of service).
Get started with our Yelp reputation management service today
Has your business been hurt by a negative review on Yelp? Are you looking for ways to make your business more desirable online, for it to stand out from the crowd of other restaurants and businesses in your area?
Let Net Reputation.com help you build a secure and positive reputation online, on Yelp! and other review sites.
For more information on our Yelp reputation management service, contact us today at 844-461-3632.